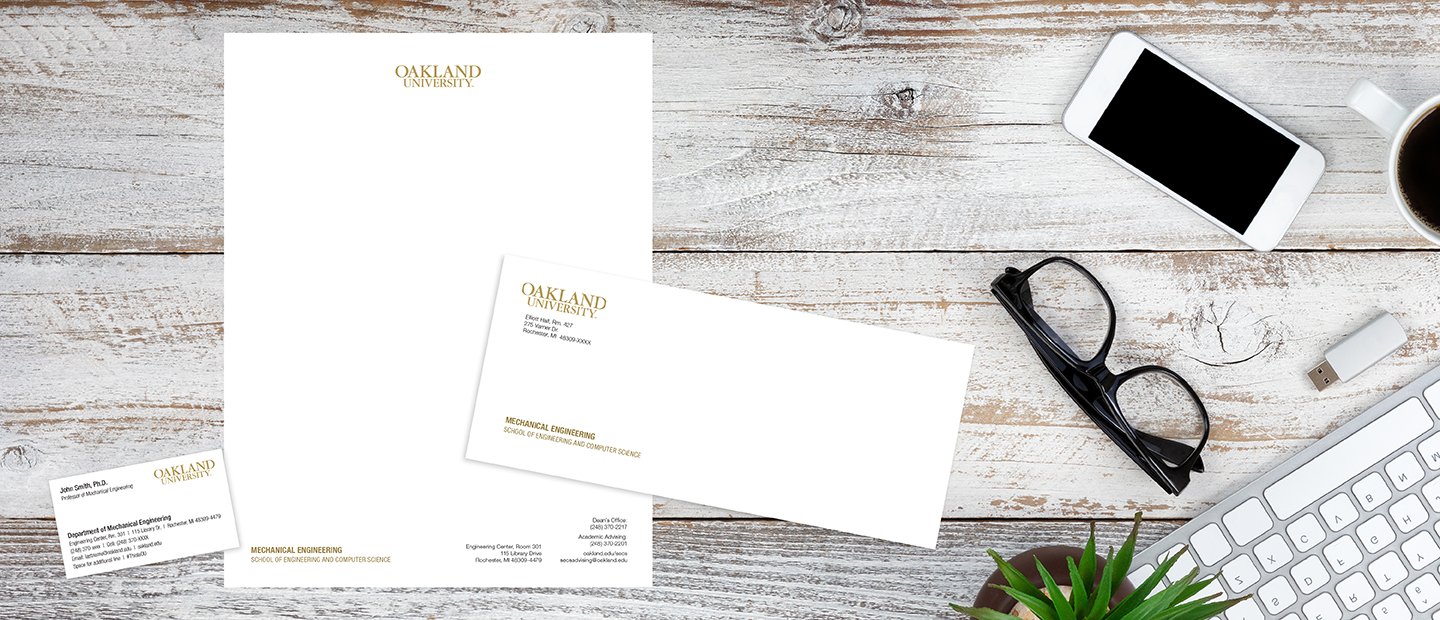 Campus Official Stationery
UCM designs OU's official letterhead, business cards and PowerPoint templates to help promote yourself and your department. Each tab provides more information on the prerequisites of acquiring each of these items.
Official Letterhead
Official OU letterhead may be ordered through the Printing Services Department.

Electronic letterhead is available for OU staff and faculty. It is subject to the same standards as printed letterhead in that it may not differ in design or content from the standard format; the standing elements may not be altered in any way, and the university logo standards apply as with printed stationery. Electronic letterhead will only have the Oakland University logo; other unit logos/graphic elements are not permitted. Electronic letterhead may not be used to circumvent OU's requirements for printed stationery and should not be used as a replacement for e-communications. Electronic letterhead is provided for electronic communications only and should not be printed on desktop or laser printers, copied and/or scanned, as PMS colors will not be maintained and the color quality will be substandard. Only official, printed OU letterhead may be used for hard copy letterhead applications.
Business Cards
An official OU business card package is available for all university faculty and professional staff in the following categories:
Academic administrator
Academic dean
Academic researcher (permanent)
Head coach
Executive
Full-time administrative professional (Permanent)
Full-time or part-time faculty (permanent)
Full-time police officer or sargent
Employees not covered in these categories should use departmental business cards but may, with written authorization from their vice president, order individual business cards. A two-sided format is available to employees who wish to list additional information beyond the main address block. Additional information may include web and social media addresses relevant to the employee's position, department or academic area of specialty. Addresses related to personal social sites or networks may not be included on the business card.
You can order official business cards from the
Printing Services Department
.
Powerpoint Templates
PowerPoint templates are available for staff and faculty to use for presentations to internal and external audiences. There are many template options, as well as general OU photos, which may be used. The templates should be used as shown. Please do not remove elements (including logos) included in these presentations or reconstruct the templates for other purposes.
Please contact your account manager for the PowerPoint templates.