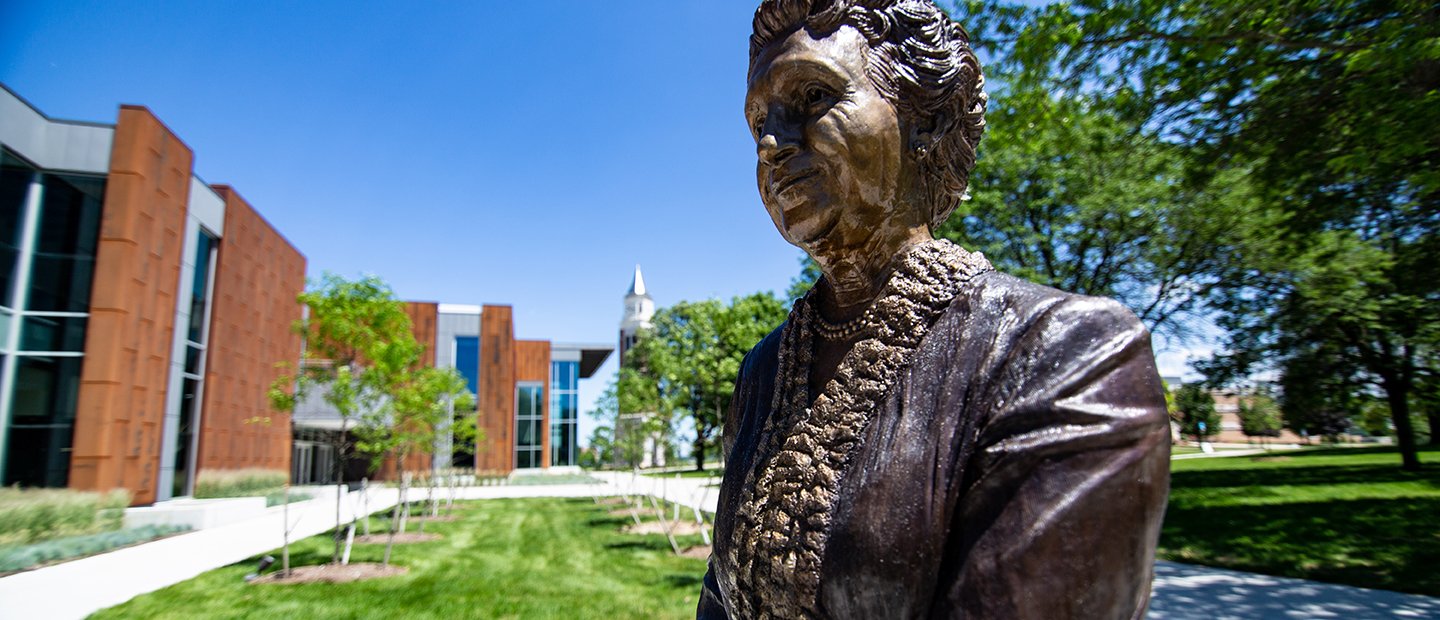 A print-on-demand version of the OU Fast Facts may be ordered through the Printing Services Department. Please reference job number UCM-25237.

Oakland University Mission Statement
Oakland University cultivates the full potential of a diverse and inclusive community. As a public doctoral institution, we impact Michigan and the world through education, research, scholarship, and creative activity.

Oakland University Vision Statement
Oakland University will unlock the potential of individuals and leave a lasting impact on the world through the transformative power of education and research.

For further information, please contact Brian Bierley, director of media relations, at (248) 370-4346 or bierley@oakland.edu.
Enrollment
Fall 2022 student population of 16,108 (12,841 undergraduate, 3,267 graduate)
Fall 2021 first-generation students (Among First Time in Any College students) – 36.2%
Incoming freshmen average GPA 

–

3.50
Incoming freshmen average SAT 

–

1,061

Current Student Population
Race/Ethnicity
White - 68.3%
Black or African American - 8.4%
Asian - 6.5%
Hispanic or Latino - 4.4%
American Indian or Alaska Native - 0.2%
Native Hawaiian or Other Pacific Islander - 0.1%
International - 4.7%
Multiple races - 3.8%
Unknown - 3.6%
Geographic distribution
Oakland County - 38.8%
Macomb County - 32.7%
Wayne County - 7.0%
Genesee/Lapeer/St. Clair counties - 6.3%
Other Michigan counties - 6.6%
Other states - 3.5%
Foreign countries - 4.7%
Age
Undergraduate 

15-16 - 0.1%
17-22 - 73.3%
23-34 - 22.9%
35-44 - 2.3%
45-54 - 1.0%
55 plus - 0.3%



 Graduate

17-22 - 6.6%
23-34 - 69.4%
35-44 - 14.6%
45-54 - 7.2%
55 plus - 2.2%
Gender
Female - 57.5%
Male - 42.5%
International students
Resident Student Population
2,050 - 13% of total student population (2022)
Academics
Recognition
OU moved up to the second-highest tier of research universities in the 2018 Carnegie Classification
Oakland's business school is one of only 193 business schools of 16,000 worldwide to earn AACSB international accreditation for both business and accounting programs.
Oakland University William Beaumont School of Medicine (OUWB) holds full accreditation from the Liaison Committee on Medical Education, meeting the standards that lead to the M.D. degree.
Ranked 11th in the country for the percentage of women tenured/tenure-track faculty in engineering by the American Society for Engineering Education. (2015)
Nurse Anesthesia program is ranked 18th out of 112 U.S. graduate programs in nursing-anesthesia, according to U.S. News & World Report. (2016)

Oakland University's School of Nursing ranks #78 nationally by the Nursing Schools almanac in its 2022 rankings of the best nursing schools.
Academic programs
127 bachelor's degree programs
119 doctoral, master's degree and certificate programs
Full-time faculty with doctoral degrees
Full-time faculty with terminal degrees
Transforming health care education
OUWB admitted its charter class in fall 2011 and 

welcomes 125 new medical students to campus every August for a

 total enrollment of nearly 500 students.
The Human Health Building opened in fall 2012 to house the schools of Nursing and Health Sciences, and offers modern laboratories, research facilities and clinical spaces.
Financial Aid
76 percent of full-time undergraduate students received scholarships and grants averaging $8,242 per student in the 2021-22 academic year.
41 percent of full-time undergraduate students received need-based financial aid in the 2021-22 academic year.
More than $1.5 million in scholarships has been awarded by the Oakland University Alumni Association to qualified OU students.
Alumni
Nearly 132,000 alumni with 78 percent living in Michigan.
Campus
1,443 acres of wooded hills and meadows
More than 50 major buildings
Six co-ed residence halls, two student apartment complexes and four Greek cottages
State-of-the-art recreation center and athletic dome.
Home to OU Art Gallery, Meadow Brook Hall, Meadow Brook Theatre and Meadow Brook Amphitheatre
Research
Total Awards – $25,211,069 (FY2022)
Research space - 118,214 sq. ft. 
Noted research centers
Automotive Tribology Center (ATC)
Barry M. Klein Center for Culture and Globalization
Center for Applied Research in Musical Understanding (CARMU)
Center for Autism
Center for Biomedical Research
Center for Civic Engagement
Center for Data Science and Big Data Analytics
Center for Evolutionary Psychological Science
Center for Integrated Business and Research Education (CIBRE)
Center for Public Humanities
Center for Religious Understanding (CRU)
Center for Robotics and Advanced Automation (CRAA)
Center for Social and Behavioral Research
Cis Maisel Center for Judaic Studies and Community Engagement
Clean Energy Research Center (CERC)
Eye Research Center (ERC)
Eye Research Institute (ERI)
Fastening and Joining Research Institute (FAJRI)
Galileo Institute for Teacher Leadership
Institute for Spintronic and Microwave Technology
Institute for Stem Cell and Regenerative Medicine (lSCRM)
Ken Morris Center for the Study of Labor and Work
Macomb-OU INCubator (MAC-OU INC)
Michigan Center for Undergraduate Research (MCUR)
Oakland University INCubator (OU INC)
Prevention Research Center
Reading Recovery Center of Michigan
Southeast Michigan Economic Data Center
OU in Macomb County
Oakland University offers high-quality bachelor's and master's degree programs at the Macomb University Center in Clinton Township and the OU Anton/Frankel Center in Mount Clemens.
Budget
FY2023 budget is approximately $273.5 million.
Endowments
OU endowments totaled approximately $125 million as of June 2022.
Economic Footprint
OU contributed nearly $1 billion to the region's economy in the 2019 fiscal year.
Athletics
18 NCAA Division I men's and women's varsity sports programs
Member of the Horizon League (since July 1, 2013)
First Division I school in Michigan to add a varsity Esports team 

Awarded to signify the Horizon League's all-sport champion, Oakland has won the James J. McCafferty Trophy six times - four consecutive from 2014-15 through 2017-18 and two more in 2020-21 and 2021-22

Captured 30 Horizon League titles from 2015-22

Produced 40 Horizon League All-Academic or Honorable Mention student-athletes in 2021-22, representing 13 sports