Friday, Jan 20, 2023
Donor-supported scholarships for OUWB medical students increase 20% for 2022-23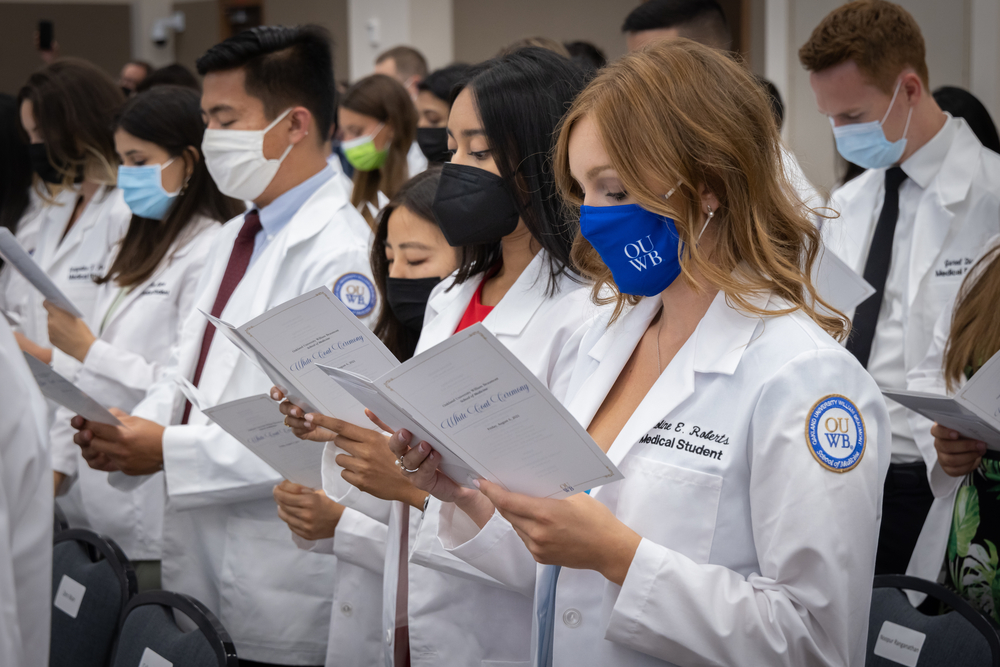 Caroline Roberts, M2, recites the Oath of Geneva with her classmates during the OUWB Class of 2025 White Coat Ceremony in 2021. Roberts is among 30 scholarship recipients for 2022-23, and one of three to receive The James V. Huebner, M.D., Oakland University Alumni Scholarship.
Oakland University William Beaumont School of Medicine has raised the bar for total dollar amount awarded through donor-supported scholarships — setting a record for the second consecutive year.
For 2022-2023, according to OUWB Financial Services, 30 of the school's medical students were awarded a total of $300,000, up 20% from the previous year. 
The increase meant OUWB could award five more scholarships than in the previous year. Sixteen scholarships were awarded via direct contributions to OUWB with the rest from the Beaumont Health Foundation. (See sidebar for complete list)
"I am very pleased to see a continuing increase in donor sponsored scholarships," said Duane Mezwa, M.D., Stephan Sharf Dean, OUWB.
"I promised the students we would lower their overall debt and these donor scholarships have helped tremendously."
Skyler Porcaro, M4, said he was "speechless" when he learned he was one of five OUWB students to receive a Beaumont Foundation Scholarship. He called it an "incredible blessing" and said the support from Beaumont Foundation is "truly life changing."
"As a first-generation college graduate, and soon-to-be first physician in my entire family, this scholarship and recognition is huge," he said.
"Not only does this scholarship help to reduce my loan burden for medical school, but it also puts me in a better position to more quickly get out of debt, which will allow me to provide for my family and reduce my financial stress throughout the rest of my medical training and career," he added.
'Generous support'
There are several reasons for the continued increase, according to OUWB officials.
"The numbers continue to increase due to the generous support from our private donors, faculty, and staff," said Gregory Ashe, associate director, Financial Services. "That really helped increase the numbers and affords us the opportunity to offer more scholarship dollars to our students."
In just one example, Ashe pointed to the fact that 65% — or more than 100 — of OUWB's full-time employees contributed to the 2022 Oakland University Fund Drive.
That represented the highest amount of participation of Oakland University's units for the third year in a row.
Mezwa said there are many other generous donors, too.
"Some of our donors have been patients at Corewell East and have been taken care of by our students," he said. "Some of these grateful patients have in turn become significant donors."
Mezwa credited Claus Weimann, director of Philanthropy, OUWB, for his efforts to drum up as much support as possible.
Among other things, he said Weimann has done "an extraordinary job" in spreading word about OUWB's mission, vision, and values.
'Immensely helpful'
According to Ashe, students apply for scholarships using a standard application. Depending on which scholarships students apply for, there may be additional requirements, such as essays.
A scholarship committee consisting of faculty, clinical faculty, and staff makes the final decision on whom will be awarded. Ashe said the members of the scholarship committee are not identified publicly.
Students who receive scholarships are notified in December.
"I was overjoyed and called my family during the drive home that day," said Ryan Ko, M3.
"They knew I had been working very hard halfway across the country and they were very excited for me," he added. 
Ko, one of five to receive The OUWB Scholarship, said he is "immensely grateful."
"Receiving this award means more than just financial support to me," he said. "This will always be a reminder of what my peers and I accomplished during the COVID-19 pandemic and that we, as future physicians, will be called upon to lead and advocate on behalf of others during difficult times."
Caroline Roberts, M2, was among three to receive The James V. Huebner, M.D., Oakland University Alumni Scholarship. 
When she was notified, Roberts said she felt emotions of "excitement, gratitude, and relief."
"I was excited to be recognized for the accomplishments I wrote about in my essays and receiving this scholarship encouraged me to continue investing in those organizations while balancing medical studies," she said.
"I was grateful for the generosity of the Huebner family to invest in many medical students' education," she continued. "I felt relief because medical school debt is real, and receiving this scholarship took off a portion of the financial weight that I am managing."
For more information, contact Andrew Dietderich, marketing writer, OUWB, at adietderich@oakland.edu.
To request an interview, visit the OUWB Communications & Marketing webpage.
This work is licensed under a Creative Commons Attribution-NonCommercial 4.0 International License.