Wednesday, Dec 21, 2022
Year-in-review: Match Day, med student side hustle, O'Dowd renovation among top stories for 2022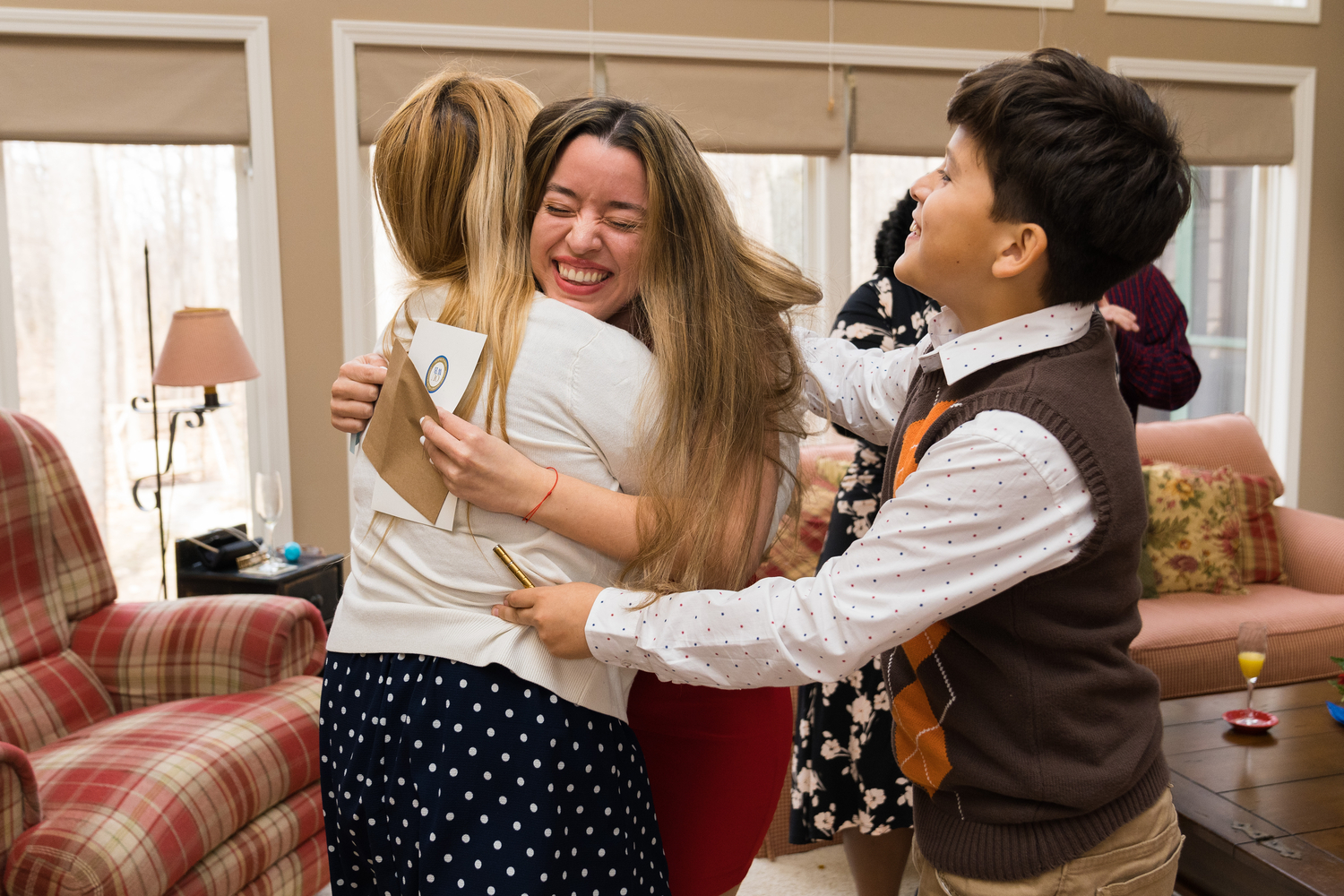 Many OUWB students who matched on Friday celebrated in small groups. Tanya Gonzalez, M.D., '22, (center, smiling) matched in neurology at University of California Davis Medical Center.
As 2022 nears an end, many take a moment to reflect on the year that was, and Oakland University William Beaumont School of Medicine is among those taking a look back.
"As we take a much-deserved break from our daily routines be pleased about the accomplishments of 2022, know that I am truly grateful to be part of the compassionate and talented OUWB family," said Duane Mezwa, M.D., Stephan Sharf Dean, OUWB.
"Have a healthy new year, and I look forward to seeing you in 2023," he added.
Based on statistics from Google Analytics, here are OUWB's top news stories for the year, in order of most views:
OUWB's Match Day coverage regularly is among the top stories of the year, and the same held true for 2022.
The top two stories for the year, in fact, were about the big day for members of the Class of 2022.
It started on Feb. 22, when 10 students specializing in urology and ophthalmology, as well as those who match in the military, were notified of where they would be headed for residency. Early matches apply only to these specialties because they are not affiliated with the National Resident Matching Program (NRMP), which annually holds its Match Day the third Friday in March.
Speaking of which, the rest of the class celebrated Match Day on March 18. Students placed across the country, at places like Brown University, Emory University, Stanford University, University of Florida, University of Miami, University of Alabama, University of Michigan, and Cleveland Clinic.
A total of 121 students matched.
"Overall, a very impressive match that speaks very highly to the quality physicians that graduate from OUWB," said Duane Mezwa, M.D., Stephan Sharf Dean of OUWB.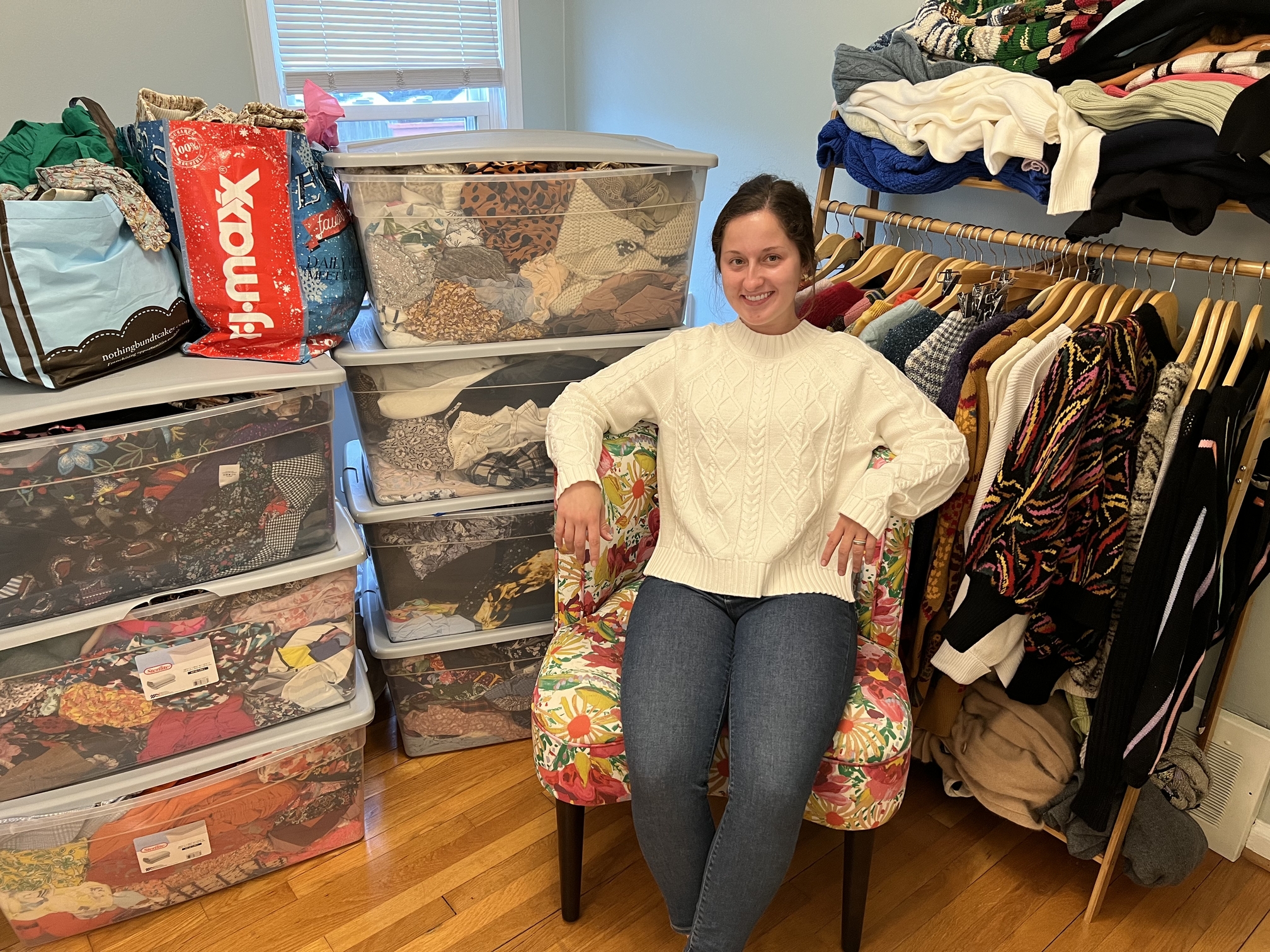 Hillier in her inventory closet.
Since 2019, Olivia Hillier, M.D., '22, earned about $117,000 selling more than 4,700 items via Poshmark — an online-based marketplace for new and secondhand style for women, men, kids, pets, home, and more.
The side hustle not only gave her a financial advantage throughout med school and as she headed into residency, but also landed her plenty of media attention.
Her story was featured at places like CNBC, U.S. Sun, PopSugar, and more.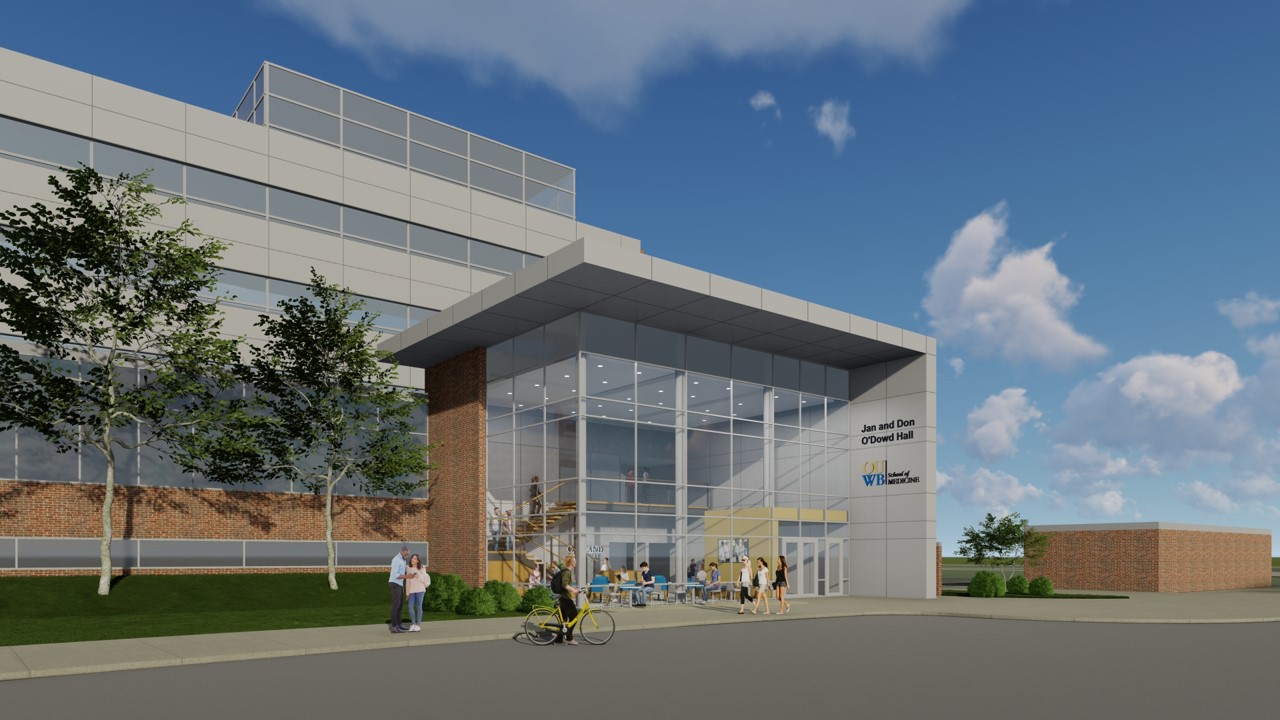 An early rendering of the renovation project at O'Dowd Hall.
Landing fourth on the list is a story about the changes that are ahead for Oakland University William Beaumont School of Medicine's O'Dowd Hall, where a significant renovation and addition are planned.
Plans call for more space on the first floor for the addition of mid-size classrooms, more study space, and a break area with kitchen-related amenities and more.
The project also is set to include an enhanced entrance space, referred to as a "gateway," that will improve visible access to OUWB at O'Dowd Hall and is more functional for all visitors and occupants.
The $9.7 million plan was approved by the Oakland University Board of Trustees on June 13.
(A webpage about the project that includes up-to-date information, including timeline can be found here.)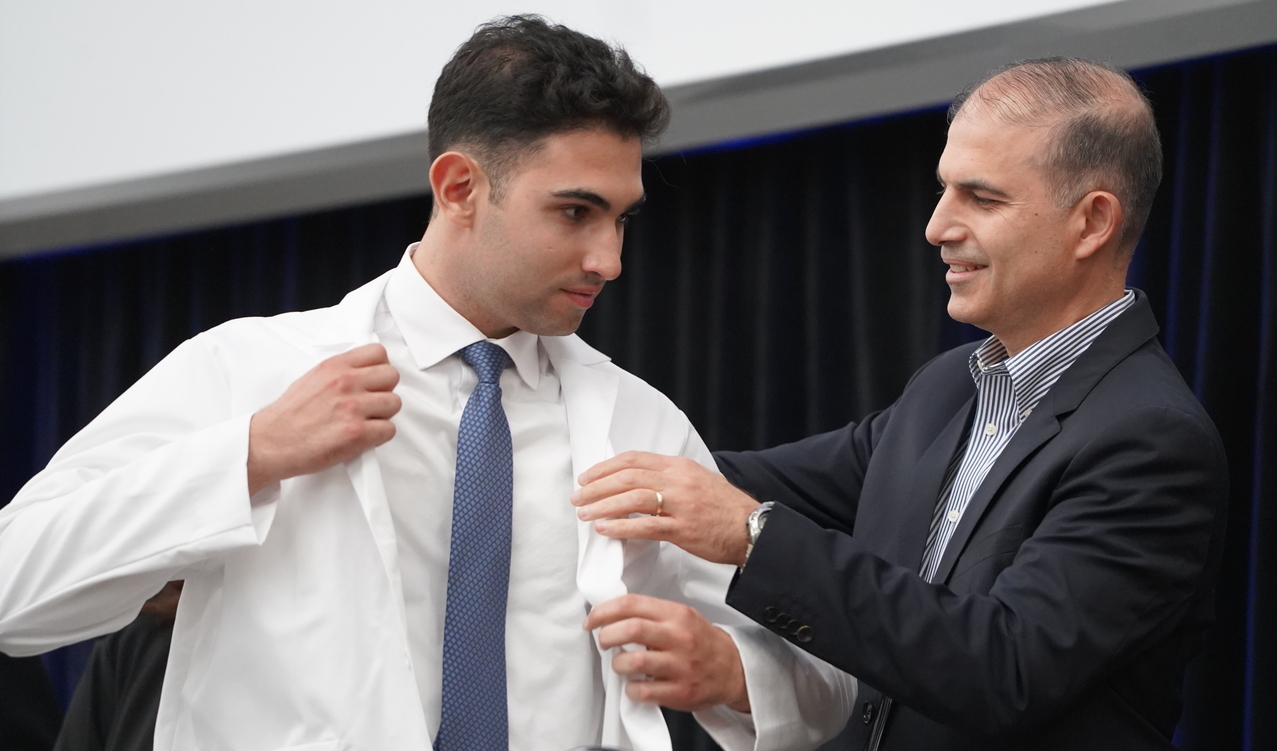 Joe Dib, a member of OUWB's Class of 2026, is presented his white coat by his father, Elie Dib, M.D.
Another annual story that makes this list is about the OUWB White Coat Ceremony for the incoming class. The event for the Class of 2026 was held Aug. 1.
Featuring the school's 12th class, the event coincided with the first day of orientation for the new medical students. Family and friends participated by attending in person or via livestream.
The ceremony featured remarks from Oakland University President Ora Hirsch Pescovitz, M.D.; Ben Schwartz, M.D., president, Corewell Health East; Jay Fisher, M.D., president, medical staff, Corewell Health William Beaumont University Hospital; and Berkley Browne, Ph.D., associate dean for student affairs.
Mezwa welcomed everyone.
"Class of 2026…you've taken your first steps in your medical school journey," he said.
"I hope that you will always know that everyone in this room is happy that you are here at OUWB. Welcome to the family."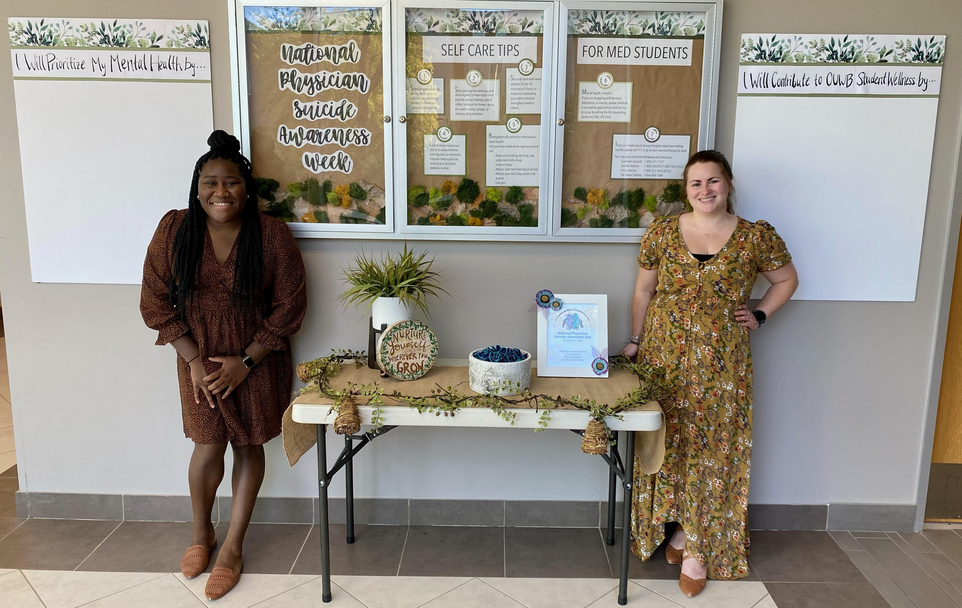 OUWB Student Mental Health Counselors Ashley Watters (left) and Janae Kinn take time for a photo near a display intended to raise awareness of mental health issues.
National Physician Suicide Awareness Day is recognized on Sept. 17, and counselors at OUWB used the day to encourage medical students to take advantage of available mental health resources.
That's because doing so could literally mean the difference between life and death, according to OUWB Student Mental Health Counselors Janae Kinn and Ashley Watters.
The story not only identified the problem but included details about resources available to students — and it appeared to resonate with many, which put it in the list of top stories for the year.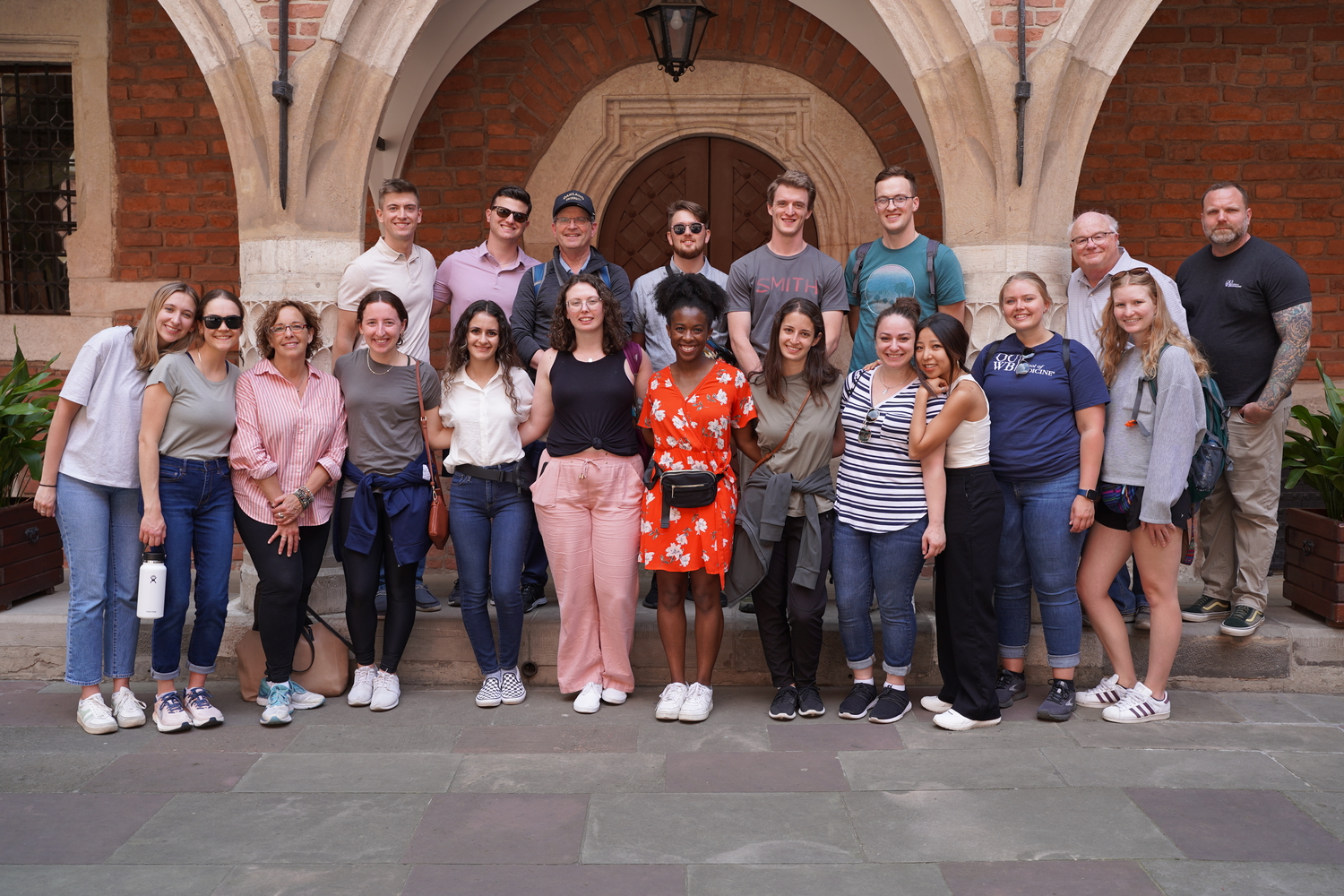 Students and officials from OUWB pose for a picture on June 15, 2022, in the courtyard of Krakow's Jagiellonian University Museum Collegium Maius.
Nineteen students from Oakland University William Beaumont School of Medicine spent two days in Krakow, Poland, preparing for a visit to a World War II concentration camp as part of the school's Holocaust and Medicine program.
Led by a local tour guide, students saw firsthand how Jewish people lived pre-war — and how that world was thrown into chaos when the German Nazis attacked in 1939.
This story offered details about the students' journey, and lands on the list of top 10 stories for the year.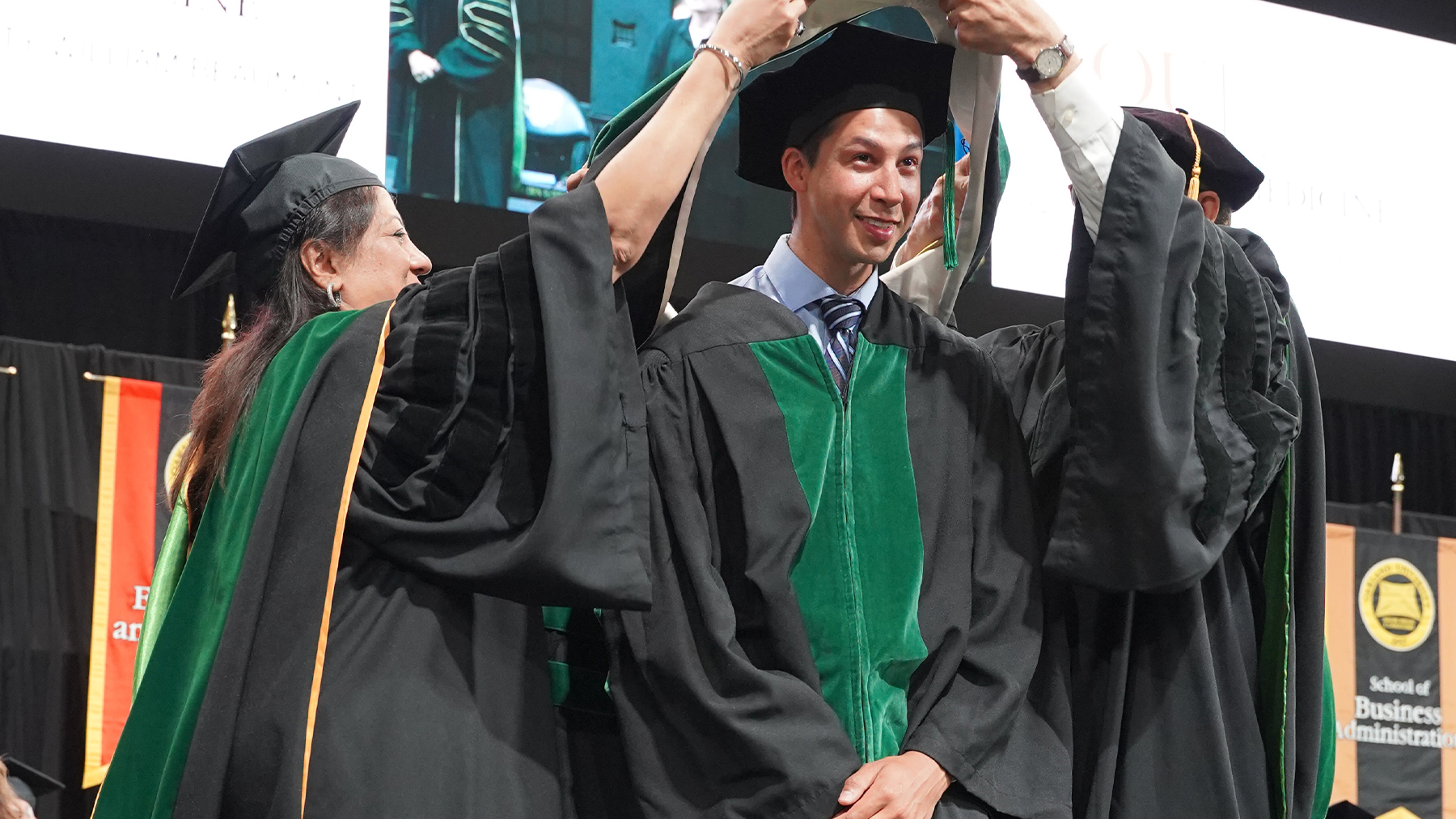 Kevin Roby, M.D., said commencement represented the culmination of a lifelong dream to become a doctor. 
OUWB's commencement ceremony is always exciting, but it was especially so this year, as the event returned to its traditional setting in Oakland University's O'rena for the first time since 2019.
Family, friends, and colleagues attended to celebrate and honor the school's 120 newest graduates who essentially made it through half of their medical education during a global pandemic.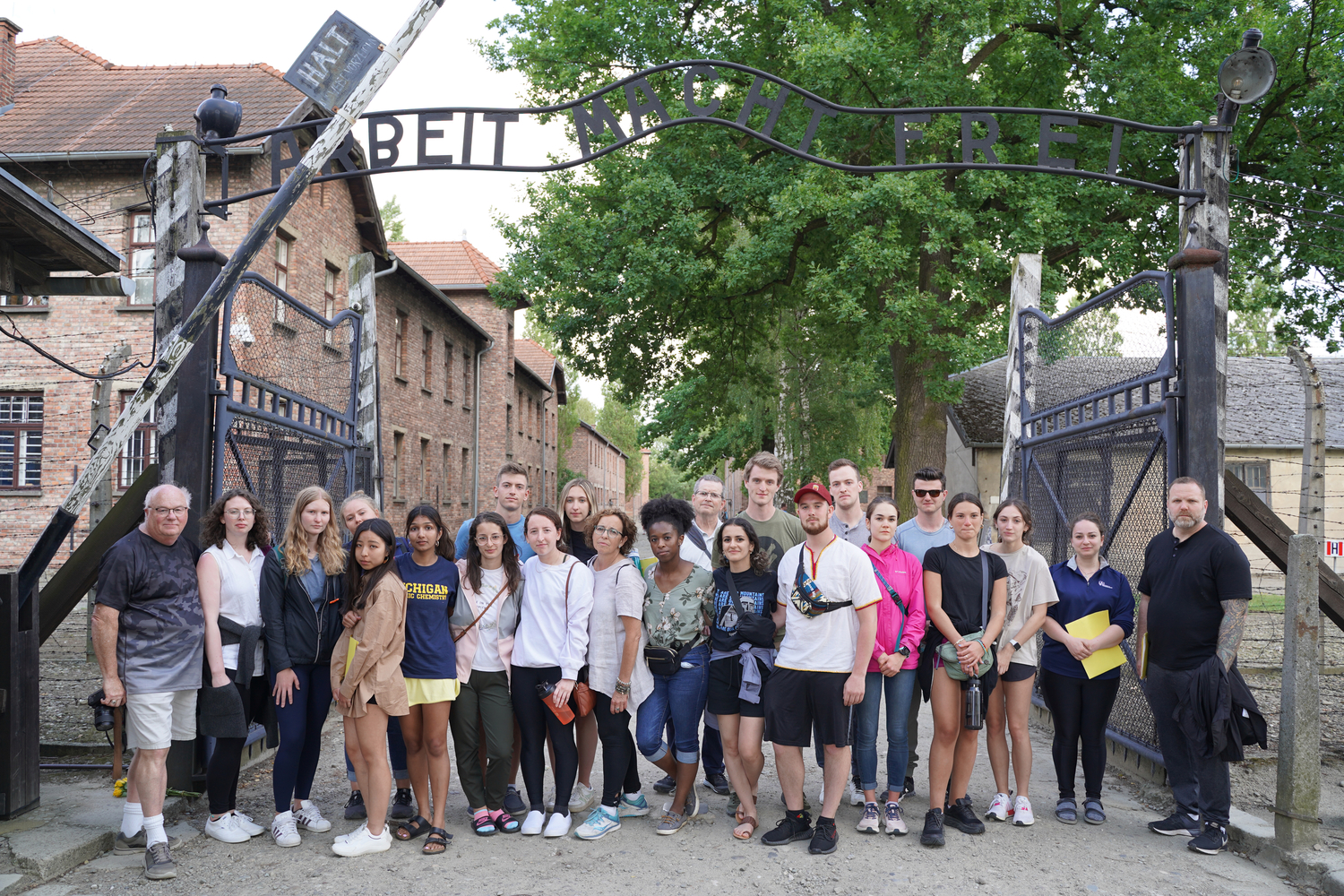 Students and officials from OUWB at the gate of the former Auschwitz 1 concentration camp, on June 16, 2022.
This story recapped OUWB's inaugural Study Trip to Auschwitz, which is part of the school's Holocaust and Medicine program.
Students learned about Jewish heritage and history, the extent of the Holocaust and how physicians reacted on all sides, took part in reflective writing sessions, read testimonials, and began developing plans to share what they learned with others. The overall goal was to prompt students to reflect on the implications of the Holocaust for one's own personal and professional development within the medical profession.
Perhaps most importantly, the story detailed how many of the 19 students who went on the trip came to have a better understanding of the Holocaust — and gained deeper appreciation for human kindness.
"It's given me the insight of how important it is to be mindful…of humanism and of treating patients as individual human beings," said OUWB medical student Amanda Romaya.
(A webpage about OUWB's Holocaust and Medicine program can be found here.)
This February story highlighted the fact that when Oakland University William Beaumont School of Medicine released its list of donor-supported scholarship recipients — it was the largest total amount awarded by the school.
According to OUWB Financial Services, the 25 students were awarded a total of $250,000.
For more information, contact Andrew Dietderich, marketing writer, OUWB, at adietderich@oakland.edu.
To request an interview, visit the OUWB Communications & Marketing webpage.
NOTICE: Except where otherwise noted, all articles are published under a Creative Commons Attribution 3.0 license. You are free to copy, distribute, adapt, transmit, or make commercial use of this work as long as you attribute Oakland University William Beaumont School of Medicine as the original creator and include a link to this article.