Friday, Jul 23, 2021
High schoolers take to OUWB Online Summer Enrichment Program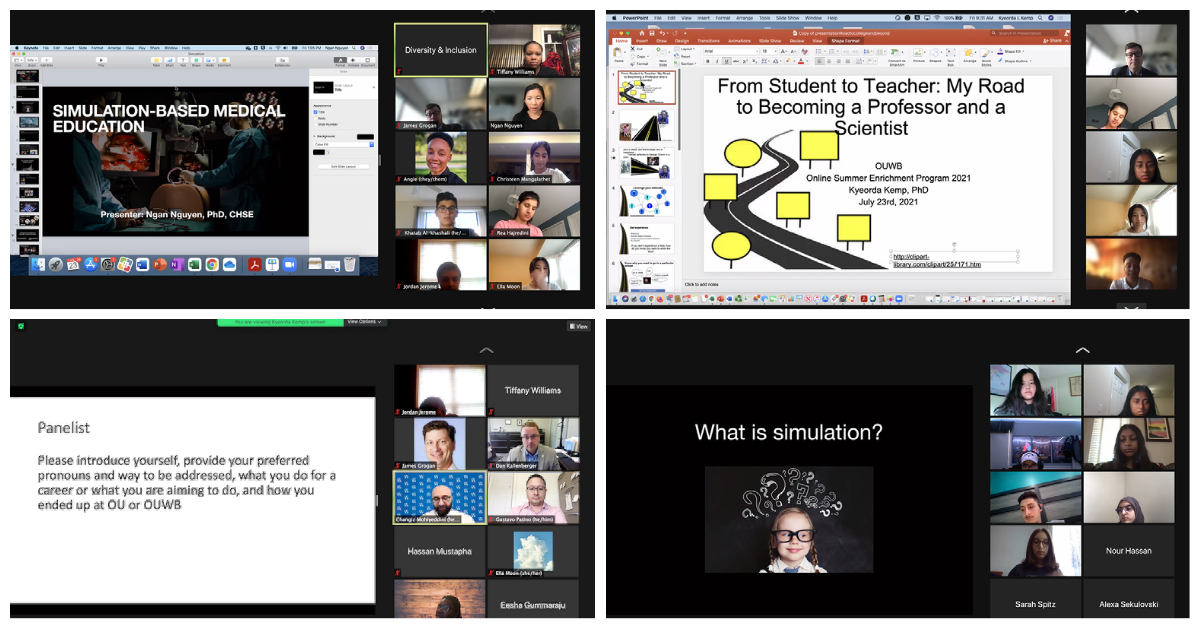 Screenshots from just a few of the many sessions held during OUWB's Online Summer Enrichment Program. The program was held online entirely for the second year in a row.
More than 30 high schoolers participated this week in Oakland University William Beaumont School of Medicine's Online Summer Enrichment Program.
Led by OUWB Diversity & Inclusion, the Online Summer Enrichment Program (OSEP) is a free, five-day online program for students who have expressed interest in medicine and careers in health sciences.
The program is taught by faculty members from OUWB's Department of Foundational Medical Studies. Eleven FMS faculty volunteered their time to participate in this year's program, which was themed, "How the Brain Forms and Works."
Tiffany Williams, Ph.D., director of Diversity & Inclusion, said the program went "exceedingly well."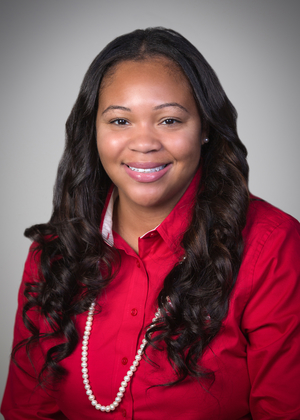 Williams
"This is the second summer in a row that we have offered the online enrichment program," she said. "I can say we have learned a lot, which has allowed us to get better at facilitating this program in a virtual setting. I am also excited as we have seen more geographic diversity among our participants being virtual."
OUWB traditionally has offered a summer program similar to OSEP with hope to engage with pre-college students who are interested in careers in medicine.
The online version of the program was created in response to the COVID-19 pandemic.
Last year, the online program was planned in the span of about three months as medical library staff and faculty members transitioned content to fit an online format.
This year, the team had more time to plan and market the program.
Williams said the hope is that students have the opportunity to learn more about biomedicine and health sciences, and interact with medical school faculty, staff, students, and physicians, to get a taste of what it is like to be an OUWB medical student.
She added that the program also aims to build "their confidence in their ability to know that medical school and a career in medicine is a real option."
The fact that FMS faculty step up to help is "amazing," Williams added.
"They are passionate individuals who willingly give their time to share their expertise for the purpose of cultivating the minds of pre-college students," she said.
James Grogan, Ph.D., professor, Department of Foundational Medical Studies, was one of the participating faculty members.
"The OSEP program has been a great way for OUWB faculty to engage with students interested in health care careers," he said. "The program also encourages students who are underrepresented in medicine to understand that there is a seat for them at the table, especially when they have a passion for the sciences."
Grogan said designing the program is "an enjoyable collaboration amongst faculty having diverse content expertise."
"The reward is seeing students' excitement for learning something new, and knowing it will inspire some to take up a career in medicine," he said.
For more information, contact Andrew Dietderich, marketing writer, OUWB, at adietderich@oakland.edu. 
To request an interview, visit the OUWB Communications & Marketing webpage.
NOTICE: Except where otherwise noted, all articles are published under a Creative Commons Attribution 3.0 license. You are free to copy, distribute, adapt, transmit, or make commercial use of this work as long as you attribute Oakland University William Beaumont School of Medicine as the original creator and include a link to this article.