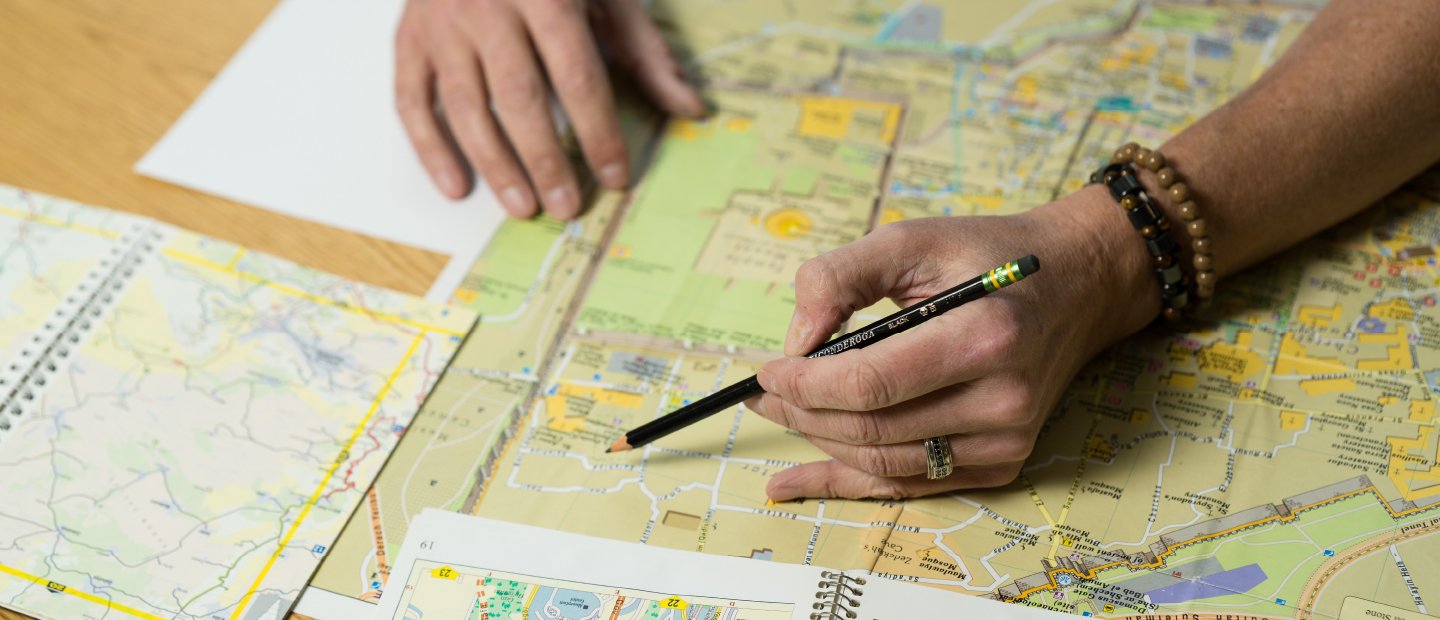 Resources are available to make your study abroad experience easier to navigate from deciding a program, to completing your application, preparing for departure, and arriving at your destination.
Housing at OU
Students with a housing scholarship who are studying abroad must visit the financial aid office to go over financial aid requirements (scholarships, grants, loans, etc.), and how financial aid may be affected during and after studying abroad. Contact financial aid at finservices@oakland.edu or (248) 370-2550.
Students living in University housing prior to studying abroad must contact the OU Housing Office to cancel the housing lease/contract Housing Contract, before their departure date. Housing lease cancellation is due November 30. Move out and key return to the Housing Office is due by the last day of finals. The Housing Office is located in Hamlin Hall, Room 448, housing@oakland.edu, (248) 370-3570.
Students planning to move back into University Housing in the Fall or Winter after studying abroad must:
Sign-up for year-long Housing Contracts begins on February 1 at 8 a.m
Sign-up for winter Housing contracts opens November 1 at 8 a.m.
Winter Study Abroad students need to cancel their winter housing contracts. Students should contact university housing regarding any fees caused by contract cancellation.
Student Resources
Frequently Asked Questions
What are the steps to study abroad through Oakland University?
That's easy! Check out Study Abroad.
Where can I go?
The choice is yours! OU has programs in 45 countries, spanning six continents.
When can I go?
You can study abroad after completing one semester at OU. You can study abroad as many times as you like!
Where will I live?
Accommodation type and style vary by location. Typically students stay in residence halls, apartments, or with a host family.
How long can I study abroad?
You can study abroad for lengths of time between 10 days and 1 year.
Do I have to be fluent in a foreign language to study abroad?
No. There are programs all over the world taught in English. Many study sites in non-English speaking countries offer classes in English and the opportunity to take beginning language classes.
Do I have to have a specific major to study abroad?
All OU students can study abroad regardless of major or minor.
Will I receive OU credits?
Yes. You must be accepted by study abroad programs and participate in the OU approved program. All of your courses will be approved prior to departure so you will know in advance which course credits you will be receiving.
What are the requirements for studying abroad?
OU recommends that students have a 2.5 . Some programs may establish additional requirements (a higher GPA, language requirement, etc.) Students who do not meet the minimum requirements will be evaluated on a case by case basis.
Will studying abroad delay my graduation?
No. Many students have graduated on schedule with prior planning.
How much does it cost to study abroad?
Cost depends on the trip, additional costs are often covered in informational meetings.
Is there funding available for my study abroad?
Scholarships are available through the International Education – Study Abroad Office, numerous departments across campus, and through several national organizations.
Most of the financial aid you already receive at OU can be used for study abroad when you participate in an approved program. A financial services adviser will meet with you to talk about your financial aid status and additional aid available to help cover costs. Study abroad students should complete their FAFSA (Free Application for Federal Student Aid) to see if they are eligible for federal aid or loans for their experience.
How do I apply to study abroad?
Meet with a study abroad adviser in the International Education Office to help you choose a program. All students will complete an online application. Apply now to begin your application. View the video How to Submit a Study Abroad Application at OU for details.
Is there an application deadline?
Application deadlines vary by program. Check individual program websites for details. Starting the application process early and planning ahead is always recommended to leave plenty of time to complete the requirements.
Will I need a passport or visa to study abroad?
Yes, you must have a passport to study abroad. Some countries also require that you apply for a visa (permission from the foreign government to enter the country).  For costs and how to apply for a U.S. passport or visa, visit travel.state.gov or phone the National Passport Information Center, (877) 487-2778.
Can I study abroad more than once?
Absolutely! It is becoming more common for students to study abroad a second or even third time. With careful planning, you can incorporate several study abroad programs into your academic life at OU.
Is there information I can read about health and safety abroad?
Yes, the U.S. State Department offers travel information for United States citizens and the Centers for Disease Control offers health information for travelers.
Can I receive accommodations if I have a disability?
OU study abroad staff will work with you to help select a program that can provide necessary accommodations. All students requesting accommodations must be registered with the OU Student Disabilities Services Office.
Study Abroad Packing List
Created for Students by Students
Standard Items
Passport, Student ID, plane tickets
Prescriptions, Vitamins 
Carry-on luggage, backpack, daypack/fanny pack
Flash drive, pens, pencils, notebooks
Folding umbrella
Water bottle
Purse, Money belt/satchels
Sunglasses
Money
Cash, credit cards, ATM card
Electronics
Laptop Computer, power converter
Headphones
Cell phone
Clothes
Bring clothes that are easily layered for various climate conditions, do not need ironing, can be drip-dried, and are comfortable and durable. Check your program for special dress requirements.
Jeans
Hoodie/Sweaters, Light jacket
Nice outfits – mix and match
Running shoes, Walking shoes, Flip flops (for showering)
Pajamas Socks/underwear – two-week supply
Swimsuit
Workout clothes
Linens
Pillowcase, hydro towel, sheet sleeping sack (useful for hostels travel)
Washcloths
Toiletries 
Hairbrush/comb, toothbrush
Deodorant/cologne
Razors
Hand sanitizer, travel-size Kleenex
Sunscreen
Glasses/contact lenses, contact lenses solution
Contact Abroad
Google Voice, What's App, Facebook Messenger
Skype
Snapchat
Email
Helpful Links
The following links will be helpful when planning your study abroad/away trip.

Preparation
Health and Safety
LGBTQIA+ Students Resources
Financial Aid
Opportunities After Study Abroad