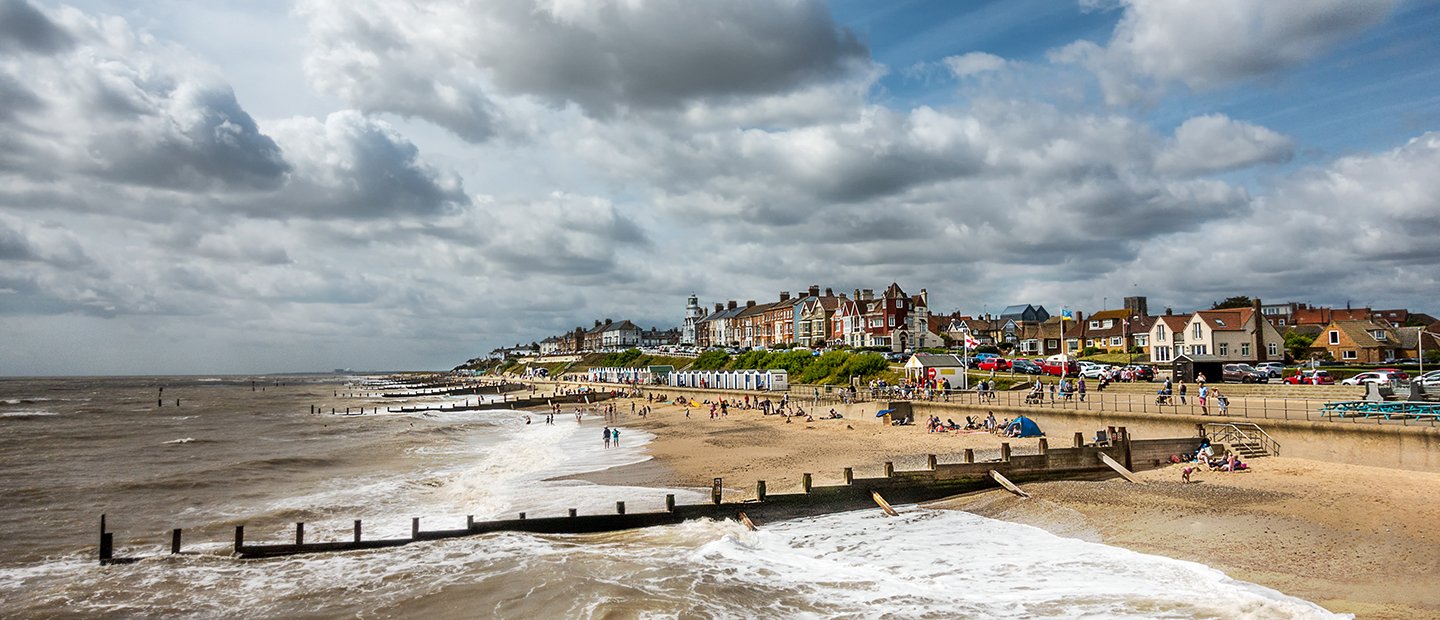 University of East Anglia, England
Go on exchange to the University of East Anglia in one of the best small cities in the world, Norwich, England. Less than two hours by train to London and located in the safest county in England, UEA is home to 15,000 students from more than 100 countries. Students are immersed in the culture of an interesting and beautiful region at a university that is a center of teaching excellence and world-leading research.
Application deadline Fall semester is June 1 and for Winter semester is October 31.
For more information, check out the University of East Anglia video. Visit the University of East Anglia website.
For more information contact:
Professor Kyle Edwards
edwards2@oakland.edu
Where you will Be
The University of East Anglia is located in southwest Norwich in the East of England on 362 acres surrounded by parkland with a beautiful lake and plentiful wildlife. The campus is linked by frequent buses to the railway station and to the city center where students find unique shopping experiences, vibrant nightlife, and a rich cultural community steeped in history.
The UEA campus itself is a mini city. Almost every student need is met on campus, with a large food shop which includes a post office, bank, launderette, pharmacy, and Waterstone's bookshop. There are plenty of places to eat and drink. The student union runs eateries, cafes, and shops.
UEA boasts a range of entertainment and performance venues and is host to a variety of events throughout the year, including theater productions, comedy, literary events, and live music. The university is also home to the largest indoor university sports center in England, including an indoor climbing wall, two 25-meter swimming pools, soccer park, track, and two indoor arenas.
Students reside in one of more than 3,500 fully-furnished rooms in on-site university residences. Each residence is self-catering (no meal plans) and contains several fully-furnished, centrally heated, single-occupancy rooms grouped with a shared kitchen/living space.
What You Will Do and learn
What you will do
Norwich is easily accessible by road, rail, bus, and coach. The bustling city offers a variety of good-value restaurants, stylish cafes, theaters, nightclubs, and festivals. There is opportunity for many sporting activities, including local soccer, rugby, and cricket teams and numerous gyms, swimming pools, and sports clubs. The North Sea, only 20 miles from Norwich, provides ample opportunity for surfing.
University of East Anglia offers a supportive environment to help you develop and grow independently.
What you will learn
The university offers more than 300 "courses" (majors) within the schools of Arts and Humanities, Medicine and Health Sciences, Science, and Social Sciences. Students may select and take any class as long as they have completed the appropriate prerequisites. The educational style and structure follow the traditional English model: most classes generally meet once or twice per week and have a supplemented seminar or workshop which meets every other week. Grading is determined by coursework, project, examination, or a combination of the three. Generally, students enroll in three courses per semester (most courses are worth 4 credits). In England you have to take 60 credits per semester, which is normally three classes (modules) of 20 classes each. If this is what you do, you'll get five U.S. credits for each class, or 15 total. If instead you take two 20-credit modules and two 10-credit modules, you'll get 16 U.S. credits total. You can't take more or less than 60 total credits. English is the language of instruction.
Housing, Food and Technology
International students are usually guaranteed accommodations unless they have studied previously at EAU. Cost ranges from ?76.93/week (approx. $131 USD) for a single study bedroom with shared bathroom to ?138.32 /week (approx. $235 USD) for a single bedroom with private bathroom. University accommodations do not include meals or meal plans. Restaurant facilities on campus are available to provide everything from coffee and a sandwich to a full meal. Students who have restricted mobility, require person support, or have other special requirements, are welcome. Wheelchair-friendly accommodations are available in some residence halls. Modifications can be made to adapt other accommodations as needed.
Public transportation is regular, safe, and easy to use for 24-hour travel between the city and the university. Trains to central London (Liverpool Street) depart every half hour daily. Tickets for local, national, and international travel can be purchased from the Union Travel Shop on campus and can provide student discounts on many advance purchases. Ticket may also be purchased through the "First Mobile Tickets" smartphone app.
Information Services runs the University network and main servers, providing PC desktop, email, web, and other computing services for both staff and students. UEA can provide help with both hardware and software problems, as well as offer advice on viruses, licenses, and equipment purchases.
About Exchange
OU exchange programs offer students the opportunity to immerse themselves in the culture of a foreign country and to study with students from their host country at an OU partner institution. Exchange programs increase understanding and tolerance of other cultures, develop independence and confidence, improve language skills, and broaden social horizons.
Host institution exchange coordinators welcome students to the university campus and environs with an orientation. Participants live in student housing with other university students. Students pay OU tuition and get OU credit for classes taken while abroad and are eligible for OU scholarships and OU financial aid.
Exchange programs run a semester or full year, although the academic calendar at some of our partner institutions varies substantially from OU's. Some programs offer summer classes. Many exchange programs expect students to be able to converse in the language of the host country. Most exchange students become fluent in the language of the host country within a few months.
Cost
Tuition: 15 Credits
You will be charged for these credits on your eBill at your normal rate of tuition.
Additional costs: $7,975
You will need additional funds for these expenses not covered by program fee. Amounts are estimated.
Airfare: $1,200
Housing: $2,400
Meals: $1,500
Local transportation: $400
UEA Health Surcharge: $100
Incidental personal expenses: $2,000
Passport (if you don't have one): $175
Books and Supplies: $200
Please note: For students staying for a full academic year, not included in the above additional costs are: visa $432,  UEA Health Surcharge $100 
_________________________________________
Scholarships and Financial Aid: You are able to use financial aid to cover your full cost of attendance to this program (tuition, program fee and additional costs). Scholarships are also available through your study abroad application.