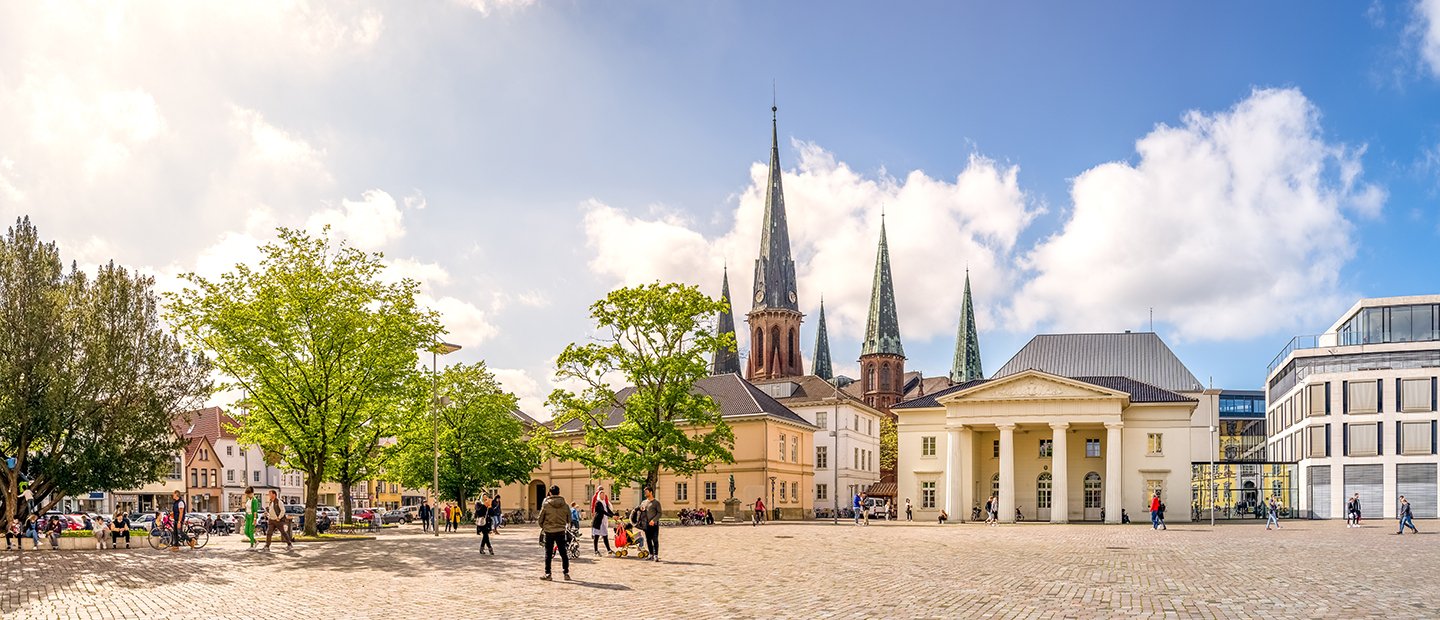 Universität Oldenburg, Germany
In collaboration with its partner, the Carl-von-Ossietzky-Universität Oldenburg (UO) in the historic city of Oldenburg in northwestern Germany, Oakland University brings students from Michigan to Germany, and vice versa, for terms of study between one semester and one academic year. This unique opportunity, which is a true exchange program in the German language, allows students of German to gain invaluable, hands-on cultural experience living in Germany while also giving them access to the world-class educational offerings at one of Germany's newer and more cutting-edge institutions of higher learning.
In addition to learning German through dedicated language courses or Sprachkurse, into which they will be placed by UO's expert staff, advanced students may also elect to take introductory courses offered in the UO Germanistik curriculum. Because all classes taken at the University of Oldenburg are considered to be taken "in residence" at Oakland University, students receive credit for coursework in Oldenburg through an especially clear and straightforward process coordinated by the Program Adviser.
Furthermore, as full-time students enrolled for a complete slate of course credits (12 or more), participants in the OU-UO Student Exchange Program are eligible for financial aid and scholarships to support their study, even while they are abroad. Deadline for scholarships offered by the Department of Modern Languages and Literature is March 15. The Oldenburg "Step-in" grant deadline is January 15, 2022. Summer 2023 runs April 1 - August 7, 2023.
For more information contact: 
Assistant Professor Anja Wieden
wieden@oakland.edu
Where you will Be
The city of Oldenburg is located in northwest Germany in the federal state of Lower Saxony. With 160,000 residents, the city is of an easily manageable size, and furnishes everything a student might want, especially social and cultural life. There are approximately 170 miles of municipal bike paths, as well as excellent public transportation, making everything in town within close reach of student housing and the university: it's no problem getting to the castle, the museums, the city center, cinemas, the theater, coffee houses and night clubs. There are numerous green spaces, parks and woods. The nearby North Sea determines the climate: summers are cool and winters are mild. It's a short train trip to cities like Bremen, Hamburg and Groningen (in the Netherlands); Amsterdam is only 190 miles away, just a few hours by train.
What you will do and learn
What you will do
Northwest Germany is teeming with activity for students – there is always something to do. Students purchase a student public transportation card which is valid for travel throughout the state of Lower Saxony. However, Oldenburg is a bustling, interesting, medium-sized German city, and students can find plenty of cultural, social and entertainment events to attend without having to leave town. City transportation connections are easy, and bicycling is by far the most popular mode of getting around. Parks and green spaces can be found in the city and the surrounding area. For weekend outings the North Sea is close by, offering seaside recreation opportunities, while beautiful, natural areas for hiking, such as the Lüneburger Heide are a train-trip away.
What you will learn
Before participating in the Oakland/Oldenburg Exchange Program, students must have completed at least two years of German (preferably 3): all curriculum in Germany will be in German language. Students will take an appropriate language course, as well as courses in the Germanistik curriculum at Oldenburg, which are approved by the director, and are designed to transfer directly into the German program at Oakland University.
Requirements
German major or minor, or minimum of 2 years of college German; application approval by program director and Universität Oldenburg.
How to Apply:
Students planning to study in the summer of a given year must file:

An application to the Oldenburg Exchange Program at Oakland University, due in its entirety on November 1, 2022. (Six application forms on students' online study abroad account).


After the German program advisers have reviewed the forms, individual interviews will take place by Nov. 15, 2022.
File application forms for the University of Oldenburg (see five forms on students' account, including "Application for Registration as an Exchange Student", "Application of Accommodation", "Confidential Financial Statement", "Confirmation of Health Insurance" and "Buddy Program Form". Complete this step by Jan. 15, 2023 (Summer Exchange). Complete this step by July 15, 2023 for Academic Year Exchange.;
Complete enrollment forms by Feb. 15, 2023 (both Summer and Academic Year Exchanges).
Onsite Organization: Students are required to register at the Bürberbüro, purchase German Health Insurance, and provide original confidential financial statement (details will be provided by Anja Wieden during pre-departure orientation).
Orientation Week from TBD (Academic Year)
Orientation Week from April 3 - 6, 2023 (Summer)
Summer Dates: April 1 - August 7, 2023
Housing, Food and Technology
Typically, students live in student housing facilities administered by Studentenwerk, which offers several kinds of accommodation close by the university. There are single and double apartments with their own kitchens and bathrooms available, as well as shared flats (WGs) and rooms in shared accommodations with shared kitchens. Each student residence includes washing machines and drying facilities, bicycle storage, cable television connection (the television set is not provided), and internet access. The student should apply for housing early, since there is usually a waiting list.
About Exchange
OU exchange programs offer students the opportunity to immerse themselves in the culture of a foreign country and to study with students from their host country at an OU partner institution. Exchange programs increase understanding and tolerance of other cultures, develop independence and confidence, improve language skills, and broaden social horizons.
Host institution exchange coordinators welcome students to the university campus and environs with an orientation. Participants live in student housing with other university students. Students pay OU tuition and get OU credit for classes taken while abroad and are eligible for OU scholarships and OU financial aid.
Exchange programs run a semester or full year, although the academic calendar at some of our partner institutions varies substantially from OU's. Some programs offer summer classes. Many exchange programs expect students to be able to converse in the language of the host country. Most exchange students become fluent in the language of the host country within a few months.
Cost
University of Oldenburg Germany
Number of credits: 12 or more
Monthly Living Costs (housing, meals and incidentals): $735 per month
Airfare (estimate): $1,500
Local transportation: $100
Books and supplies: $200
Visa: Visa not required
Extra costs: OU Tuition based on number of credits; Inscription fee: $360 per semester including semester ticket, student service, student union, bike repair and admin fee. Health Insurance $122/month. TV Radio fee $19/month. Resident VISA $122.