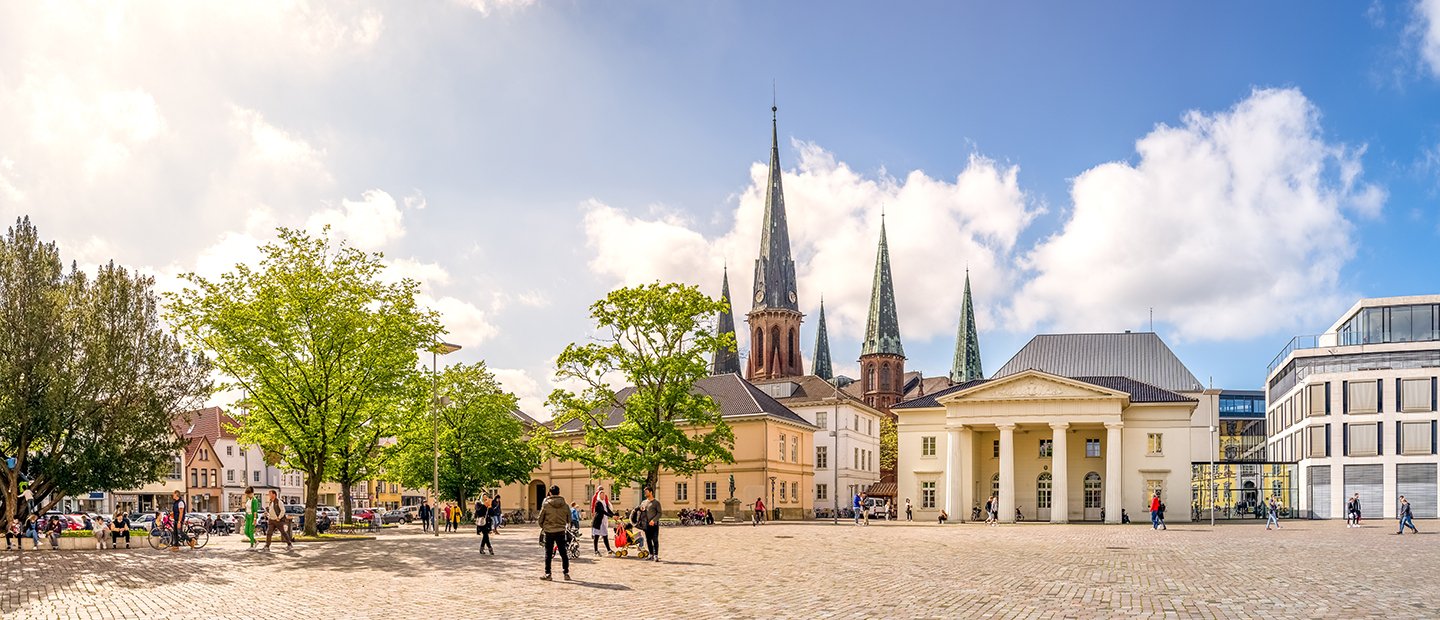 Universität Oldenburg, Germany
Oakland University's semester and academic year exchange at the Carl-von-Ossietzky-Universität Oldenburg (UO) in the historic city of Oldenburg in northwestern Germany. Students of German will gain invaluable, hands-on cultural experience living in a busy university city in Germany. A cultural and historic center of Germany, Oldenburg is located close to beautiful natural areas along the North Sea coast.
Course: 12 - 16 credits. Instruction in German is available at all levels. 
Program Dates: Summer semester, late March - July 2024, academic year, October 2024 - July 2025.
Application Deadline: November 1, 2023 for summer semester, March 1, 2024 for academic year 2024-25.
For more information contact:

Anja Wieden, Associate Professor, German
wieden@oakland.edu
Program Overview
Exchange students at the University of Oldenburg (UO) spend a semester or a full academic year studying German intensively in Oldenburg, a small city in the northwest German state of Lower Saxony. Become part of a thriving academic community of over 15,000 students from Germany and around the world, and have full access to campus amenities, including cultural events, performances, and sports and recreation facilities.
Oldenburg, home to 170,000 people, has a history dating to the 8th century, with much of the neoclassical center city built in the 1700s. It is anchored by an imposing castle, the ancestral home of the Royal House of Oldenburg (from which King Charles III of the United Kingdom descends). A population center of Germany's agricultural regions, the city has a busy calendar of traditional and modern celebrations and festivals throughout the year, as well as easy access to the natural areas and beach resorts along the North Sea coast. The university neighborhood and the city center are easily navigable on foot or by bicycle and have many restaurants, bars, art galleries, museums and public parks. Students receive a semester transportation pass, which allows unlimited access to the public transportation network in town and throughout the surrounding region.
Daily train service conveniently connects Oldenburg to all major German cities, as well as international destinations such as Amsterdam and Copenhagen. Places further afield, from Paris to London to Prague, are easily accessible for a long weekend.
Academics
Students must leave the last week in March to participate in the University of Oldenburg exchange program.
Requirements: A minimum GPA of 3.0 is required. Students who don't meet the GPA requirement may still be eligible and should speak with OU's International Education Office prior to applying. While no German background is required and courses are offered at all levels, most participants have completed at least one year of German at OU prior to studying abroad. 
Application: In addition to completing an OU study abroad application on Horizons, students must apply for admission to Oldenburg. Oakland University will nominate students to Oldenburg when their study abroad applications have been accepted. Instructions for completing Oldenburg's application are here.
Exchange students at Oldenburg primarily study intensive German, earning 12 to 16 credits per term. Students in the language classes study alongside classmates from around the world, international businesspeople based in Oldenburg, and refugees. In addition to language classes, a small number of classes taught in English in the social sciences, physical sciences, and humanities are available. Students with a high language level may supplement their language courses with topical courses taught in German.
Find more information about courses in Oldenburg here.
The German academic calendar is very different from the American calendar. Oldenburg's Sommersemester runs from late March to July, and the Wintersemester from October to February. OU students choose to study there either for just the Sommersemester term, or for the full academic year beginning in October. Students who go to Oldenburg during the Sommersemester may choose to study on campus at OU during the preceding winter term, or they may take OU's winter term off. Students will depart for Germany a few weeks before the end of OU's winter semester, so those in classes here on campus make arrangements in advance with their professors to finish their coursework early or to complete it virtually.
Courses at UO are quite demanding and students are expected to be organized and self-motivated. A tutoring program is available to students who request extra help, and a student buddy program offered by UO's international office pairs German learners with local students for conversation practice and help adjusting to life in Oldenburg. Students typically meet their buddy online well before they arrive in Germany. 
At the end of the semester, students will receive a transcript with German grades from 1 (excellent) to 5 (failing). OU converts these grades to American letter grades, which go on students' OU transcripts.
Housing and Food
Students book a room through the Studentenwerk Oldenburg, a union of student residences throughout the city. A number of options are available at affordable prices, with both single and double apartments (typically with private bedrooms) offered. Make sure to choose a dorm that comes pre-furnished. All buildings include either shared cooking facilities or private kitchenettes. Wifi is available in all rooms.
The university has cafeterias on campus with cheap meals available daily. Numerous restaurants, from street food and cafes to formal fine dining, are easily accessible nearby. Supermarkets are within easy walking distance, and a traditional German farmer's market is held in the city center on the weekends.
Local specialties include seafood and fish sandwiches, sausage with sauerkraut and asparagus, and chicken noodle soup, although all types of food can be found in the city.
Cost
Tuition: 12 -16 Credits
You will be charged for these credits on your eBill at your normal rate of tuition.
Additional costs: $7,465
You will need additional funds for these expenses not covered by program fee. Amounts are estimated.
Airfare: $1,500
Housing: $1,800
Meals: $1,600
Local transportation: $450
German Health Insurance: $120
Incidental personal expenses: $1,500
Passport (if you don't have one): $175
German Residency Permit: $120
Books and Supplies: $200
---
Scholarships and Financial Aid: You are able to use financial aid to cover your full cost of attendance to this program (tuition, program fee and additional costs). Scholarships are also available through your study abroad application.