Rosemary Max
Executive Director, Global Engagement
rmax@oakland.edu
(248) 370-3358

Alex Zimmerman 
Director, International Education
azimmerman@oakland.edu
(248) 370-2843
Alex has been OU's Director of International Education since April 2016. Prior to coming to Michigan, he worked for four years as Study Abroad Coordinator at the University of New Mexico in Albuquerque and for one year as Project Manager at an Islamic interfaith organization in New York City. His international experience includes five years in South America, where he taught English in Argentina and Peru and had a fellowship from the Rotary Foundation to study microfinance and entrepreneurship in northern Peru, and a year in the Middle East where he directed a study abroad program for American high school students to learn Arabic in Amman, Jordan. Alex holds a Bachelor of Arts in political science from the University of Chicago and a Master of Arts in Middle Eastern studies from the School of Oriental and African Studies at the University of London. He speaks Spanish, Arabic, French and Mandarin with declining levels of ability, and has also studied German and Navajo. He has studied abroad in 10 countries on five continents.

Cynthia Weil
Assistant Director, International Education
weil@oakland.edu
(248) 370-2212
Cindy has been helping Oakland University students realize their dreams to study abroad and study away since in 2011 through promotion, advising, and direction. Her current role as Assistant Director and National Student Exchange Coordinator in the International Education Office was preceded by one year as OIE interim Director and three years as Study Abroad Coordinator. Cindy holds a Master of Business Administration from Oakland University, Bachelor of Science in Business Administration from Lawrence Technological University and Bachelor of Science in Journalism with a minor in German from Ohio University. Two undergraduate study abroad programs include German language immersion in Salzburg, Austria and Western European Business Study through seven countries. She studied German, French, and Russian languages to varying degrees. Nationally, Cindy has traveled to 47 of the 50 states and plans to notch the final three and U.S. Territories, including Puerto Rico and the U.S. Virgin Islands, in the very near future.

Shirley Smith
Administrative Secretary, International Education
campbel4@oakland.edu
(248) 370-2889
Shirley started at Oakland University in the Office of International Education in March 2008. Her primary responsibility is to provide clerical support to the director and his staff. Shirley is also the first point of contact for students who are seeking to apply for study abroad or study away, scholarships, or to make an appointment with an OIE staff member. Additionally, she provides support by answering questions and directing students to appropriate campus resources. Shirley comes to OU with more than 20 years of experience in the administrative field.

Hannah Pachucki
Program Assistant/Front Desk Manager
handerson@oakland.edu
Hannah has been working at Oakland University since November 2020. She is the Front Desk Manager, and provides secretarial support for all three departments in the Office of Global Engagement, as well as executive support for the Executive Director. Hannah holds a Bachelor of Arts from Oakland University in History and speaks French and Haitian Creole. Hannah interned abroad in Haiti while studying at Oakland, and looks forward to conquering all 62 National Parks in the United States.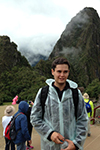 Juan Martin Davila Grijalva
Study Abroad Student Adviser
Juan Martin is an international graduate student with a degree in Hotel Management and Tourism. Juan has studied English since he was 10 years old and French before graduating. He has studied abroad in Cartagena de Indias, Colombia, and is now studying abroad at Oakland University to obtain a Master in Business Administration. Juan loves nature - he has climbed almost every mountain in Ecuador and has visited the four regions in his homeland Ecuador, including Galapagos. He loves the ocean for surfing and scuba diving. He has traveled around the world, visiting Dominican Republic, Mexico, Panama, Colombia, Jamaica, Peru, Spain, Germany and the United States. Now he is planning to keep traveling around the United States. During this time, Juan has made a lot of friends and networked with a lot of people. After graduation, Juan will use his MBA to promote tourism in Ecuador and to create new job opportunities for everyone, and will also promote Ecuador so that everyone can discover a whole new world.
View Juan's study abroad photos on our Facebook page.

Brenda Murueta
Study Abroad Student Advisor
bmuruetavargas@oakland.edu
Brenda is an international graduate student working towards a Master of Science in Business Analytics at Oakland University. She's from Mexico where she got her bachelor's degree and MBA in Business Administration. She has experience in project management. She's traveled around the United States and visited Canada and France. Studying abroad has been one of the best experiences she's ever had. It has allowed her to meet new friends from here along with international students and gain a lot of new knowledge!
She likes to do outside activities such as cycling and walking, and she also love picnics!!