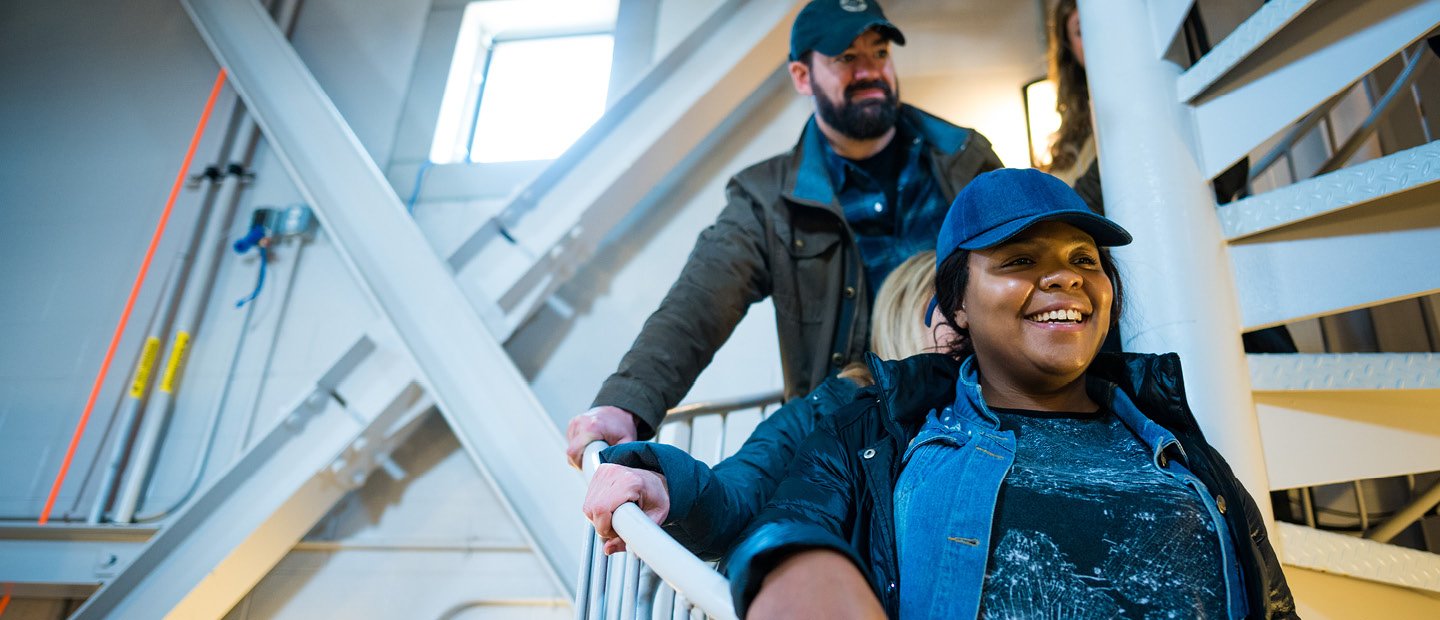 The character and caring of Oakland University students is inspiring. Learn all the ways students are fundraising to help their fellow students and to support their beloved campus.
Student Philanthropy Committee
Mission: The Oakland University Student Philanthropy Committee seeks to improve the future of Oakland University by raising awareness and appreciation among students about the importance of philanthropy.
Goal: The Student Philanthropy Committee will work with the Oakland University Annual Giving team to motivate and encourage OU students to become involved in the philanthropic process at the University. This goal will be accomplished with awareness and philanthropy events throughout the year.
To join us, contact the Student Philanthropy Committee Advisers!
Committee Advisers:

Follow the OU Student Philanthropy Committee on Facebook, Twitter and Instagram.
2023 Class Gift
What does it support?
Each year, approximately 120 students cannot afford to return to OU for their senior year. The 2023 Class Gift will support scholarship opportunities for class of 2024, so the class of 2023 can leave a legacy for the graduates who follow them! Gifts of any size make a difference to this initiative!

Who gives to the 2023 Class Gift?
The 2023 Class Gift is open to all graduating students, not just undergraduates.

How can I get involved?​
Volunteer for the 2023 Class Gift Committee! Volunteers help us spread the word about the Class Gift, while earning prizes such as VIP parking at commencement, diploma frames and more!

Sign up as a volunteer. 

Elliott Tower Climb: ​​Make a gift. Make the climb. Make a memory. 
Graduating students who make a gift of $20.23 or more to the Senior Class Gift Fund, the Graduate School Class Gift Fund, or the OUWB Class Gift Fund will be invited to climb the stairs of the Elliott Tower. 
This is a special benefit for graduating students who make a gift of $20.23 or more to a Class Gift Fund.
Students who make a gift of $50 or more will be invited to a VIP tour.
View a full list of tower climb rules.
"When you give, it's the best thing you can do for yourself. I learned many years ago – and it's true – that even if you give just a little bit, over time, it adds up."
— Hugh Elliott
Student Philanthropy Month
What is Student Philanthropy Month?
During the month of October, Oakland University student organizations and club sports teams compete to see who can raise the most for their organization and who can get the most donors.

A giving portal is created for the month where donors can choose to make a donation to their favorite organization or team.

Because of the emphasis on student giving, the scores will be calculated based on donations from current students only. However, other individuals can use the giving site to make a donation to the organization or club of their choice.

Organizations are eligible to win in two categories: Participation Score (number of student donors) and Fundraising Score (number of dollars from student donors):

Participation Score:
$1,000 for highest number of donors
$500 for runner-up
$250 for second runner-up

Fundraising Score:
$1,000 for highest total dollars raised
$500 for runner-up
$250 for second runner-up

Organizations may only place in one category. A total of six organizations will receive a bonus. See full rules (below) for details.

For more information, call (248) 370-4349 or email giving@oakland.edu.

Visit our Google Drive for additional materials and resources: Student Philanthropy Drive
Give Now
FAQ
Q: My organization raises money for the Michigan Cancer Society every year. May we use the Oakland University crowdfunding site to do that?
A: Unfortunately, no. Gifts made to Oakland University may not be redirected to another nonprofit, charity, political campaign or other tax exempt group. Your organization is welcome to fundraise for them in other ways - though their own web site, bake sales or other events. We just cannot issue an OU receipt for those types of gifts.
Q: So what CAN we fundraise for?
A: Oakland University student organizations and club sports may raise funds to support their mission on campus. For club sports, this may mean purchasing equipment, practice time or other necessities. For student orgs, it might support things like travel to conferences and conference fees, printed educational materials such signs and brochures or special events the group holds. These are just examples, but contact us if you have any questions about what you can and cannot raise funds for. You may also choose an OU fund to raise funds for if your organization does not require additional operating funds.
Please note that all funds are deposited into your CSA Flex Account, so there may be rules and restrictions in place.
Q: My friend doesn't have a credit card. May I make a gift online for them even though I have already made a gift to the same organization?
A: We recommend they make a cash/check donation using this this short form to be sure their gift will count towards the participation score, since the system will view this as a gift from you. We review the "billing name" (the name that appears on the credit card) for all online gifts in order to check for duplicate donations and other inconsistencies. 
Rules for student organizations
Challenge is open to all currently registered non-SAFAC OU student organizations, including club sports, that are in good standing with the CSA Office.
All activities around and funds raised or awarded as a result of this challenge are bound by all rules, policies and procedures in place for Oakland University student organizations and/or club sports and IRS regulations.
Organizations are eligible to win in one of two categories: Participation Score (number of student donors) and Fundraising Score (number of dollars raised from students).
Number of donors and number of dollars will be calculated from donations made by currently-enrolled students of Oakland University (verified with the Registrar's Office) as of October 1, 2023 (midnight). Participation will be calculated using the number of unique donors to that organization (multiple gifts from the same person will not be counted more than once for participation score, however the total gift amount in that case will still be included in the total fundraising score).
Gifts can be made online. If cash or check gifts are collected, please have the donor completely fill out this short form. Gifts under $5 will not receive a receipt. If there is no form turned in for cash donations, the total amount will be listed as coming from "anonymous", and will count towards dollars raised but not number of donors.
No goods or services may be exchanged in return for a donation (no quid pro quo), such as requiring a donation to receive an item or attend an event. Additionally, no funds from raffles, auctions, or third party events (such as a restaurant donating a percentage of their sales) will be accepted.
Giving site or other means of making a gift may only be used for charitable donations to the organization. Members may not pay their organization dues or other standard organization fees through these means.
A total of six organizations will receive an award. One organization may not win an award in each category. The organization will receive the award in whatever category they have the highest score, allowing other organizations to move up in the alternate category. If an organization has the same award level in both categories (ex. first place in both Participation Score and Fundraising Score) then they will take the award for Participation Score. This will continue until six unique organizations receive a bonus. 
Questions? Contact the Annual Giving Office at giving@oakland.edu or (248) 370-4349.
Become an Advancement Ambassador
The OU Telefund is a great opportunity for you to strengthen your communication skills, earn extra money, and support Oakland University.
Every year, Advancement Ambassadors contact OU alumni, parents, and friends to update demographic information, share news about campus events, and ask for support of the University for scholarships, technology upgrades, campus enhancements, and much more.
About the job
Work for the 
BEST
job on campus as an Advancement Ambassador for Telefund -
APPLY TODAY
What makes it the best?
Flexible Scheduling - Pick the days YOU want to work
Sense of community/Work with your friends
Fundraising and communication skills building
Leadership opportunities and career support
Room to grow and get promoted
Free Food! (sometimes)
Win gift certificates and other prizes
Make $9.75/hr. while you build your resume raising thousands of dollars for your school
Pay increases each semester
Telefund has a special role on Oakland University's campus. The program seeks energetic, dependable student employees each semester to contact OU alumni and friends across the nation about University programs and invite them to support Oakland University through monetary gifts. 
DID YOU KNOW? Tuition only covers about 81% of a student's education at Oakland University. The remaining funds come from state funding and our generous donors! Perhaps you've even given back yourself through events like our yearly Giving Challenge with UDM!
The money raised from donations during Telefund are divided into different funds, such as student organizations, the food pantry, the library or the school they graduated from i.e. College of Arts & Sciences and emergency student scholarships! It's very possible you could have received a scholarship because of the great work our Advancement Ambassadors do!
Shift Requirements and Work Schedule
Callers will select their preferred scheduled work days and times prior to the first day of calling for that semester.
Student employees are required to adhere to all University work policies, as well as special work policies outlined by the Telefund staff.
Available Shifts:
Sunday afternoon: 1:30 - 5:00 p.m.
Sunday evenings: 5:30 - 9:00 p.m.
Monday through Thursday evenings: 5:30 - 9:00 p.m.
(Note: We are looking to hire students who are able to work a minimum of 2 shifts/week)
Training
To become a knowledgeable student caller for OU, new and returning callers will receive paid training. Training is mandatory and scheduled prior to the first calling day of the semester.
During training sessions, callers learn fundraising techniques, how to use the equipment, and information about OU, the campus, colleges and programs.
Continued training is provided to keep callers growing in their performance.
Some alternative training sessions may be available; these will need to be coordinated with Program Center Manager.
Salary and Hiring Information
Current salary is $9.75 per hour for new callers, with an increase for returning callers.
Student employees are paid every two weeks through the OU biweekly payroll system.
The first paycheck will be issued on the first pay date following the first week of work. For example, on May 9th for hours worked April 28 - May 4.
Student employees must provide a valid ID and proof of enrollment at OU or OU-Macomb.
Proof of eligibility and all mandatory paperwork needs to be received and approved by 

Student Financial Services

 before a student is eligible to attend training or work shifts.
Telefund
Advancement Ambassadors are OU students who support the university's mission through work in our call center and beyond. These students make a difference at OU, while gaining valuable work experience. Funds they raise help to provide scholarships and other valuable educational resources.
When calling, students request updated contact information, share news about the many things happening at OU, and answer any questions alumni and friends may have. Calls are typically made Sunday afternoon and Monday-Thursday evenings throughout much of the year.
Our students look forward to speaking with you! Please take some time to talk with our students and to renew your annual support, or consider making your first gift to OU.
Our Student Advancement Ambassadors call out of our Advancement Center using this phone number: (248) 218-9472.
These numbers cannot take incoming calls. However, if you'd like to reach our staff members to make or fulfill a gift, you can contact us at (248) 370-4325.
Telefund pledges can also be fulfilled online. Thank you for your support!