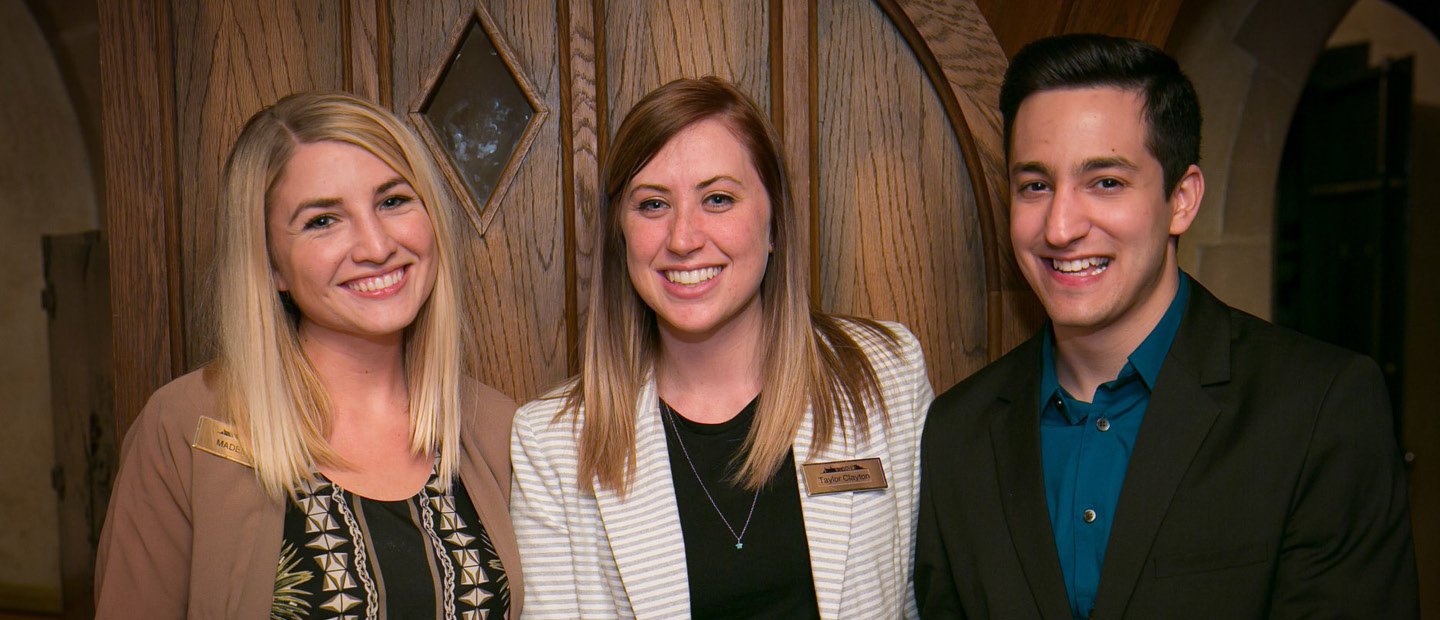 Loyalty to Oakland University is pervasive in our campus and community. Our people are our power, and together, we make the impossible possible at OU. Become part of one of our leadership groups so that you can help support the amazing work of Oakland University.
Give Now
Women and Philanthropy
In 2018, a group of women came together with a vision: to give intentionally and collaboratively to create a greater impact on students at Oakland University. The giving group created from this vision has been able to fund projects that will impact the OU community for years to come.

Most events are hybrid (in-person and virtual) which means members from across the country can take part in selecting projects that have meaningful impact.
After-Hours Crisis Counseling Service Pilot Program ($10,000)
WISER: Supporting Women in STEM at Oakland University ($2,000)
Student Run Free Clinic - Community Garden Expansion Project - OUWB School of Medicine ($2,000)
Inspiring careers in medicine
Faculty research via musical performance
Expanding the organic farm's hoop house
Nursing palliative care training for students
Scholarships for students with a break in their studies due to family obligations
Expanding diversity for future medical professionals
Peer-to-peer program for students on the autism spectrum
Get Involved
Membership is on an annual basis and begins with a minimum gift of $1,000 (one-time gift or split into multiple gifts).
To encourage emerging philanthropists, women under the age of 40 can join for $250. Gifts at these levels allow members the opportunity to vote on grant awards each year.
Supporting members at the $100+ level are invited to attend committee events, with the exception of the grant selection event.
Looking for a unique gift for a recent graduate of OU? Sponsored memberships are available at the amounts listed above! Contact us for more details, or make a note on the giving form.
Become a member now by making a one-time or scheduled gift online, or contact us for alternative gift options.

New this year: Encourage emerging philanthropists by sponsoring a membership for a student or recent alumna! Current OU students or recent graduates interested in learning more about philanthropy and engaging with members for mentorship and networking will apply for a spot on the committee when you purchase a sponsorship.


What We Do
Philanthropy: Our Purpose
Women and Philanthropy consists of women who each make annual commitments to a collective fund. Every year, members vote on how the funds will be allocated among OU top programs, initiatives and scholarships.


Education: Showcasing OU
Women and Philanthropy members are invited to engage with some of the best and brightest faculty, staff and students. These programs connect members with the top programs at OU.


Networking: Connecting Philanthropists
Women and Philanthropy connects women with many interests together to join forces to make a difference at OU and to connect with the University and each other.


Volunteering: Making a Difference
Women and Philanthropy provides new, and highlights existing, volunteer opportunities that provide a way for members to put their passions to work to assist with programs and help students.

History of Women & Philanthropy
Women & Philanthropy was established in 2018 to provide gifts to Oakland University projects and programs by pooling its members' resources and making monetary awards in the form of grants. Grants are not restricted to women or women's initiatives. They will be made in varying amounts. Applicants must be Oakland University faculty, staff or University-registered student organizations, and funding may be allocated only for projects or programs that directly support the Oakland University community. Funds will be granted only to OU accounts.


Our Typical Timeline
Mid-February to Mid-March: Complete grant application and open for submissions
Early April: Submissions due
Late April: Grants committee reviews, selects top applicants
May: Presentation by top finalists (5-8 submissions) during selection event
Fall: Presentations on impact from past grantees

To learn more about applying for a grant or becoming a member of the Oakland University Women and Philanthropy, contact us at giving@oakland.edu.

Kelly Brault
Director of Annual Giving
brault@oakland.edu
(248) 370-4921


Oakland Circle
Every year, the Oakland Circle grows larger, thanks to the generosity of our donors. The Oakland Circle consists of individuals who have given at the $1,000 level and higher annually. Make your commitment to OU and join the Oakland Circle.
Black and Gold Loyalty Society
Loyalty is leadership. That's why we honor our loyal donors through the Black and Gold Loyalty Society. Anyone and everyone who gives to OU for three straight years is a member of this prestigious and respected group. Learn more about the Black and Gold Loyalty Society today.
Celebration of Scholarships
One of the most exciting and important nights of the year at Oakland University, the Celebration of Scholarships is a springtime event for invited donors who make educational opportunities possible for students. It is a night of laughter, tears, and tributes to the kindness and generosity of OU donors.