Friday, Nov 04, 2022
Pediatric Interest Group at OUWB nets national award from American Academy of Pediatrics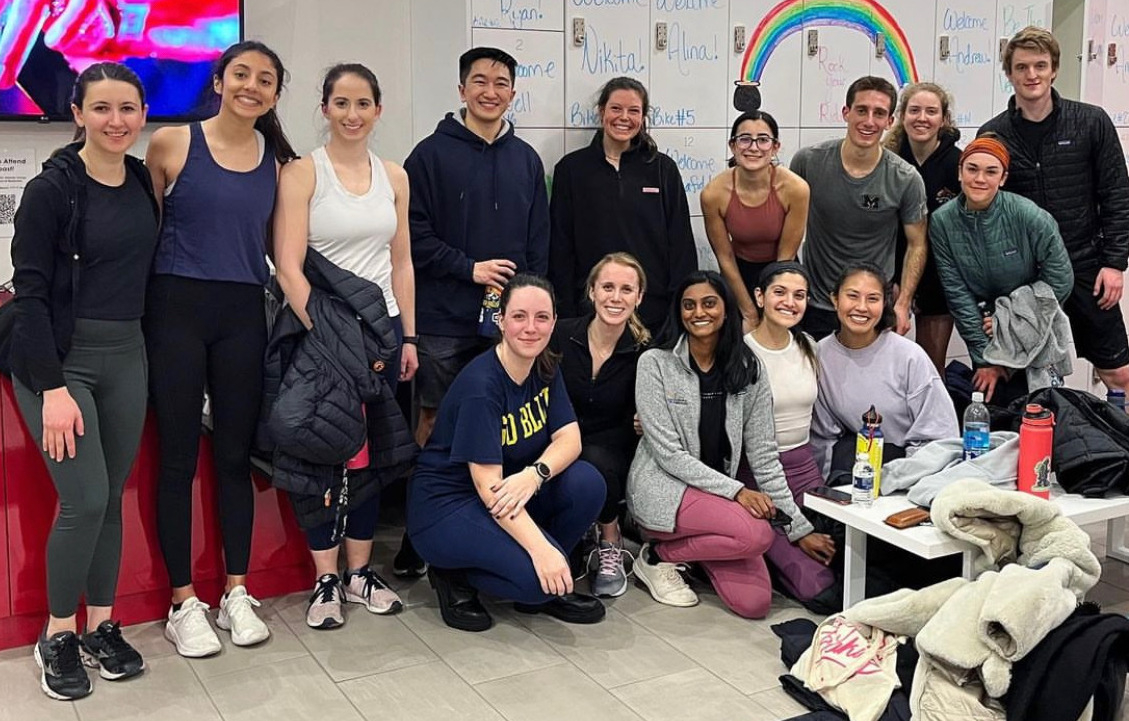 OUWB's Pediatric Interest Group held a fundraising event called "Race to the Roast" earlier this year. It's just one of many events that helped the group receive national attention.
A student organization from Oakland University William Beaumont School of Medicine has been named the national Pediatric Interest Group of the Year by the American Academy of Pediatrics.
The OUWB Pediatric Interest Group received the award in October during the 2022 AAP National Conference and Exhibition in New Orleans.
Created and presented by the AAP Section on Pediatric Trainees Medical Student Committee, the award recognizes a Pediatric Interest Group annually for its excellence in interest group programming and involvement in the Section on Pediatric Trainees (SOPT) annual advocacy campaign.
The OUWB Pediatric Interest Group has been in place and continually evolved since the school's beginning. Currently with about 80 active members, this is the third time the group has received the Pediatric Interest Group of the Year award from AAP.
"It felt great and really nice to be recognized for everything that our group did last year," said Tulasi Talluri, M3, and president of the OUWB Pediatric Interest Group for 2021-22.
"We had an amazing team effort," she added. "As things started to pick up after COVID, we had a lot of ideas for PIG so it was fun to see those take effect and start going."
Current PIG President Max Troyke called the award "an enormous honor."
"We place a high priority on organizing events that are not only informative and engaging for our OUWB students, but tangibly beneficial for our community and for pediatric medicine more broadly," he said.
"This award is hardly the reason we do what we do, but it fills us with joy to know that we are staying true to our mission and making a difference."
Rose Wedemeyer, Ph.D., director of Education Training, works closely with PIG.
"While I felt great pride for the Pediatric Interest Group upon learning about their accomplishment, I was not at all surprised," she said. "I am proud to continue working with PIG in all their endeavors to help them achieve their goals and I know they are making a great impact."
Helping find 'a right fit'
According to AAP, Pediatric Interest Groups provide the opportunity to learn about and experience the field of pediatrics starting in the first year of medical school.
Members usually are interested in a career in pediatrics, combined internal medicine and pediatrics, or various subspecialties within pediatrics.
Groups typically sponsor talks and networking events, facilitate mentoring relationships with pediatric residents and faculty, and create opportunities to interact with pediatric patients and explore research interests.
"By introducing students to the pediatric community and enabling them to learn about the field from a variety of perspectives, (Pediatric Interest Groups) can help students decide whether a career in pediatrics is the right fit for them," AAP says on its website.
AAP's Pediatric Interest Groups of the Year are judged in a number of areas, including interest group programs and involvement in the annual advocacy campaign.
This year, the campaign was titled "Rx Against Racism."
PIG organized several events to raise awareness about ways to reduce racial disparities in access to care and provide inclusive care to more people.
One example was the "Pathways to Pediatrics" campaign, a two-part series that encouraged middle school students who come from backgrounds that are underrepresented in medicine to pursue careers in medicine, specifically pediatrics. (The program was made possible by a grant from AAP.)
Another example was the "Racial Disparities in Infant and Maternal Mortality" series that included collection of essential items to care for mothers and infants/children, through which a significant number of supplies and money were donated to mothers and children in need of support.
PIG members were busy in many other ways, too, including:
Implementation of a mentor-match program that paired about 50 medical students with 20 local pediatricians and pediatric subspecialists based on shared interests. This program was designed to prepare medical students to match into pediatrics, help them foster their interests, and provide one-on-one mentorship to address specific questions, hurdles, interests, etc.
Implementation of a pediatric case series where pediatricians discussed pediatric pathologies and reports to help further prepare OUWB medical students for the pediatric clerkship and sub-internships.
Raised $5,000 for CARE House of Oakland County via the annual PIG Roast.
In connection with the Oakland University Lowry Center for Early Education, PIG members hosted a weekly story time with their preschool class. Each week, a different medical student would come to the school and read a story to the class. After reading the story, the topic of the book was discussed.
Via a program called Classroom Connection, medical students engaged with middle school teachers and students at a low-resource school in Pontiac to create age-appropriate and relevant lesson plans surrounding topics such as mental health, time management, heart health, nutrition, and microaggressions. Every month, members of PIG would visit the classroom for the morning and present one of the modules in a fun and interactive way. 
Emelie-Jo Scheffler, vice president, PIG, said such programming and success — past, present, and future — wouldn't be possible without "the dedicated efforts made by the previous generations of OUWB students."
"Our current membership would not have attained even a fraction of this success without the PIG leadership that came before us," she said. "Really, we see this as their award."
Specifically, Scheffler noted that last year's e-board went out of their way to prepare and equip PIG to be a successful organization, and said they are still actively involved in promoting and supporting our efforts.
"We are very grateful for their support and hope to be the same way for the next group of PIG members," she added.
To request an interview, visit the OUWB Communications & Marketing webpage.
NOTICE: Except where otherwise noted, all articles are published under a Creative Commons Attribution 3.0 license. You are free to copy, distribute, adapt, transmit, or make commercial use of this work as long as you attribute Oakland University William Beaumont School of Medicine as the original creator and include a link to this article.