Tuesday, Jan 25, 2022
'Anything is possible:' 10th annual health fair hosted by OUWB for Chandler Park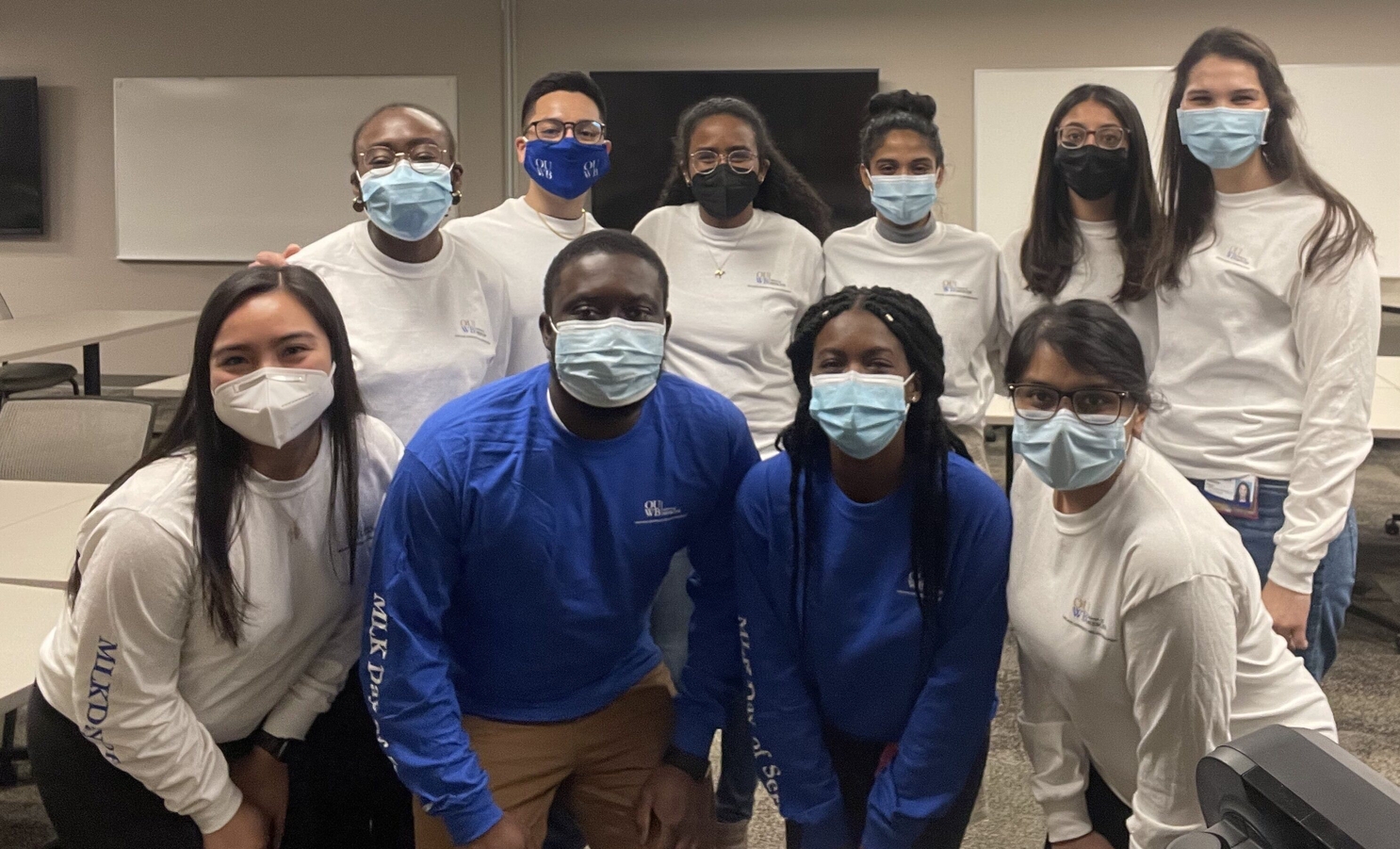 The group of OUWB students behind the 10th annual Health Fair at Chandler Park Academy pose for a photo near where they set up a hub of computers to run the event. COVID-19 safety protocols were in place. (Submitted photo)
Nearly 50 students from Oakland University William Beaumont School of Medicine volunteered at the 10th annual Health Fair for Chandler Park Academy in Harper Woods.
The event took place on Jan. 21 and was held virtually for the second straight year. More than 20 classes participated from Chandler Park Academy, with an estimate of about 30 students per class. 
The fair was organized by OUWB's Student National Medical Association (SNMA). Unlike last year, it was the classrooms that logged in via Zoom instead of individual students. 
They were able to visit several breakout rooms that served as the fair's "booths" hosted by OUWB students. Each booth had a specific health care topic. The event is held annually around Martin Luther King Jr. Day. 
SNMA President Adel Andemeskel, M2, said it was easier to run the fair virtually this year compared with last year. 
"We had a better idea of how it could work and we had more options from learning from last year," said Andemeskel. 
SNMA Vice President Camila Joy Ramos, M2, shared similar sentiments. 
"Last year it was single individual students who participated, but this time it was the whole classroom logging in," Ramos said. "And because we did it last year, it was super easy to have the student orgs jump on board and do similar things that they did last year but with different topics." 
The breakout rooms were designated by color. In the "black" room for example, Revelle Gappy, M2, and Paige Girdley, M2, from OUWB's Emergency Medicine Interest Group, showed students how to apply CPR. 
The "orange" room was all about warts. Yasin Sahin, M2, and Verna Halim, M1, from OUWB's Dermatology Interest Group, gave a presentation about the different kinds of warts and how and where they can appear on your body. 
Other topics covered at the fair included alcohol consumption, how to give a proper diagnosis, and suicide.
SNMA received support for the fair from OUWB's Diversity & Inclusion department. 
Tiffany Williams, Ph.D., director, Diversity & Inclusion, said it was important to support this event because "it allows for our current medical students to engage with pre-college students within the Chandler Park community."
"Through this engagement our OUWB medical students are able to share their knowledge on health education and well-being that encourages Chandler Park families agency in their health care," Williams said. "It is valuable for the students to be a part of helping to close the health equity gap and gives them hands-on experience in community health promotion." 
Williams also said she believes that Martin Luther King Jr. would have "felt good" about this event and its longevity. 
"He would also ask what more can be done and then challenge us all to get busy doing it?" she said. "I believe the core of our mission is about service and service to others, inclusion, justice, and equity; similar to Dr. Martin Luther King's dream, we are working every day to achieve this." 
Ramos talked about the significance of Martin Luther King Jr. Day to SNMA and to her as a medical student. 
"We talked about how this is how we would carry on his legacy and his work and providing help to communities all over the area and making sure everyone gets the same opportunities in terms of education in terms of health, things that we can do as medical students," she said. 
Andemeskel said she had similar feelings, stressing the importance of community service. 
"Dr. Martin Luther King, really valued service within the community, which is the main point of Martin Luther King Day in our country," she said. "It's a day of service and this fair is OUWB's way of serving the community around us." 
SNMA Community Service Liaison Donna Kayal, M2, said that this fair showed the group that "anything is possible if you put your mind to it." 
"We came into the fair knowing that we wanted it to be in person but then it became virtual. There were constant changes happening, and despite some of the obstacles that we faced, we were able to adapt. Being willing to push forth when we have our mind set on it – it's a big (accomplishment)," said Kayal. "I think that's why a lot of us actually want to become physicians because this is what we want to do."
To request an interview, visit the OUWB Communications & Marketing webpage.
NOTICE: Except where otherwise noted, all articles are published under a Creative Commons Attribution 3.0 license. You are free to copy, distribute, adapt, transmit, or make commercial use of this work as long as you attribute Oakland University William Beaumont School of Medicine as the original creator and include a link to this article.