Wednesday, Jan 27, 2021
CEME launches professional development for 2021 with robust session on laughter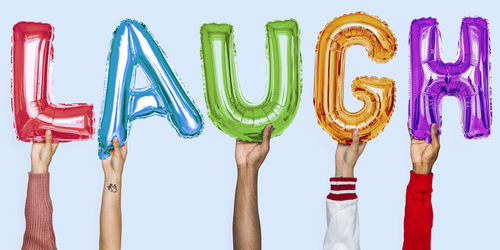 Diedre Hurse, Ph.D., assistant professor, FMS faculty, and Maria Rivait, coordinator, Clinical Pathology clerkship, greeted the new semester as participants in the OUWB Center for Excellence in Medical Education professional development session on "Laughter During the Pandemic."
Hurse
Both signed up for different reasons; Rivait wanting to "tap into her sense of humor to retain some sanity" during the pandemic, and Hurse viewed it as an opportunity to meet new colleagues who like to laugh.
"I think that you should enjoy your work and find ways to enjoy the company of those you work with so the topic was appealing to me," says Hurse, "I like to laugh and figured I may meet colleagues who like to laugh as well."
One pandemic joke, went like this: "Another Saturday night in the house and I just realized the trash goes out more than me."
 Laughter keeps the stress away
The session did not disappoint. Through interactive exercises, Terry Dibble, M.S., certified and applied positive psychology, explained that a daily dose of laughter assists the human body with managing stress.  
"We need stress in our lives because it helps our body move. Having a baby is stressful but it is a good stress. The goal is to find the optimal amount - to have just enough stress but not too much of it," explains Dibble, who teaches a stress management class for undergraduates as a special instructor coordinator of Practicums and Internships for Oakland University School of Health Sciences.
Dibble used Laughter Yoga (Google it, it's a thing), a group fake laughing activity, encouraged participants to connect with a happy memory and sparked ideas on how to find ways to laugh daily made this session move along quickly. As an example, he enjoys a chuckle at strangely worded vanity license plates and bumper stickers.
He addressed the 2020 pandemic by prompting participants to reflect on what new skills they learned or activities they discovered. Aside from learning Skype, WebEx and Zoom, Rivait started taking Mandarin lessons on her phone and cooked her mom's English pot roast for the first time. 
"I think I left behind being scared of the unknown in 2020," says Rivait.
"If we have learned anything, it is that we can't predict what will be thrown at us next, but we can choose how we handle it." 
Hurse's biggest lessons of 2020 were the realization that people are more resilient than she could have imagined and that she learned to value the present. 
"I am more in tune with what my needs are in real-time than I have ever been before in my life," she says. "I learned that the systems we have in place for public health don't work as well as I thought. I am bringing with me into the new year expectations of good things and welcoming new opportunities to learn and grow.  
After the session Rivait felt as if there was a little less weight on her shoulders, and Hurse plans to use some of these laughter techniques in her classroom. 
"The class made me consider the stress our students are under and I plan to look up ways to incorporate laughter into my lectures," says Hurse. "I really found the concept of laughter yoga to be interesting as well. I plan to look it up and learn more." 
Stress management is the goal explains Dibble and finding what makes you happy then doing it is key to managing it. 
"Visualize the skills that put you at your best and realize those strengths and use them in other areas of your life," concludes Dibble.
To request an interview, visit the OUWB Communications & Marketing webpage.
NOTICE: Except where otherwise noted, all articles are published under a Creative Commons Attribution 3.0 license. You are free to copy, distribute, adapt, transmit, or make commercial use of this work as long as you attribute Oakland University William Beaumont School of Medicine as the original creator and include a link to this article.