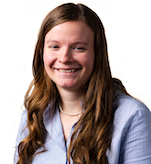 MAJOR
Nursing

OPPORTUNITY
Part time job at Beaumont

I had just begun the Nursing School Program when I attended my first Student Nurses' Association of Oakland University (SNAOU) meeting. At the meeting, Carol Anne from Career Services spoke to us about how we can use Career Services resources to find our dream job. Empowered by her presentation, I identified that I wanted to work in a hospital. But, I didn't even have a resume or know where to begin with searching for opportunities. So, I made an appointment with Carol Anne and she showed me how to build a fantastic resume from the ground up. From there, I engaged with several Career Services events and virtual resources on Handshake.
At one of the events, the Nursing Career Mixer, I connected with Beaumont and applied for nursing assistantships that sparked my interest. When I was contacted to interview, I was very nervous, so I scheduled a mock interview with Carol Anne to help me prepare. I felt more confident after the mock interview and I was prepared to answer a variety of questions, as well as recall real life examples to support my answers. After my interview, the interviewer commented on how well I answered the questions and said she could have hired me on the spot after my first response! Thanks to Carol Anne and the resources at Career Services, I obtained the perfect position at Beaumont as a Nursing Assistant.
Back to Home Page