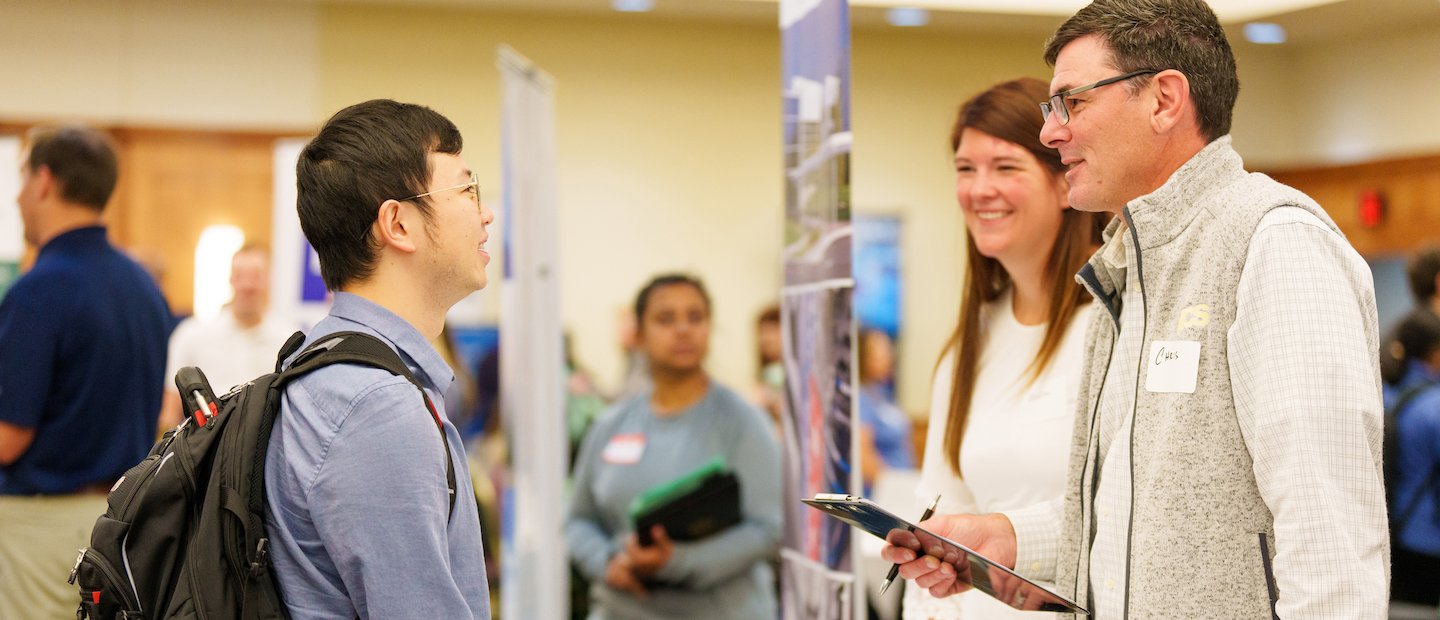 We are here to help you with resumes in our Career Studio, career exploration through appointments with Career and Life Design Coaches and industry-leading career fairs and events.
Use the information on this page to learn more about how we can help you explore, discover and connect along your unique journey throughout college - and beyond.
Resume Reviews
Empower your resume with AI at the Career Studio! Career Ambassadors will help you leverage Big Interview to develop your resume. This AI software offers a seamless starting point, helping you craft a standout resume that aligns with your path. No more overwhelming hurdles—simply upload your resume for evaluation and work with a Career Ambassador to add your voice.
Do you not have a resume yet? No worries! Drop in to the Career Studio to work with a Career Ambassador. No appointment needed.
The Career Studio tab on this page provides current hours and more information.
Career Studio
Drop-in when the inspiration strikes for support that will empower you to take the first step! No appointment needed.
The Career Ambassadors can help you with:
Resume creation and optimization using AI technology via Big Interview
Handshake navigation
Searching for on-campus jobs, internships and jobs
Career Fair and event prep workshops
LinkedIn and social media support
Interview skill building
Cover letter development
Free professional headshots
Fall 2023 Hours: Monday - Friday, 10 a.m to 4 p.m.
In-person:
North Foundation Hall, Room 103
We recommend bringing your laptop.
We have technology to share if you do not have access to one.
Virtually:
To start a virtual drop-in, email careershare@oakland.edu.
Career Exploration
Career and Life Design Coaches will guide you through the process of discovering your path through tailored conversations and resources. All Oakland University students and alumni have the opportunity to uncover their true skills and interests. Make an appointment with your Career and Life Design Coach on Handshake.
Looking for help with your resume? Drop in to the Career Studio during open hours for assistance.
Make an appointmentWhat can I do with my major?FOCUS2OUParker Dewey Micro-Internships
Career Treks
Career Treks are career exploration experiences that provide you with the opportunity to learn about companies, industries and careers by giving an insider's look into the company.
Students travel to partnered companies to engage with industry professionals and OU alumni, expand their networks and increase their awareness of career possibilities. Learn how your degree and skill set can be utilized and valued at companies that seek to hire OU students!
Visit Handshake to browse available Career Treks.
Career Treks are held during Fall and Winter academic semesters only.
Internships
An internship is a great way to gain experience in your field and help you to decide if you're on the right career path. Most employers expect graduates to have one or two internships on their resumes when applying for full-time positions. We recommend looking for an internship during your sophomore year. Your internship could be the gateway to a full-time job!
While the Career and Life Design Center cannot place you in an internship, we can give you the tools you need to land your dream position. You can browse and apply for current internship opportunities by logging in to Handshake.
Over 90% of students with at least one internship were employed at graduation.
If you need assistance with your internship search, drop in to the Career Studio. We can help you find the right internship, update your resume and cover letter and practice your interviewing skills. More information about internships can be found in the Resource Library in Handshake.
On-Campus Jobs
At Oakland University, we love having our students work on campus. Working here as a student can help you explore your passions, find your career path and make connections with campus leaders. Browse and apply for on-campus jobs on Handshake by clicking the Jobs tab and using the On-Campus filter at the top of the page.
Need more information or already have an on-campus job? Visit Student Employment in Student Financial Services.
Career Fairs and Events
Featuring jobs, internships, networking and on-site interviews, our Career Fairs and events are a great way to get your foot in the door with your dream employer. We hold four career fairs each year: two in the Fall semester and two in the Winter. Events including workshops, meet and greets and panels are held throughout the calendar year. Check out the Events tab in Handshake for a complete list.
Winter 2023 Career Fairs
Winter Career Fair
Tuesday, February 7, 2024
Upstairs in the Oakland Center
Career Fair: Noon - 3 p.m.
Interviews with select employers: 3 - 5 p.m.
Explore your potential in business, engineering, computer science, information technology, liberal arts and human resources.
You can also find out more about our career fairs on Handshake under the Events tab by clicking on Career fairs at your school.
Want to go to the career fair but don't know how to prepare? Schedule an appointment, visit the Resource Library in Handshake to find career fair preparation materials or view available prep sessions using the Events tab in Handshake.
Student Responsibility Agreement
As a student/alumni of Oakland University, you agree to abide by the Student Social and Professional Conduct Responsibility Agreement throughout all professional interactions. Please review the agreement document before interacting with the Career and Life Design Center or conducting a job or internship search. You can request the Student Responsibility Agreement document by emailing careers@oakland.edu.