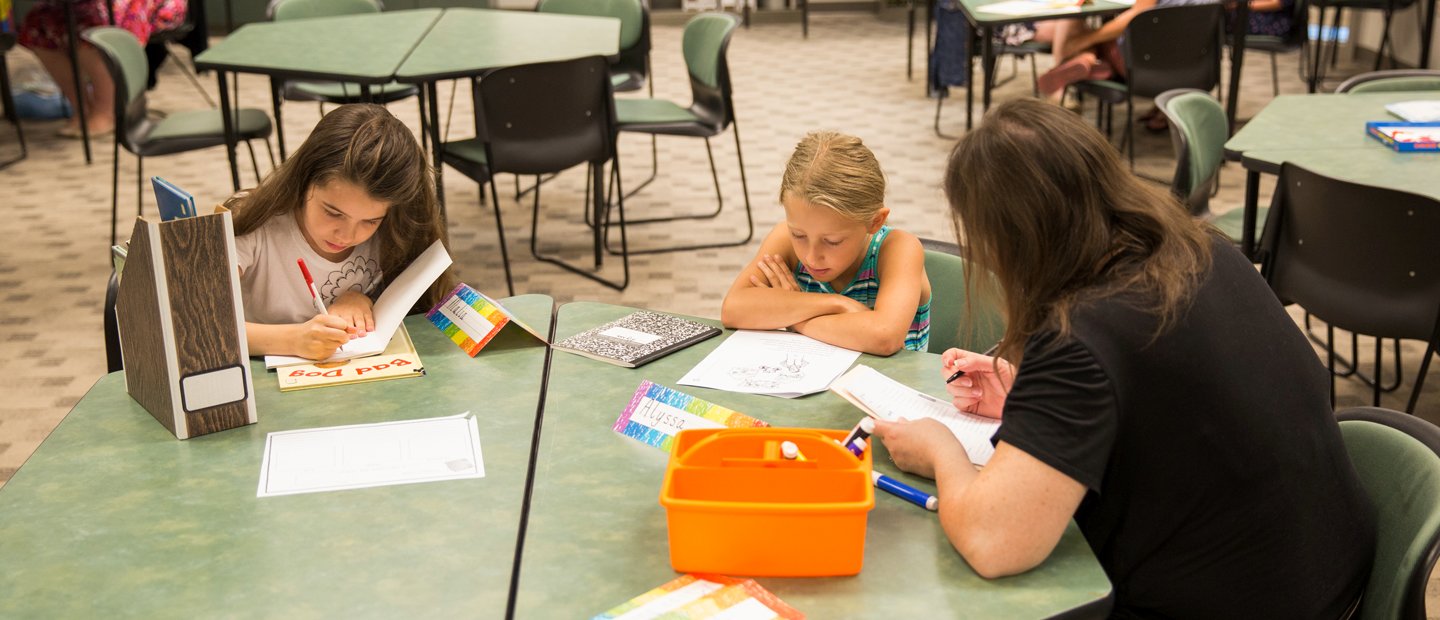 The Reading and Language Arts Department has operated reading clinics for the better part of five decades and helped more than 15,000 children improve their reading. Children are instructed by tutors (often experienced teachers) completing the practicum phase of their master's degree in Reading and Language Arts. Reading clinics provide assessments to identify a child's reading level, strengths, and needs; and assessment-based instruction.
The Reading Clinic will be offered in every other (even) year. (2024, 2026, 2028, etc.)
For additional information, please contact:
Dr. Tanya Christ, Professor
(248) 613-5700
christ@oakland.edu
The Reading Clinic is for children in grades 1-12. The fee is $400 (comparable services in the public sector may run as high as $2,000). All reading clinics are offered online via Zoom, so to participate your child will need a laptop or tablet and high-speed Internet access.
The dates and times of your sessions will be decided mutually between you and your child's tutor. Reading clinics run from May-July, and include 20 one-hour sessions of assessment or assessment-based instruction (two per week).
Our Goal
Our goal is to identify your child's current reading strengths and needs and provide appropriate instruction to support your child's reading growth. We strive to help your child learn at least a few new strategies that will support his or her reading. Occasionally, children make gains in reading levels, but this is not to be expected
.
Assessment
Prior to instruction, assessments are administered to determine your child's reading strengths and needs. We identify strengths and needs related to orthographic knowledge, word recognition and phonics knowledge, vocabulary knowledge and processes, comprehension quality and processes, and fluency. In cases of emergent readers, we identify strengths and needs related to concepts about print, letter knowledge, phonological awareness, and listening comprehension processes. The results of these assessments, along with ongoing observations, are used to determine reading instruction. A written report summarizing the findings from these assessments will be emailed to you
.
Instruction
The Reading Clinic provides one-on-one instruction. The tutor, in consultation with the supervising professor, determines and implements an appropriate course of instruction based on assessments and instructional observation. Clinic supervisors and tutors constantly monitor student progress. Instruction is adjusted as necessary. Children nearly always make progress in reading as a result of clinic instruction
.
Video Use
Since the clinics are also focused on supporting the learning of the master's students who tutor your child, we video-record all sessions so that teachers can review and discuss their teaching practices with colleagues in their master's course and their university supervisor.

Sometimes we ask your permission to use this video also for research purposes to improve reading instruction and teacher preparation. However, if asked, you are free to decline your permission for this use of your child's videos. Your child will still receive the same instruction, and be video-recorded, but the videos will not be used for research purposes
.
The Reading Clinic will be offered in every other (even) year. (2024, 2026, 2028, etc.)
Registration for the clinics is solely online, and opens April 1 and remains open until the May-June Reading Clinic is full. Please note that spaces are limited, and registration is first come, first served. Submitting your electronic payment of $400 is part of the registration process, and is non-refundable.