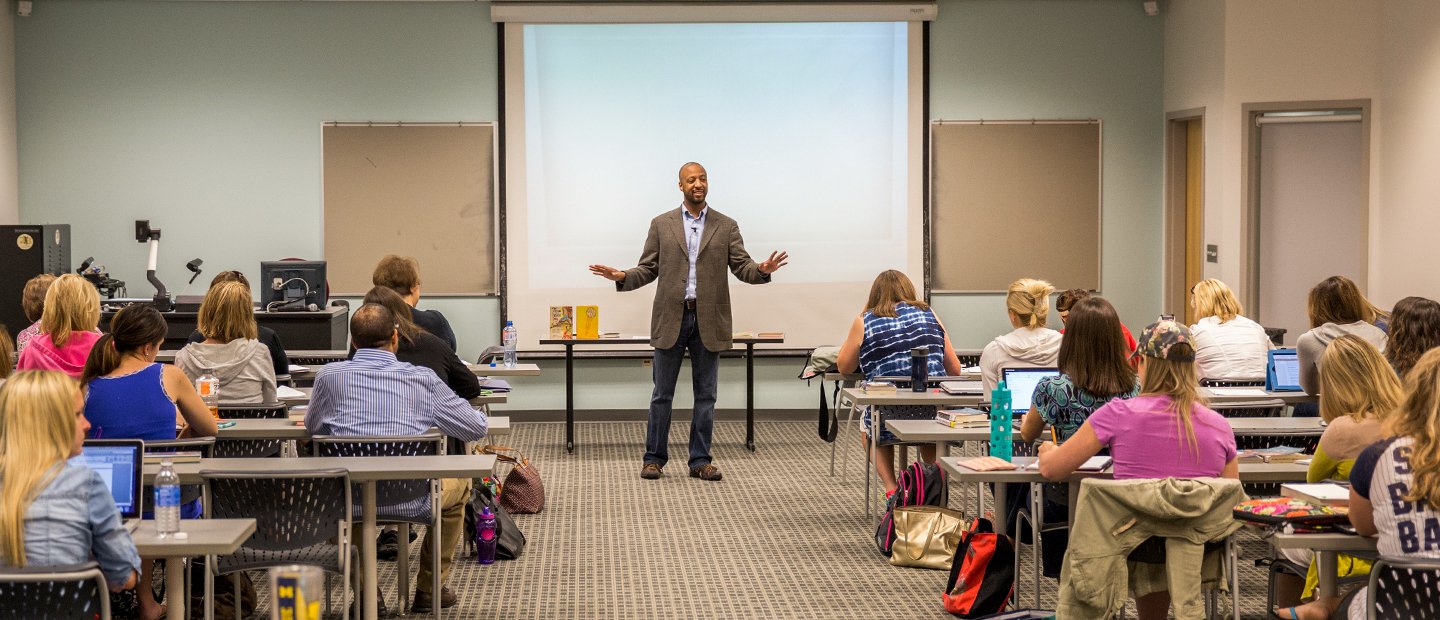 Authors & Illustrators Course
View the Summer Calendar
Authors and Illustrators Art and Craft approaches children's and young adult literature from multiple perspectives. It combines aspects of children's literature with components of reading and writing instruction, while offering a window into the author's or illustrator's creative processes. Authors discuss their current projects, their writing process, revisions, inspirations, successes and failures. Students interact by posing questions one-on-one or during the class Q and A session. 
Some illustrators sketch as students look on; some even bring art from their books. This is the only course in the country that exposes teachers to so many authors and illustrators in a four-week span. Over the span of more than 30 years, it has come to be one of OU students' most memorable experiences.
The Authors and Illustrators course can be taken for master's (2 to 4) credits. Reading MAT students may take the course as an elective or as their literature requirement. Elementary education undergraduates may apply credits toward their Language Arts major. 
Read excellent children's books, enjoy hearing some of the best children's authors and illustrators, meet new people, collect excellent teaching ideas and earn credit for all this fun.
For additional enrollment options and registration information, call (248) 370-3054.
Caldecott Medal and Honor Award Winners
Some of the Caldecott Medal winners who have spent time with OU students include Caldecott Medal winner and five-time Caldecott Honor Award winner Jerry Pinkey, Brian Selznick, Paul Zelinsky, David Wisniewski, Richard Egielski and David Wiesner, who has received three Caldecott Medals and two Caldecott Honor awards.

Caldecott Honor award winners who have come to Oakland University include Denise Fleming, Margaret Chodos-Irvine, Vera B. Williams, Laura Vaccaro Seeger, James Ransome, Brian Pinkney, and three-time Caldecott Honor winners Bryan Collier and Mo Willems.
Newbery Medal and Honor Award Winners
Linda Sue Park, who won the 2002 Newbery Medal for A Single Shard
Avi, who won a Newbery Medal in 2003 for Crispin: The Cross of Lead, the Newbery Honor Award in 1991 for The True Confessions of Charlotte Doyle and again in 1992 for Nothing But The Truth: A Documentary Novel
Michigan author Gary D. Schmidt, who is a two-time Newbery Honor winner: in 2005 for Lizzie Bright and the Buckminster Boy and in 2008 for The Wednesday Wars
Other Newbery Honor award winners include Suzanne Fisher Staples, Laurence Yep, Ruth White and Susan Campbell Bartoletti.
Multiple Award Winners
Ashley Bryan, storyteller, artist, author, poet and musician, received the Coretta Scott King-Virginia Hamilton Lifetime Achievement Award and the 2009 Laura Ingalls Wilder Award for a substantial and lasting contribution to literature for children. He was awarded the 2005, 2004 and 1981 Coretta Scott King Illustrator awards. Mr. Bryan is also a four-time Illustrator Honor award recipient (1983, 1988, 1992 and 1998) and a recipient of the 1987 Author and Illustrator Honor Award. He was nominated for the 2005 Hans Christian Andersen Award by the United States Board on Books for Young People (USBBY) and was chosen to illustrate the 2013 International Children's Book Day poster by the International Board on Books for Young People (IBBY) and USBBY.
Marilyn Nelson, Poet Laureate of Connecticut from 2001-2006, is a National Book Award finalist and recipient of a Newbery Honor award, three Coretta Scott King Honors, the Printz Honor award, the Lee Bennett Hopkins Poetry Award Honor and two Boston Globe/Hornbook Awards.
Pam Muñoz Ryan spent two days at OU with Brian Selznick. Ryan has been awarded the 2011 and 2002 Pura Belpré Medals, 2006 Belpré Honor award and the 2005 Schneider Family award. Together, Ryan and Selznick won the 2003 Orbis Pictus Award and the Sibert Honor Award, both presented to informational book authors. Besides his Caldecott Award for The Invention of Hugo Cabret, Selznick received the 2002 Caldecott Honor award, the 2012 Schneider Family honor, the 2005 Sibert honor award and the 2002 Orbis Pictus Honor award, for books written by author Barbara Kerley, another Authors and Illustrators guest lecturer.
In 1997, Jerry Pinkney was the United States Board on Books for Young People (USBBY) Nominee for the Hans Christian Andersen Award for Illustration. He received the 2010 Randolph Caldecott Medal to compliment his 1988, 1989, 1995, 2000 and 2003 Randolph Caldecott Honor awards. Pinkney has received the Coretta Scott King Illustrator Award five times: in 1986, 1987, 1989, 1997 and 2002. He also received the Coretta Scott King Illustrator Honor Award in 1981 and 2009. This is just a few of the awards he has received since 1964.
Additional Presenters by Major Awards
Coretta Scott King Awards: Andrea and Brian Pinkney, Jacqueline Woodson, Bryan Collier, E.B. Lewis, Eloise Greenfield, R. Gregory Christie, Jan Spivey Gilchrist, Nikki Grimes,
National Book Award (Winner): Kimberly Willis Holt, Gloria Whelan
National Book Award (Finalist): Deborah Wiles 
Pulitzer Prize: Paul Zindell
Orbis Pictus Award and Honor Awards: Penny Coleman, Pam Muñoz Ryan and Brian Selznick, Nic Bishop and Sy Montgomery, Candice Fleming, Marc Aronson, Barbara Kerley, James Deem
Governor General's Award (Canada): Tim Wynn-Jones and Marie Louise Gay
Local Authors
Michigan authors and illustrators, such as Jim Ottaviani, Kathe Koja, Wong Herbert Yee, two-time Newbery Honor recipient Gary Schmidt, Laurie Keller and Sarah Miller are featured each summer.