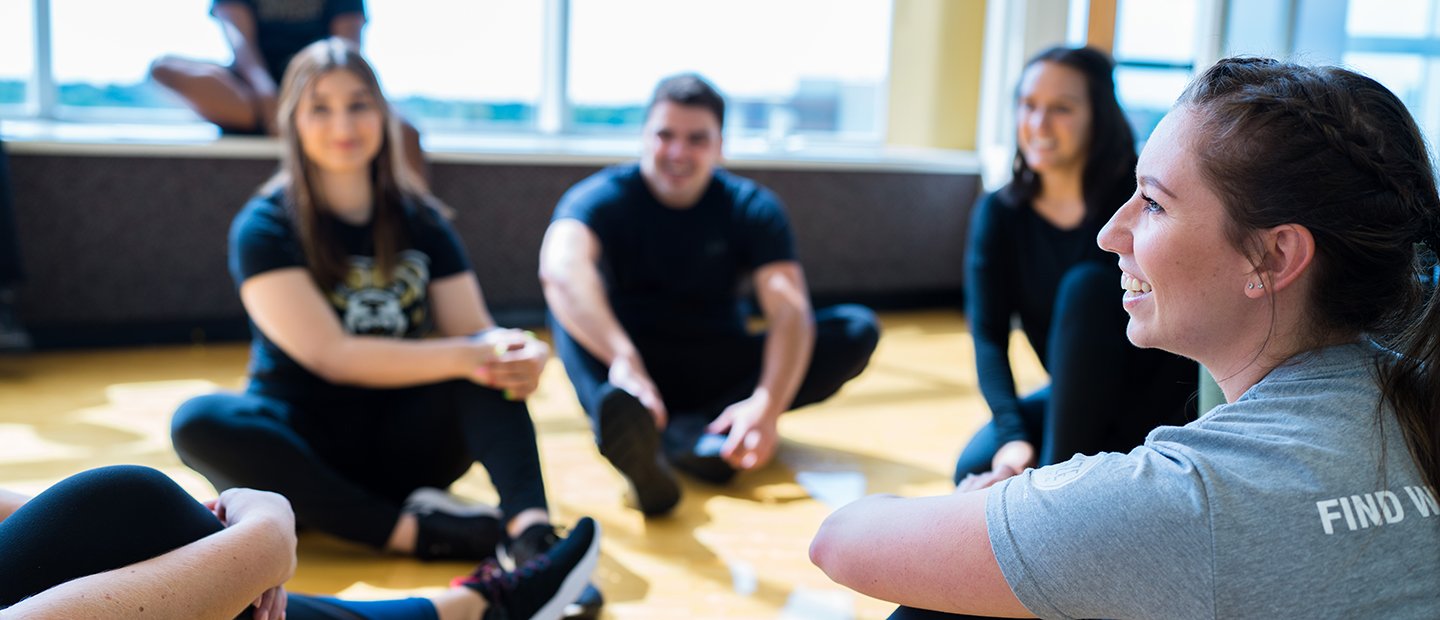 University Recreation and Well-Being offers a weekly schedule of Group Exercise (Group X) classes for physical activity, stress management and social interaction. Our schedule of over 20 virtual, indoor and outdoor classes offers a variety of cardiovascular, strength and flexibility workouts for fitness enthusiasts at any level. Pre-registration is required and can be done online through the Rec Well Portal  or in person at the time of arrival. Spots are available on a first-come, first-served basis.
Fitness staff will be cleaning and disinfecting all equipment immediately following classes. Instructors are CPR/AED and First Aid certified, and most hold nationally recognized group fitness certifications.
Class Descriptions
For a current schedule and the most updated class descriptions visit the Rec Well Portal.
Group X Pass Schedule
All classes on the schedule are free for students, faculty, staff and Recreation Center members.
Non-members are eligible to participate in free virtual classes and require registration through the Rec Well Portal.
In person classes are available for non-members for $5 + a guest pass.
Group X Class Policies
Registration and Participation
Pre registration is required for all classes through the Rec Well Portal.
All participants must check-in with the Member Services Attendant or Building Manager posted outside of the studio prior to class start time.
Group X classes are available on a first-come, first-served basis. If you are more than 5 minutes late for any class, it is up to the instructor to allow you to participate in class.
Participants must wear a facial covering to all in-person classes, and be mindful of social distancing guidelines.
Participants are asked to disinfect and put away all equipment and mats at the completion of class.
Participants are requested not to leave class early. If you plan to leave early, please let the instructor know before class and please take time to cool down on your own time. If during class you aren't feeling well, please alert the instructor and they will call the Building Manager to assist.
Attire and Belongings
Proper footwear is required during classes. Proper footwear includes athletic supportive shoes only. All athletic shoes must be non-marking soles. Proper athletic shoes required for all Group X except for Mind/Body, Barre, and Aqua classes.
Appropriate attire for activity is required. Instructors reserve the right to enforce clothing policies within the studio.
Water, in a closed container, is the only beverage allowed in the studio unless permissible by professional staff.
No cell phones, iPods, laptops, or other distracting devices allowed during class. The instructor has the right to enforce this policy if a device is interrupting with class.
Other personal belongings that are not being used or worn during class must be kept outside the studios in a locker. University Recreation and Well-Being is not responsible for lost or damaged items.
Cancellation Policy
If one or zero individual(s) show up for a class it will be cancelled. If two individuals show, the instructor has the authority to decide to run a half-time class or full class. If three or more individuals show, the class will run its normal length.
All Group X classes are subject to cancellation for University Holidays, emergencies, or weather restrictions.
Teach For Us
University Recreation and Well-Being is always looking for new instructors! If you have experience teaching a group exercise class format we want to hear from you! Please contact us at (248) 370-4911 to set up an audition and interview. Oakland University students are highly encouraged to apply!
Group X Event Requests
Looking for a Group X Instructor for your next event? 
We are more than happy to teach classes, put on workshops, or do fun events with our on-campus community. If you have a great idea that you would like us to come present/teach on, please don't hesitate to reach out!
Email hforbes@oakland.edu and we will be in contact with you soon in regards to your next event request.