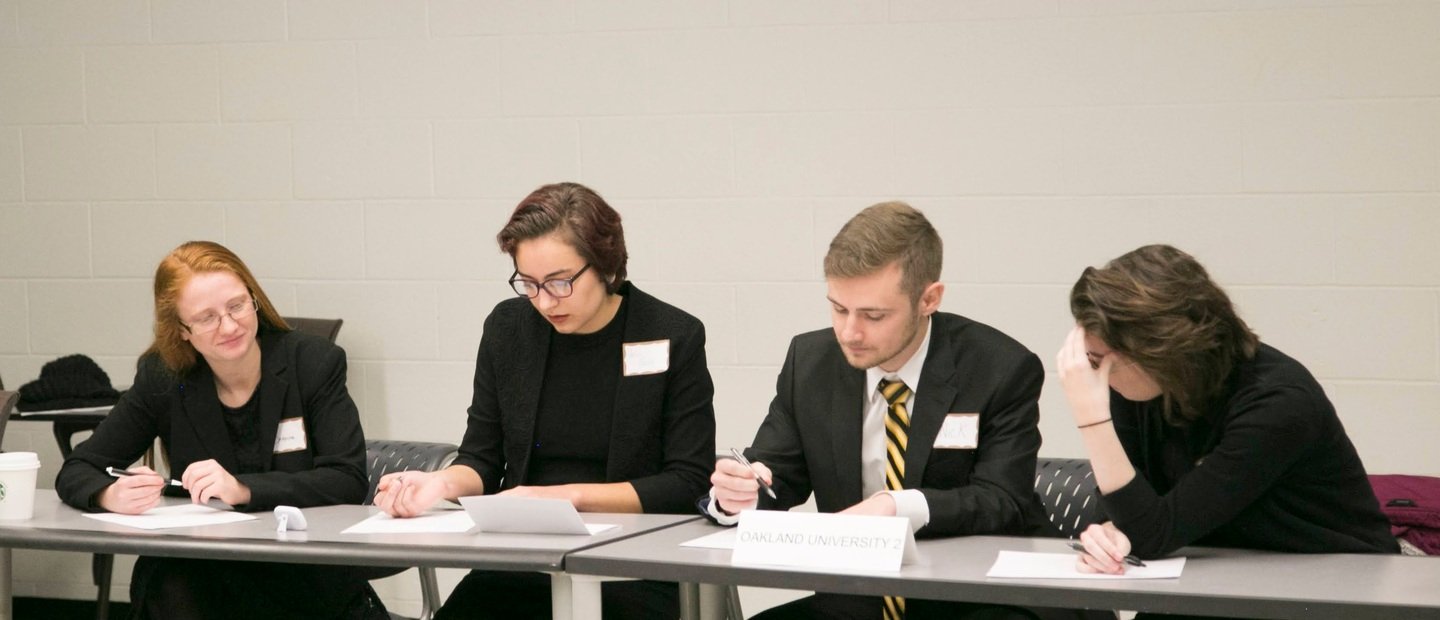 As 21st-century life grows increasingly complex, it becomes acutely important to study the ethical dimensions of professional conduct, public policy, scientific inquiry, technological development and private enterprise. To this end, the Center for Ethics at Oakland University serves as an institutional hub dedicated to promoting ethical literacy and leadership across campus and in affiliated communities. The center promotes ethical theory and practice in pedagogy, scholarship and community engagement.
Pedagogy
The Center for Ethics (CFE) seeks to enhance the quality and impact of ethics education across the curriculum by providing a gathering place for interdisciplinary faculty collaboration in the design of effective ethics pedagogy. Moreover, since academic lessons are more vital, engaging and instructive when they grow out of the practical experience of trying to improve the world in which we live, the most important tasks of ethics education are often those taken up beyond the traditional classroom. Accordingly, the CFE offers institutional support for service-learning exercises that have demonstrable ethical implications. It also supports extra-curricular student efforts to engage members of the surrounding community in ethical dialogue.
Scholarship
The CFE directly supports Oakland's strategic goal of fostering faculty-driven and student-engaged scholarship in ethics. It provides an on-campus forum for faculty and student presentations pertaining to issues of social responsibility, science and values, and professional and political ethics. Additionally, it offers institutional support for off-campus student and faculty efforts to develop and present ethically salient research and scholarship.
Community Engagement
The CFE works to strengthen Oakland's position and institutional reputation as a leader in ethically engaged community outreach and public service. In addition to the ways in which the CFE embeds this goal within the kinds of pedagogy and scholarship that it supports, it also works to enhance and expand the ways in which the university benefits underserved or disadvantaged members of the campus and surrounding communities. The center also facilitates connections between affiliated faculty ethics consultants and area businesses and institutions.
News
Creating and Sustaining a Corporate Culture of Ethical Responsibility

On Wednesday, February 19th 2020, we hosted Donna Hanson from Plante Moran. In her presentation, she discussed seven critical failures of corporate culture and trust, as well as key philosophies and successful programs for fostering ethical corporate culture.
Donna Hanson (pictured right) is an Oakland University alum!
Additionally, opportunities through the Ethics Center include the Ethics Bowl: "Strong Regional Showing Propels OU Ethics Bowl Team to Nationals."
CFE Hosts Great Lakes Regional Ethics Bowl
The CFE hosted the Great Lakes Regional Ethics Bowl at Oakland University on Saturday, November 16, 2019. The Great Lakes region is a newly created region due to the growth of ethics bowl competitions in the surrounding area. Universities from Michigan, Ohio, Indiana and potentially more will compete at the event. Oakland will enter two teams in the competition. Winners will advance to the national competition comprised of the top 36 teams in the nation.
Past Initiatives
CEO and Former DTE Executive Speaks on Leadership Principles and Ethical Behavior
On November 7th, 2018, the Center For Ethics is hosting Ron May, CEO of May Technology Group and retired Executive Vice President of DTE Energy, for a talk entitled, "Leadership Principles Positive Engagement: What is the Basis of Ethical Behavior? Or, Three Personal Moral Stories." The talk is in the Engineering Center, room 275, from noon to 1 p.m.
CFE Hosts Discussion About Recycling
Join the Center For Ethics in a conversation about sustainability and recycling in Southeast Michigan with Elizabeth Garver, a Waste Minimization and Recycling Specialist at the Michigan Department of Environmental Quality. It will be Thursday, March 22nd, at 5 p.m., in MSC 172.
Center For Ethics Sponsors Film Festival at OU
The Center for Ethics is co-sponsoring the 34th Annual Women and Gender Studies Film Festival "Feminist Activism Now". This will take place at  3 p.m. on Saturday, March 10, 2018 in the Human Health Building 1050.
OU Ethics Bowl Team Earns Spot at Nationals
Oakland University hosted the 2017 Midwest Regional Ethics Bowl on November 18th, and our two teams were undefeated in competition. This event was sponsored in part by the Center For Ethics, with generous support from the College of Arts and Sciences. We are excited that one of OU's teams is advancing to Nationals!
Gabby Bruno Receives Second Annual Ethics Bowl Scholarship
Congratulations to Gabby Bruno, who has been awarded our second annual Ethics Bowl scholarship. Well done, Gabby!
CFE Hosts Upper Midwest Regional Ethics Bowl
The CFE will be hosting the Upper Midwest Regional Ethics Bowl at Oakland University on Saturday, November 18, 2017. We greatly appreciate Professor Lisa Campbell's efforts to organize the event.
Philosophy Major Nicole Diroff Receives Inaugural Ethics Bowl Scholarship
Congratulations to Philosophy major and Honors College student Nicole Diroff for being the first recipient of the department's Ethics Bowl Scholarship. The scholarship covers half of the tuition for the course "Philosophy 300: Ethics Bowl Preparation and Competition".
High School Ethics Bowl
The Center for Ethics supported Professor Elysa White's efforts to assemble and coach a philosophically-informed debate team from Berkley High School. The team, calling itself the "Philosoraptors", participated in the Michigan High School Ethics Bowl competition, which took place at the University of Michigan Palmer Commons Conference Center, in Ann Arbor, Sunday, February 7, 2016. The CFE also supported Oakland students, Jonathan Abdal, and RJ Mey, in serving as judges for the competition.
Big Ethical Question Slam
The Center for Ethics also supported the participation of Oakland undergraduate students R. J. Mey, Jonathan Abdal, Nikole Fisher, Monica Ybarra, and Karl Adam in the 2016 Big Ethical Question Slam in Ann Arbor, Michigan.
Undergraduate Ethics Scholarship Travel Grant
The Center for Ethics, together with the Dean of the College of Arts and Sciences, supported Oakland undergraduate Monica Ybarra's presentation of her paper, "No Good Deed: An Account of the Virtue of Self-interest", at an international undergraduate research conference in Maynaguri, India, in January 2016.
Ethics Pedagogy Presentation
Professor Elysa White gave a talk on Perspectives on Teaching Ethics to Future Professionals to professors who teach ethical content in health sciences, communication, and business writing, March 22, 2016.
Engaging Alumni in the Development of Science and Engineering Ethics Case Studies

The CFE will be helping to support Professor Mark Navin's professional development project in 2016-17, which involves recruiting Oakland alumni and other area professionals to become engaged as visiting speakers in sections of the Department of Philosophy's PHL 104 and to help build a series of science and engineering ethics case studies.
Cultivating a Culture of Philanthropy
The Center for Ethics is currently seeking funding to support the kind of "effective altruism" exercises that Professor Joyce Havstad has introduced in her sections of PHL 104 Introduction to Ethics in Science and Engineering, offered through the Department of Philosophy. In these exercises, students research charitable causes and present arguments for why their chosen cause would have the greatest philanthropic impact. After competing presentations, the class as a whole votes to select the winning cause, to which Professor Havstad donates 1% of her salary from teaching the course.
The CFE's aim is to match or exceed full-time faculty-contributed gifts to student-selected charitable causes and also provide sufficient/complete funding for part-time faculty members so they can conduct similar exercises into their introductory ethics classes, including PHL 103 Introduction to Ethics.
Affiliated Faculty and Community Members