Richard Burke Lecture Series

Richard J. Burke was the first faculty member hired by Oakland University. He taught in the department for 46 years (1959-2005). Professor Burke shared his love of philosophy with thousands of students and he left an indelible mark upon the Philosophy Department and the entire university. Sadly, Professor Burke died on February 14, 2012, at age 79. Read his obituary.
Among his many gifts to Oakland University was an endowment for the Richard J. Burke Lecture Series in Philosophy, Religion, and Society. This annual event has since brought major social philosophers to the Oakland campus, including Daniel Dennett, Peter Singer, and Richard Falk. Because of Professor Burke's generosity, this lecture series will continue for many decades into the future.
Copies of Professor Burke's book, Philosophical Bagatelles, are available for download onto Kindle readers.
See remembrances from Professor Paul Graves and former student Alex Cherup.
"What Should the Work Ethic Mean for Us Today"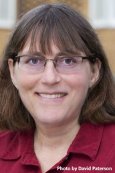 March 24, 2022, 7 – 9 p.m
Oakland Center, Banquet Room A
Watch the Burke Lecture with Elizabeth Anderson.
Abstract: The work ethic was invented by Puritan theologians nearly 400 years ago. From the start, it contained contradictory ideas: one rationalizing the subjection of workers to drudgery for maximum profit; the other honoring workers for advancing human welfare and calling for their dignified and equitable treatment. Both ideas were developed and institutionalized over time in the U.S. and Europe, leaving a contradictory legacy for us today. I show how the neglected second work ethic tradition can be revived and updated for 21st-century American workers.
Eilzabeth Anderson is Max Shaye Professor of Public Philosophy and John Dewey Distinguished
University Professor of Philosophy at the University of Michigan, Ann Arbor. She is the author of Value in Ethics and Economics (Harvard University Press, 1993), The Imperative of Integration (Princeton UP, 2010), and Private Government: How Employers Rule Our Lives (And Why We Don't Talk About It) (Princeton UP, 2017) and numerous, widely reprinted articles in journals of philosophy, law, and economics. She designed University of Michigan's Philosophy, Politics, and Economics program, and was its founding director. She is a 2019 MacArthur Fellow; she was elected a Fellow of the American Academy of Arts and Sciences in 2008; she was named One the World's top 50 Thinkers by Prospect magazine in 2020; and she was elected a Fellow of the British Academy in 2020.
2020
"Racial Climates"


March 5, 2020, 7 – 9 p.m
Oakland Center, Banquet Room A
Environmental and climate justice efforts have focused on disproportionate impacts of anthropogenic climate change on communities impacted by racist prejudices and on low- income communities. Such a focus on injustices concerning current impacts of climate change and other environmental harms obscures the underlying legacies of oppression that are woven into our shared climate. What is needed is recognition of racial climates. Targeting the lineages of the values, concepts, and practices that ground current climate regimes, in this case those animated by (though never exclusively by) racism, provides an understanding of the ways lineages of oppression and environmental exploitation are interwoven.
Dr. Tuana is the DuPont Class of 1949 Professor of Philosophy and Women's Studies. She was the founding director of Penn State's Rock Ethics Institute. Dr. Tuana's scholarly work ranges across the field of feminist philosophy and engages both continental and analytic philosophical traditions. Her scholarly work includes books and articles in feminist history of philosophy, epistemologies of ignorance, and feminist science studies, with particular expertise in intersectional approaches to environmental issues and coupled ethical-epistemic issues in climate change science. Her most recent book, written with Charles Scott, Beyond Philosophy: Nietzsche, Foucault, Anzaldúa is forthcoming with Indiana University Press.
2019
Professor Kwame Anthony Appiah


March 28th, 2019, 7:30 - 9:30 p.m.
Banquet Rooms A and B, Oakland Center
"The Lies That Bind"
Social conflicts, embodied in race, religion, class and gender, create our identities. And those identities, riddled with contradictions and falsehoods, fuel some of the world's greatest atrocities. In "The Lies That Bind," Appiah examines this relationship between our own identities and social conflicts and suggests how we might use this to inform our approach to social and individual growth.
Kwame Anthony Appiah was born in London to a Ghanaian father and a white mother. He was raised in Ghana and educated in England, at Cambridge University, where he received a Ph.D. in philosophy. As a scholar of African and African American studies, he established himself as an intellectual with a broad reach. Named one of Foreign Policy's Top 100 public intellectuals, one of the Carnegie Corporation's "Great Immigrants," and awarded a National Humanities Medal by the White House, Appiah currently teaches at New York University, though he's previously taught at Princeton, Harvard, Yale, Cornell, Duke, and the University of Ghana. He considers readers' ethical quandaries in a weekly column as "The Ethicist" for The New York Times Magazine. From 2009 to 2012, he served as president of the PEN American Center, the world's oldest human rights organization.
2018

Professor Charles Mills
November 2, 2017, 7 p.m.
Banquet Rooms A and B, Oakland Center
"Christianity and Racism"
Christianity's supposed commitment to brotherly and sisterly love has not precluded a long history of complicity with racism. In this lecture, Dr. Mills will look at this depressing history and what we can learn from it for the task of building a better future more congruent with Christian ideals.
Charles W. Mills is a distinguished professor of philosophy at the CUNY Graduate Center. He did his Ph.D. at the University of Toronto and previously taught at the University of Oklahoma, the University of Illinois at Chicago and Northwestern University. He works in the general area of oppositional political theory, with a particular focus on race. He is the author of more than one hundred journal articles, book chapters, comments and replies, and six books: The Racial Contract (1997), Blackness Visible: Essays on Philosophy and Race (1998), From Class to Race: Essays in White Marxism and Black Radicalism (2003), Contract and Domination (with Carole Pateman) (2007), Radical Theory, Caribbean Reality (2010) and Black Rights/White Wrongs: The Critique of Racial Liberalism (2017). In 2017, he was elected to the American Academy of Arts and Sciences, the first black philosopher in the history of the organization to be elected under the category of  philosophy.
2017

Professor Arthur Leonard Caplan
01/05/2017, 7 p.m.
Banquet Rooms A and B, Oakland Center
The Ethics of Compassion -- Expanding Access to Unapproved Drugs for the Terminally Ill
Compassionate use requests can occur at any time in the research process — from product testing in animals, to early human safety trials, to the period nearing the end of clinical trials. Requests can come from patients who are dying, those facing disability and pain for which no approved agent has proven effective, those in the midst of lethal disease outbreaks and those who are newly affected, those who are chronically ill, and those who have limited access to therapies. While many point to the FDA as a key roadblock in affording access to unapproved drugs, it is actually companies who control access, not government regulators. Arthur Leonard Caplan is currently the Drs. William F. and Virginia Connolly Mitty Professor and founding head of the Division of Bioethics at New York University Langone Medical Center in New York City.
Dr. Caplan has served on a number of national and international committees, and is the chairperson of the Compassionate Use Advisory Committee (CompAC), an independent group of internationally recognized medical experts, bioethicists and patient representatives which advises Janssen/Johnson & Johnson about requests for compassionate use of some of its investigational medicines.
Dr. Caplan is the recipient of many awards and honors. In 2014, he was selected to receive the Public Service Award from the National Science Foundation/National Science Board. In 2016, he was presented with the Lifetime Achievement Award from the American Society for Bioethics and Humanities.
Dr. Caplan is the author or editor of 32 books and more than 600 papers in peer-reviewed journals. His most recent book is Replacement Parts: The Ethics of Procuring and Replacing Organs in Humans (Georgetown University Press, 2015).
2016

Professor Judith Butler
10/08/2015, 7:30 - 9 p.m.
The Ethics and Politics of Non-Violence
Non-violence is often regarded as a principled position which can allow for no exceptions. At the same time, it is a position that is usually accompanied by all sorts of qualifications: there are situations in which the most committed non-violent practitioner can imagine resorting to force. Is a principled position on non-violence possible?
This lecture will address the question of whether we can agree on a clear distinction between violence and non-violence and, if we cannot, what accounts for our disagreement? By using examples of non-violent protest, we can consider how actions are described differently depending on the framework in which they are described. Following from that, we seem to confront time and again how ethical positions such as these are grounded not only in political frameworks, but often make demographic assumptions about which lives matter, and which lives do not. As much as an ethics of non-violence is valuable and worth striving for, it seems to require a political account of how lives matter. Can we maintain an ethical position on non-violence that is not reducible to a political one? Does the question of non-violence show us something important about the relation between ethics and politics?
Judith Butler is Maxine Elliot Professor in the Department of Comparative Literature and the Program of Critical Theory at the University of California, Berkeley. Among her many books are Gender Trouble: Feminism and the Subversion of Identity (1990), a landmark work in gender theory, Frames of War: When Is Life Grievable? (2009), and Notes Toward a Performative Theory of Assembly (2015).
Judith Butler has received many fellowships and honorary degrees. She was the recipient of the Andrew Mellon Award for Distinguished Academic Achievement in the Humanities (2009-13). She received the Adorno Prize from the City of Frankfurt (2012) in honor of her contributions to feminist and moral philosophy, and the Brudner Prize from Yale University for lifetime achievement in gay and lesbian studies. In 2014, she was awarded the diploma of Chevalier of the Order of Arts and Letters from the French Cultural Ministry.
2015

Professor Amartya Sen
4/17/2015, 7 - 9:30 p.m.
Moral Objectivity and Social Justice
Even though traditionally the idea of objectivity has tended to be associated with physical reality, there have been powerful discussions on moral and political objectivity in recent years, broadening the scope of argumentative resolution of conflicting views of the moral good. What does objectivity in moral and political reasoning demand? And what are its implications for conceptions of justice and injustice in the world?
Amartya Sen is the Thomas W. Lamont University Professor and Professor of Economics and Philosophy at Harvard University. Until 2004, he was the Master of Trinity College, Cambridge. He has served as President of the Econometric Society, the American Economic Association, the Indian Economic Association, and the International Economic Association. Amartya Sen's books have been translated into more than thirty languages, and include, among others, Choice of Techniques (1960), Collective Choice and Social Welfare (1970), Poverty and Famines (1982), Commodities and Capabilities (1987), Development as Freedom (1999), Identity and Violence (2006), and The Idea of Justice (2009).
2014

The 2014 Burke Lecturer was Michael Walzer and his talk was entitled Ideas of Peace in the Hebrew Bible. Professor Walzer looked at six biblical passages, from Deuteronomy, Kings, and Isaiah, which present very different ideas of what peace means what a peaceful world would look like. His did a critical analysis of these texts and set forth an endorsement of the argument of the last of them. Michael Walzer is one of America's foremost political thinkers. He has written about a wide variety of topics in political theory and moral philosophy, including political obligation, just and unjust war, nationalism and ethnicity, economic justice, and the welfare state. He has played a critical role in the revival of a practical, issue-focused ethics and in the development of a pluralist approach to political and moral life. Walzer's books include Just and Unjust Wars (1977), On Toleration (1997), and Arguing About War (2004); he has served as editor of the political journal Dissent for more than three decades. Currently, he is working on issues having to do with international justice and the new forms of welfare and also on a collaborative project focused on the history of Jewish political thought.
2013

The 2013 Burke Lecturer was Professor Jonathan Lear of the University of Chicago. His lecture was entitled "Wisdom Won from Illness: The Psychoanalytic Grasp of Human Being." Dr. Lear is an expert on Aristotle and on Freud; and he is one of the preeminent philosophers working on psychoanalysis. In his Burke Lecture, Lear argued that psychoanalysis is not simply a means to an end — a cure for mental illness — but is itself a significant manifestation of human flourishing.
2012

The 2012 Burke Lecturer was Professor Ronald Aronson, a distinguished professor of the History of Ideas at Wayne State University. His talk, entitled, "Reconstructing Hope Today," took place on Wednesday, April 4, 2012, at 7pm in Banquet Room A of the Oakland Center. The talk began with the question, "Is there reason to hope today?" Aronson argued that, while a cynical mood has come to pervade our society as the products of collective hope -- unions, social programs, public schools and government -- are increasingly attacked, recent events may give us reason to hope for a world of greater collective belonging and action.
2011

The 2011 Burke Lecturer was Dr. Susan Haack, Distinguished Professor in the Humanities, Cooper Senior Scholar in the Arts and Sciences, Professor of Philosophy, and Professor of Law at Miami University. Professor Haack presented a lecture entitled, "Cracks in the Wall, a Bulge Under the Carpet: The Singular Story of Religion, Evolution, and the U.S. Constitution," Thursday, February 10, 2011, at 7p.m. in Banquet Room B of the Oakland Center. Her talk explored "the history of the evolution of the Establishment Clause of the First Amendment to the U.S. Constitution, and specifically its role in cases involving the teaching of evolution in public high schools. This legal history will be informed by the conjecture that over many years, a relatively modest understanding of the Establishment Clause due to James Madison has been largely, though not completely, displaced by a more ambitious understanding due to Thomas Jefferson; and punctuated by philosophical asides on questions about the (in)compatibility of the theory of evolution with religious beliefs, the meaning of 'theory,' and the demarcation of science."
2010

The 2010 Burke Lecturer was Shadia Drury, who was on campus April 15-16, 2010. Dr. Drury is Canada Research Chair in Social Justice and Professor in the Departments of Political Science and Philosophy at Regina University. In addition to time spent in informal discussions in the department lounge and over lunches and dinners, Drury's busy schedule included the following: A discussion of the question "Is Morality the Imitation of the Gods?" in Elysa White's PHL/REL 325 on Thursday the 15th; the fifth annual public Burke Lecture on "American Exceptionalism" in the evening of the 15th in the OC Gold Rooms; and a talk on "Philosophical Assumptions of American Foreign Policy" the following morning in the Oakland Room. It was a great pleasure to hold many engaging discussions with Dr. Drury on a wide array of interesting topics. We're grateful to her for coming, and grateful to Dr. Richard Burke for making her visit possible. Thanks to you both!
2009

The 2009 Burke Lecturer was Daniel C. Dennett of Tufts University. His public lecture, "Religion as a Natural Phenomenon," took place Monday, April 6, in the Oakland Center Banquet Rooms, before a packed house of over 600 audience members from on campus and from the surrounding community. "Dennett holds that many aspects of humanity, including social matters like religion, can be understood in terms of evolution, Darwinian or cultural," said John Halpin, associate professor and chair of philosophy. "Dennett argues that fundamental questions about humanity, from those about the mind. Dr. Dennett was on campus for a variety of stimulating and enjoyable philosophical discussions over the course of two days. Many thanks to Dr. Dennett for his intellectual generosity. And many thanks to Dr. Richard Burke for making it all possible!
2008
The 2008 Burke Lecturer was Peter Singer. Singer spoke on Thursday, October 4 on the topic of "Changing Attitudes Toward the Sacredness of Human Life".
2007
The 2007 Burke Lecturer was Richard Falk, the Emeritus Albert G. Milbank Professor of International Law and Practice, and the Emeritus Professor of Politics and International Affairs, at Princeton University. Falk's lecture on "The Moral Architecture of the Planet" examined the moral dimensions of globalization with emphasis on such themes as human rights, the accountability of leaders, and the future of citizenship. This free lecture was open to the public and attended by a standing-only crowd of 500+. Falk also served as discussant for a Global Security Forum organized by Mark Rigstad.
2006
The 2006 Burke Lecture was Holmes Rolston III, the University Distinguished Professor of philosophy at Colorado State University. Rolston is considered the "Father of Environmental Ethics" and was a winner of the 2003 Templeton Prize.