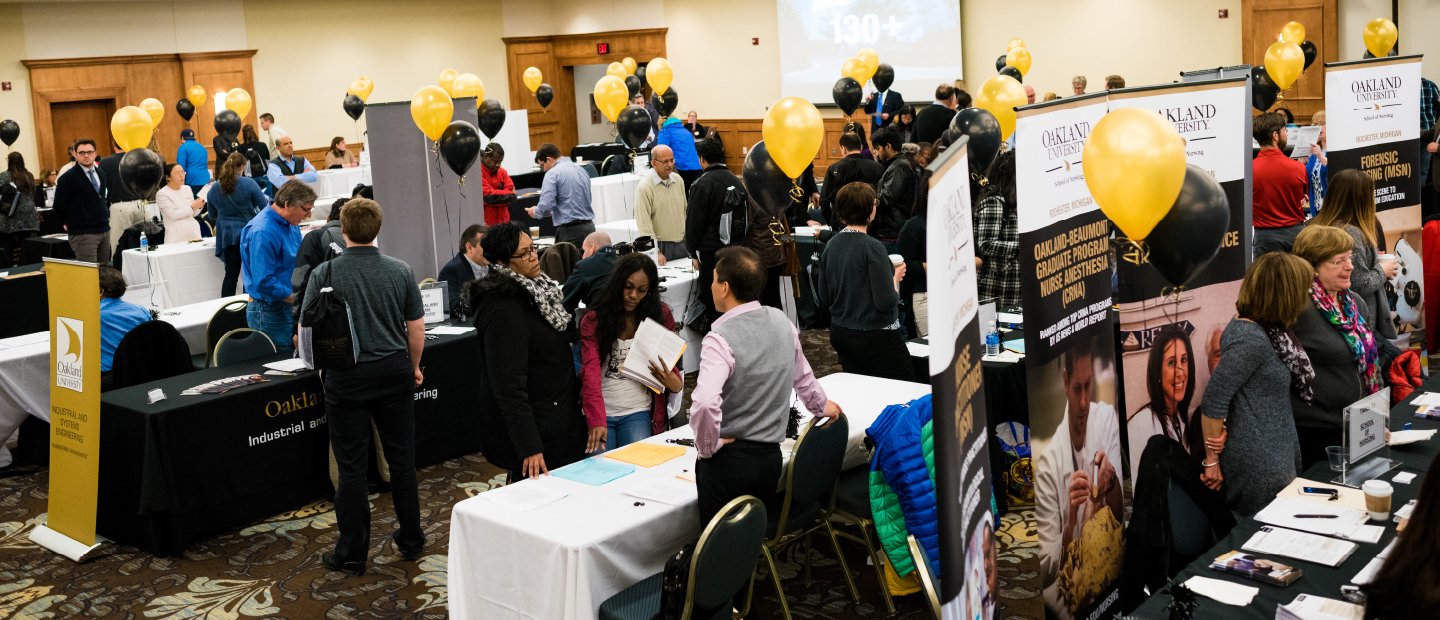 The Graduate School hosts events each year for prospective and current graduate students. View the list of events for the upcoming academic year below.
Graduate school information/recruiting events
We are currently offering virtual webinars to meet your needs. If you register and attend a graduate open house, you will receive an application waiver code. Additional event sessions are added weekly so please check back often.
---
Go for the Gold
Attend our in-person GO FOR THE GOLD event to learn about grad programs, tour campus and meet faculty and students. Get answers to your questions about scholarships, financial aid and the admission process.
Event Date: Saturday, October 7th from 9 am - 2 pm
---
Education & Human Services Day
Attend our in-person Education & Human Services day event to learn about grad programs, tour campus and meet faculty and students. Get answers to your questions about scholarships, financial aid and the admission process.
Event Date: Saturday, November 18 from 9:00 am - 2:30 pm
---
Graduate open house
The graduate open house sessions are 30 minutes each and delivered online. They will provide information on a specific graduate program, program requirements, admission requirements, etc. The program adviser/coordinator will discuss in-depth information on their respective program and assist with questions and advising.
---
Virtual information sessions
The virtual information sessions provide general information on OU graduate program benefits, admission requirements, deadlines, scholarships and more.
---
Virtual personal appointments
The virtual personal appointment is available to you if you have questions, need advising support, or need assistance as a prospective graduate student or with the application process. Virtual meetings will be held via Zoom.
---
Virtual program sessions
The virtual program sessions provide information on a specific program including curriculum, admission requirements, contact information and more.
Virtual Executive MBA information session

The Executive MBA at OU is a premier graduate business program designed exclusively for experienced, high-potential professionals, featuring rigorous curriculum, leadership and professional development and global immersion.
Three minute thesis competition & graduate student showcase
Graduate student research conference
The Graduate Student Research Conference was held on Friday, March 10, 2023. The conference was a great way for graduate students to share their research with the campus community and show their OU pride. We look forward to next year's conference and all of the graduate students who will be presenting. Please contact Melodie Kondratek at mdkondra@oakland.edu for questions or information about the conference.
The next graduate student research conference will be on Friday, April 5th, 2024.
Graduate teaching assistant series
How will your skills and experience as a graduate student translate to your own classroom? This workshop series will introduce basic components of successful teaching, with opportunities to develop pedagogy and practice teaching skills. Skills include developing a syllabus, methods of presenting content and enhancing student learning, classroom management and assessing student performance. This series will help graduate students who are teaching assistants or who are interested in becoming future faculty members.
Attend orientation and register for the whole series at oakland.edu/cetl/gradseries.
*There is no cost to OU graduate students. Students who attend the full series will receive a certificate upon completion.
Visit the CETL workshops and events for additional events and resources.
Research and writing workshops
Oakland University Writing Center, OU Libraries, and the Graduate School have partnered to provide 1) OU's graduate students with research and writing support for their theses and dissertations and 2) their supervisors with tools to better support them.
---
Sit Down and Write
A writing retreat for advanced graduate students who are composing high-stakes documents, such as proposals, practicums, theses, dissertations, and publications. This accountability program provides a distraction free environment for composing in the company of like-tasked graduate students.
Each session will start with a brief sharing session. Then writers will silence their mikes and write. The session will conclude with a brief recap, in which writers can share their progress. A graduate consultant host will be available throughout the session to answer questions and to help writers overcome obstacles to their fluency.
---
Dissertation 101: A Workshop Series for Graduate Writers and Their Supervisors
A workshop series that has addressed such timely topics as writing with statistics, literature review construction, data management and storage, understanding the IRB process, copyright and fair use, etc. All dissertation 101 sessions are held in 242 Kresge Library unless otherwise noted.
Your suggestions about topics to address in future series are welcome. If you would appreciate coverage of a specific issue or you would like to volunteer to present, please contact Dr. Sherry Wynn Perdue, Director, at (248) 370-3105 or wynn@oakland.edu.
---
Support for Reporting Research Results
A new initiative designed to help researchers better represent their results in text and within graphs and tables. The OUWC has hired several graduate consultants who currently are training to offer assistance on writing with statistics and reporting research findings. Please watch for more information about this forthcoming service.
---
One-on-One Writing Consultations for Student and Faculty
Available with the director or with our graduate consultants. We help faculty address their tenure review statements, publications, syllabi, assignments, etc. We also work with graduate writers on their proposals, theses, dissertations, and publications. All students are eligible to conduct their writing consultations synchronously online as well as face-to-face. To schedule a session, either visit our online scheduler or call (248) 370-3120.
---
Classroom Visits and Presentations
Are available for writing intensive classes, department meetings, professional development, and orientation events. In the past, we have offered presentations on literature reviews, APA style, clarity and conciseness, etc.; provided brief introductions to writing center services; and offered guidance on assignment design and feedback. If you would like the writing center to come to you, contact Dr. Sherry Wynn Perdue, Director, at (248) 370-3105 or wynn@oakland.edu.
---
Do you need professional one-on-one feedback? Schedule a graduate consultation at the writing center by calling (248) 370-3120 or by scheduling online.
Graduate School
O'Dowd Hall, Room 520
586 Pioneer Drive
Rochester, MI 48309-4482
(location map)
(248) 370-2700
gradinfo@oakland.edu

Office Hours:
Monday - Friday 8 a.m. - 5 p.m.