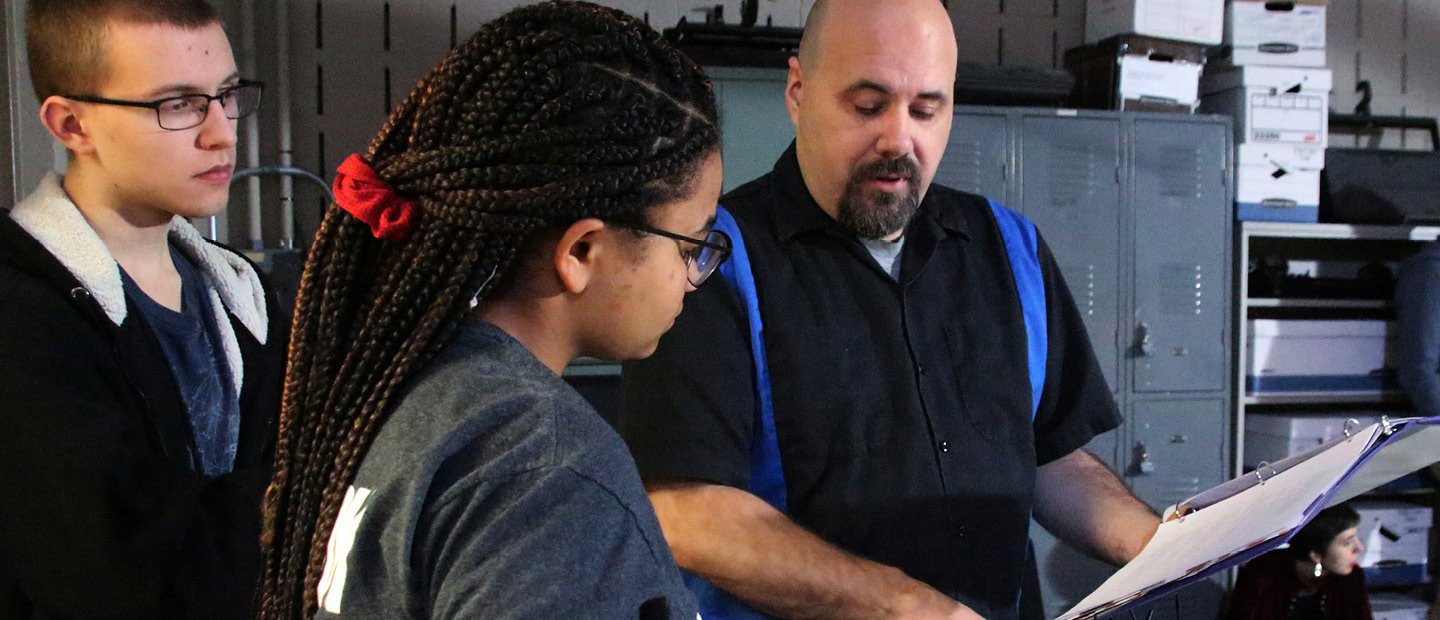 Internships and Career Resources
Internships offer students valuable skills and work experience in career paths for English majors. Most students enjoy and learn from their internship experience; they also find that in this economic market, the experience they gain from interning gives them an edge that can make a difference when they are up against stiff competition for jobs.
Internships
Internships for credit are available during fall, winter, and summer semesters. To receive credit, students must register for ENG 4950 and fill out online forms. If you have any questions, please contact one of the following internship coordinators:  
English Major Internship Coordinator: Rachel Smydra
Creative Writing Internship Coordinator: Annie Gilson
ENG 4950 Internship Course Description: Experience in appropriate work position at an approved site, correlated with directed study assignments, during the fall, winter, or summer semester.  In the semester prior to enrollment, the student will plan the internship in conjunction with the Internship Coordinator and with the approval of the department chair. Students are required to email the Internship Coordinator every week during the semester they intern, and also to turn in a final paper, due the Friday of the last week of classes. May be repeated once in a different setting for elective credit only.
Prerequisites: 16 credits in English, of which at least 8 must be at the 300-400 level, and permission of the instructor and the department chair.
NOTE: This course does not count as a 400-level seminar course, which is the required capstone course for all English Majors.
Student Internship Responsibilities
You are required to perform the duties included in your internship job description. If needed, please ask your faculty and on-site mentors for clarification. Students are required to work 10-20 hours to receive credit. Aside from faithfully reporting for work and performing your duties, you have other responsibilities during the internship period as well. You are required to maintain contact with your faculty mentor, which consists of sending weekly emails that describe in a detailed summary the work you completed that week and confirm your presence at the internship site. You must submit a final 10-15 page paper that describes your experiences as an intern.
OU English Department Alumni Job Placements
Email Rachel Smydra to request an internship application.
English Alumni Mentoring Program
Since the fall of 2012, the English Department has paired up English alums with English major juniors and seniors to help students make the transition from school to career.

Alum mentors and their mentees decide how they wish to communicate: some only communicate via email or Facebook; others meet for coffee, and some mentors bring students to their workplace to give students a glimpse of their working lives. There is no one single way to mentor a student; most important of all for the student is getting to talk to someone who has graduated from our program and gone on to have a successful career.

Every year, the English Department Alumni Program hosts a mixer for alums and students during the OU Homecoming weekend. Included are people who have been involved in the mentoring program. We encourage all students (and alums!) to attend. It's a great way to meet new people in English and Creative Writing and to catch up with old friends. We have mentors who graduated 30 years ago, and mentors who graduated only last year. Last year's graduates were mentees themselves and now are eager to give back to others.

If you are interested in becoming a mentor or a mentee, please email Professor Annie Gilson. Let her know what year you graduated or will graduate, and the different positions you have held over the course of your career, or the career(s) you're interested in exploring. She will pair you up with someone whose interests match up with yours.

The English Department looks forward to welcoming you back!
Alumni Mentor Guidelines
Note: Be sure to go to the Career Center to learn about writing resumes, doing interviews, cover letters, etc. OU provides a lot of services to get you prepared for the job search. They will even do mock interviews for you!
First of all, be respectful of your mentors. They are volunteering to help you with your job search. But don't be intimidated by them. They were students here at OU, majoring in English and Creative Writing just like you. They want to help you; that's why they've volunteered to help you. They WANT to help you!
Here are some tips:

Do immediately send them an introductory email.

Do ask them how they would prefer to communicate.

Do find out how much time they have available and how often they want to communicate. Be respectful of their time constraints.

Do not blow them off. If a mentor takes the time to write you, but you feel confused or lost or strapped for time, or whatever, write them and tell them that. Silence from you equals disinterest in their minds. Be prompt and professional. Some mentors have helped their mentees get jobs!

No matter what is going on in your life, do not just leave them hanging. It's rude and it reflects badly on the program. Some former students blew off their mentors and as a result their mentors quit the program. So stay in touch!

However, do remember that, though they've volunteered for this program, they don't have a lot of spare time. (Who does?) So don't write them really long emails, unless they signal that this is ok with them. Also, don't expect a fast turn-around in response to your communications. If two weeks have gone by since you've written them, send a polite follow-up email saying that you know they're busy and asking if they still have time to work with you.
When you communicate:

You should do some list making. What kinds of questions do you have about your preferred career? The Career Center can help you draw up a list of useful questions. Again: Be sure to go to there to learn about interviews, cover letters, etc. OU provides a lot of services to get you prepared for the job search.