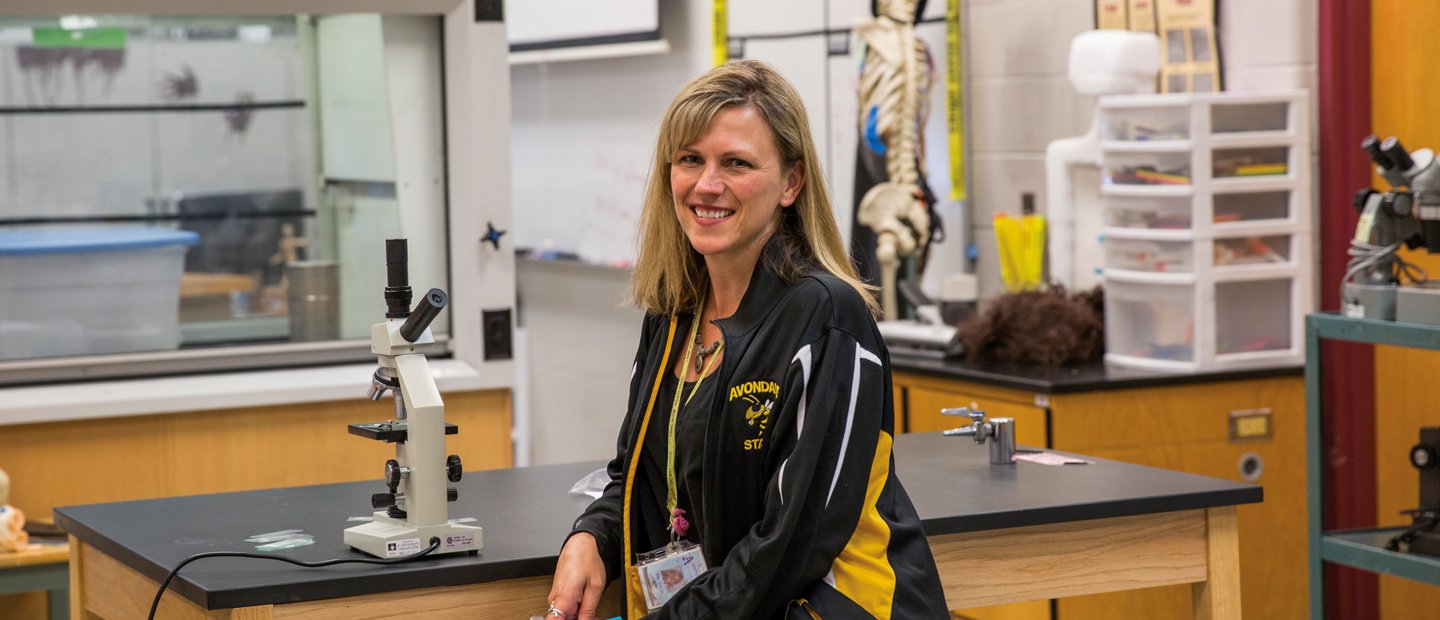 Choosing teaching as a profession is bold and inspiring! We encourage you to explore the content below and share why you teach.
Quotes from local teachers
"I teach to positively influence as many lives as I can." — Sarah Cazan, 3rd grade teacher
"You get hugs every day." — Elizabeth Begley, kindergarten teacher
"I want to help kids find their own creative passions." — Jim White, middle school teacher
"I teach because it is in my heart." — Candice Abro, Spanish teacher
"I teach art to give students who identify as artists a voice." — Wendy Sauve, art teacher
"I teach because each day can be different from the day before." — Rhonda Winters, 4th grade teacher
"I teach to inspire students to become problem-solvers. I want them to ask difficult and important questions and have the confidence and ability to search for evidence on which to base the answers." — Noelle Collis, high school science teacher
"I teach so every student, no matter their ability, can discover their potential." — Caitlin St. Onge, special education teacher
"I teach because I get to make a positive impact on the lives of hundreds of kids a year." — Nathan Odinga, high school English teacher
"Our future and theirs depends on education. Teachers create a bridge between a child's possibilities and their contributions to tomorrow." — Kathy Pitt, 5th grade teacher
Famous quotes about teaching (from the Latin Times)
"Good teachers know how to bring out the best in students." — Charles Kuralt
"When you study great teachers ... you will learn much more from their caring and hard work than from their style." — William Glasser
"Education is the key to success in life, and teachers make a lasting impact in the lives of their students." — Solomon Ortiz
"The older I got, the smarter my teachers became." — Ally Carter
"What the teacher is, is more important than what he teaches." — Karl A. Menninger
"A teacher affects eternity; he can never tell where his influence stops." — Henry Adams
"It is the supreme art of the teacher to awaken joy in creative expression and knowledge." — Albert Einstein
"A teacher who loves learning earns the right and the ability to help others learn." — Ruth Beechick
10 reasons to teach
Teaching is exciting!
No two days are the same. Every day has a new challenge and discovery which leads to an engaging career and exciting life.


There is a demand for teachers.
A noteworthy amount of older teachers are expected to reach retirement age by 2018 which will create job openings for new teachers. The Bureau of Labor Market Information and Strategic Initiatives predicts that there will be a 7.8% job growth between 2012 and 2018 for elementary school teachers in Michigan. There are 1,227 predicted job openings a year for elementary teachers.


To positively impact students

'

lives.
American students spend about 941 hours at school every year, according to the Organization for Economic Co-Operation and Development. This is 941 hours to help a child grow as a person. As Wallace Stegner said, "A teacher enlarges people in all sorts of ways besides just his subject matter."


As a teacher, you never stop learning.
There are incentives for continued education and you can earn a pay increase with professional development credits to continue your personal growth. Not to mention how much a teacher learns from their students every day!


Teaching has a respectable annual wage.
In 2014, the average annual wage for all educators in Michigan is $53,830, which is $1,620 greater than the national average. Additionally, in 2014, the median pay for elementary teachers in the nation was $54,120 a year, $54,940 per year for middle school teachers and $56,310 per year for high school teachers. The annual mean wage for all workers in the nation is $47,230, according to the Bureau of Labor Statistics.


It is gratifying to contribute to the community.
Teachers have the opportunity to prepare students for success. Teachers can shape successful individuals who benefit the community they live in. With a push in the right direction students can become engaged citizens.


It is a fun, creative outlet.
Every child learns a little bit differently, so it is necessary to think creatively in order to engage all students. Teaching is a chance to think outside of the box and develop new learning strategies and activities.


The "AHA" moment!
When a student finally grasps the concept you

'

ve been teaching and you can see the light bulb go on above their head it is truly a satisfying moment. It is moments like that which make the profession immensely rewarding. As told by Oliver Wendell Holmes, "A moment

'

s insight is sometimes worth a life

'

s experience."


The skills you learn as a teacher are portable.
You can teach across the country in California or in a completely different country. No matter where you wish to live, there is a need for educators.


Teaching is the chance to change the future.
Students are the future and teachers help to lead them in the right direction. No matter where you teach, you have a hand in shaping the future.