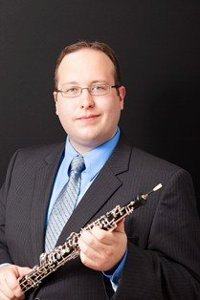 Applied Oboe
Contact:
michling@oakland.edu

Timothy Michling is instructor of oboe at Oakland University. An avid performer, Tim serves as principal oboist of the Ann Arbor Symphony Orchestra and appears frequently with numerous other area ensembles, including the Toledo Symphony Orchestra, Kalamazoo Symphony Orchestra, Flint Symphony Orchestra, Saginaw Bay Symphony Orchestra, Oakland Symphony Orchestra, and the Michigan Opera Theatre Orchestra. Tim is also an accomplished woodwind specialist, and was a member of the pit orchestra during the 2003-2004 North American Tour of Meredith Wilson's The Music Man, playing oboe, English horn, flute, piccolo, clarinet, and bassoon. He can also be heard in many area performances on bagpipes, tin whistles, and saxophone. Tim is a sought after multi-instrumentalist and recording artist for classical, folk, and rock ensembles alike.

In addition to his work with students at Oakland University, Tim provides instruction as a member of the music faculty at the University of Michigan - Flint. Tim formerly worked as a legislative aide in the Michigan House of Representatives in Lansing and has served on numerous boards for arts organizations. An advocate for the arts and education, he believes ardently in the power of the arts to empower individuals and build stronger communities, and remains passionately dedicated to community service, outreach, and education. When not teaching or performing, Tim works as a research associate with the Citizens Research Council of Michigan—the state's oldest and most respected public policy research organization—writing and presenting on topics such as public health, healthcare finance, and governmental transparency and accountability.

Tim earned his Bachelor and Master of Music degrees from the University of Michigan - Ann Arbor, where he studied with Nancy-Ambrose King. In addition, he studied with Allan Vogel at the prestigious Colburn Conservatory of Music in Los Angeles, where he earned his Artist Diploma. Tim also holds a Bachelor of Arts degree in History from the University of Michigan - Ann Arbor, as well as a Master of Public Administration and a Graduate Certificate in Public Health from Wayne State University.