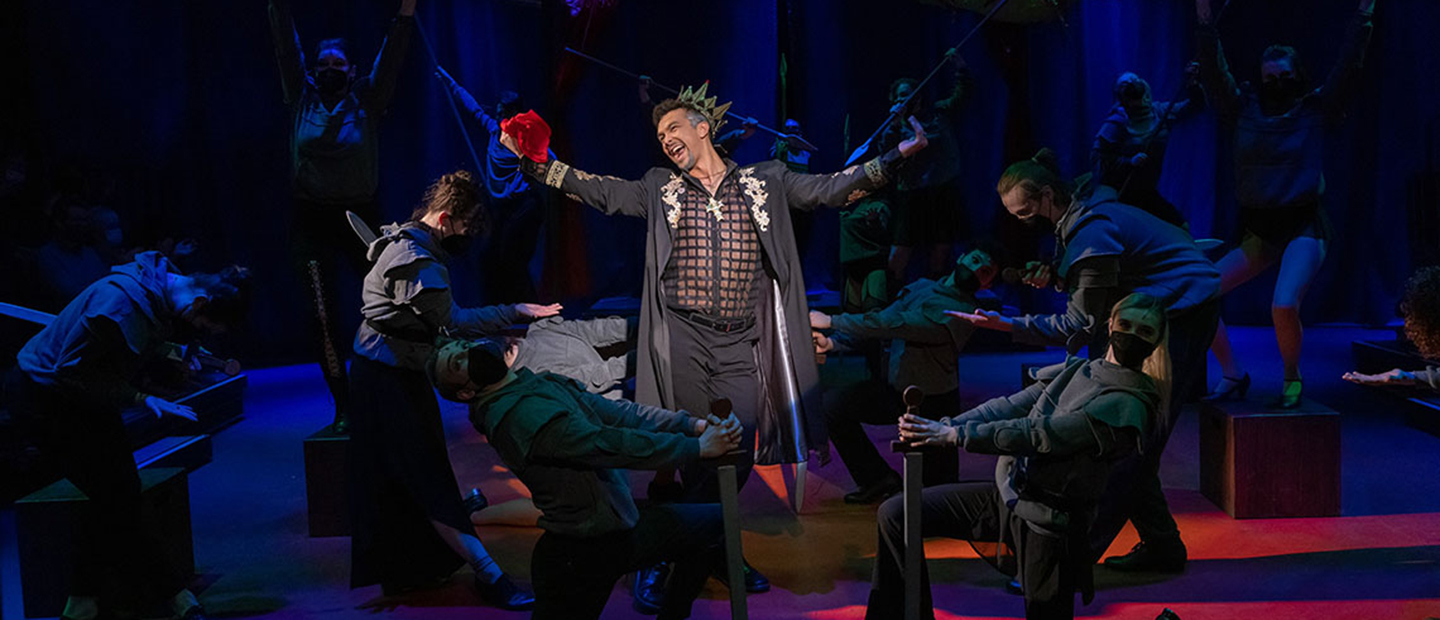 The Department of Theatre is a community of artistic scholars and practitioners pursuing an 
immersive exploration of the human condition with a focus on the imagination and a mastery of 
skills and techniques. Through rigorous coursework and robust production values, faculty foster 
personal growth, social responsibility, inclusion and diversity, and professional success through 
the lens of a liberal arts degree and professional degrees in musical theatre, acting and theatre 
design and technology. 
The Oakland University Department of Theatre is one of three Michigan universities that is accredited by the National Association of Schools of Theatre (NAST.)


Auditions
Senior Showcase
Academic Programs
The Bachelor of Arts (BA) degree curriculum offers a platform for the study of theatre within the framework of a broad-based, liberal arts curriculum. Students gain an understanding of fundamentals, as well as a fuller intellectual grasp of the performing arts.


The
Bachelor of Fine Arts (BFA)
, the initial professional theatre degree, places primary emphasis on the development of skills, concepts and sensitivities essential to the theatre professional in three areas of concentration:
Acting
The BFA in acting develops professional competency through performance, repertory and theoretical studies for students whose primary interest lies in acting and directing. Training emphasizes a variety of acting skills and offers opportunities to perform and direct. 
 
Musical Theatre
The BFA in musical theatre is for students interested in acting, singing and dance. A variety of acting classes, individual vocal instruction, and training in ballet, jazz and modern dance are available. Performance opportunities exist in musical theatre and opera, in both workshop settings and fully staged productions.
 
Theatre Design and Technology
The BFA in design and technology serves students interested in theatrical design, technical production or stage management. Training in stagecraft, stage management and scenic, costume and lighting design may lead to advanced projects in these areas according to each student's interests and capabilities.
Minors
To earn a minor in theatre, students must complete a minimum of 20 credits. View
more information
in the academic catalog.
Each academic degree program requires students to
audition
to be admitted into the program.
Your first step is to apply for admission to the University. To apply online, go to the Oakland University
Admissions
 site.
Productions
Current Productions
Passage | October 7 - 10 and 14 - 17, 2021
The Last Five Years | October 29-30, 2021
The 25th Annual Putnam County Spelling Bee | November 11 - 14 and 18 - 21, 2021
Sense and Sensibility 

|

February 10 - 13 and 17 - 20, 2022
Pippin 

|

 March 30 - April 3, 2022
For detailed information about our performances, visit oakland.edu/smtd/performances-and-events.
Past Productions
In a typical year Oakland University's Theatre program presents five outstanding productions, playing to packed houses and rave reviews. In addition, theatre students prepare and present the cabarets and Senior Showcase, which connects senior theatre majors with industry professionals in New York City. Photos from many of the shows are viewable on our
Facebook page
.
2020-21: The Servant of Two Masters; How I Became a Pirate
2019-20: Orestes; Urinetown; Blue Stockings; Macbeth
Canceled due to Covid-19: Cabaret; The Town Mouse and the Country Mouse
2018-19: Into the Woods; Lysistrata Remix; Seagull; The Who's Tommy; James and the Giant Peach
2017-18:

Bullets Over Broadway; Marcus; Or the Secret of Sweet; The School for Scandal; Hands on a Hardbody; The Three Little Pigs

2016-17:

The Scarlet Pimpernel; The House of Bernarda Alba; Rumors; A Chorus Line; Wiley and the Hairy Man

2015-16:

Oklahoma!;

Equus; Faust(US); Assassins; The Adventures of Pinocchio

2014-15:

The Life; The Liar; A Doll's House; She Loves Me; Pinkalicious the Musical

2013-14: CARRIE the musical; Blithe Spirit; Under Milk Wood; Sweet Charity; Freckleface Strawberry
In Residence
Theatre Program Partner - Synergy on Stage
Synergy On Stage is a dynamic company based in the Metro-Detroit area specializing in entertainment interpreting. They incorporate American Sign Language (ASL) enhancement into several Oakland University theatre productions, creating an unforgettable event for both Deaf and hearing audiences. Learn more about Synergy On Stage.