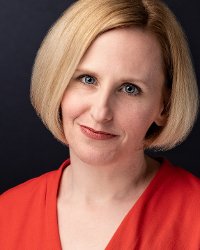 Lecturer
Contact:
scwolf@oakland.edu
Sara Catheryn Wolf, she/her, has an MFA in theater performance from Wayne State University's Hilberry Theater and a BA in theater performance from Western Michigan University. She is also artistic director for Shakespeare Royal Oak in Royal Oak, Michigan, since 2012.
Acting credits include A Christmas Carol, Murder on the Orient Express, Murder By Poe, Witness For the Prosecution, The Lion in Winter, A Midsummer Night's Dream (Meadow Brook Theatre), Much Ado About Nothing, Richard III, Hamlet, Merry Wives of Windsor Comedy of Errors, As You Like It, The Tempest, Two Gentlemen of Verona, The Taming of the Shrew (Shakespeare Royal Oak), The Diary of Anne Frank (Jewish Ensemble Theater), A Lovely Sunday for Creve Coeur (Tipping Point Theater). Directing credits include Macbeth, Henry V, Shakespeare in Love and War, The Complete Works of William Shakespeare, Abridged, Good Men and True, M5, Dark Night (Planet Ant), Barefoot in the Park (The Snug Theater), Extremities (Macomb Community College). Sara has been a proud member of Actor's Equity since 2001.
Sara loves teaching and engaging students in a workshop experience. She has had the privilege of teaching Shakespeare, Script Analysis and Advanced Studio. Working together to gain knowledge, perspective and confidence as well as building a diverse, inclusive, artistic community are her main goals.