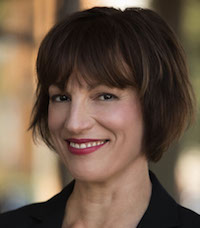 Special Lecturer in Theatre
Contact:
vukasovi@oakland.edu
Links: 
milagovich.com
IMDb page
Twitter: @MilicaGovich

Milica Govich, known as Mila, holds an MFA in acting from Ohio University's Professional Actor Training Program, and a BS Ed from Duquesne University, where she was a solo vocalist and dancer in the world renowned East European folk ensemble The Tamburitzans. She has worked in film, television, and on the stage. Her recent credits include Ansel Elgort's mother in the box office sensation The Fault in Our Stars; the film Eloise, starring Eliza Dushku; and Warner Brothers' Batman V Superman: Dawn of Justice. Her other film/TV credits include Hung; Three Rivers (CBS); To Live and Die in Dixie; Super Sucker; Jinn; Restitution;and Trust.

Mila worked on the Broadway stage, appearing in Hello, Dolly! starring Carol Channing (Broadway and National Tour, Chatelet Theatre, Paris). 

She also has many regional theatre credits including The Sisters Rosensweig (Schoolhouse Theatre); All My Sons, The Odd Couple (female version), A Christmas Carol, Pump Boys and Dinettes, Meshuggah-Nuns!, Beyond the Rainbow, And Then They Came for Me, Harris Cashes Out (Meadow Brook Theatre); Sonia Flew, The Clean House, In the Next Room or The Vibrator Play, The Three Penny Opera (Performance Network Theatre); Broadway Bound, Falsettos, Palmer Park (Jewish Ensemble Theatre);Barefoot in the Park ( Waterworks Theatre); and Let it Be, Rain Dance, Orphan Train (Jeff Daniels' Purple Rose Theatre). Her work on stage has garnered her numerous awards and nominations.

Mila currently teaches Actor Coaching, Introduction to Theatre, Acting for the Camera and Advanced Acting for the Camera, the last of which she developed in response to the high demand from theatre students. She has also taught Musical Theatre Workshop, Acting for Non-Majors, and Stage Voice. Her students have appeared in films, television series and commercials, music videos, and on professional stages. She is a proud member of the Actor's Equity Association and SAG/AFTRA.

Mila continues to work professionally both in the Midwest and in Los Angeles, California.