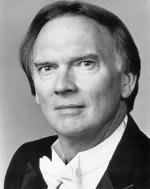 Distinguished Professor of Music, Voice
Voice Program Coordinator
Vocal Pedagogy
Contact:
jpwhite@oakland.edu
(248) 370-2040
John-Paul White, bass, was named the first Travis Professor of Music at Oakland University,
honoring his many professional accomplishments and contributions to the university and the
community, and in 2019 he became the first performing artist to be promoted to the rank of
Distinguished Professor.

He made his professional operatic debut with the New Orleans Opera in a cast that included
Placido Domingo. Since then, he has appeared with many of the major American and European
opera companies and symphony orchestras such as the Berlin Symphony Orchestra, Frankfurt
Alte Oper, San Francisco Opera, and at Carnegie Hall.

He holds the Diploma in Opera from the renowned Curtis Institute of Music in Philadelphia.
While heading the voice faculty at O.U., Professor White continues to be in demand nationally as
a performer and is also known as an author and speaker on the subject of vocal health and
rehabilitation.