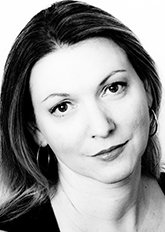 Associate Professor of Dance
Dance in American Culture, Issues and Trends in Dance
Dance History and Appreciation
Opportunities and Careers in Dance
Contemporary Dance History: Revolution & Revisionism
Contact:
kattneru@oakland.edu
(248) 370-2917
Links:
Dr. Kattner's website

Elizabeth Kattner is an Assistant Professor of Dance at Oakland University with a focus on Dance Studies. She earned her B.A. in Anthropology and M.M. in Dance from the University of Nevada-Las Vegas, and completed her Ph.D. in Theatre Studies at the Free University Berlin. Her doctoral research was published in the book, Early Life and Works of George Balanchine (2013). She has given numerous presentations and workshops at the annual conferences of the Society of Dance History Scholars and the American College Dance Festival Association, and has published in Ballet Review and The Scholarship of Teaching. In addition to her academic work, she has performed widely in the U.S. and Germany with various ballet and baroque ensembles including Nevada Dance Theatre, L'Autre Pas and Contretem(p)s Berlin. She is an active choreographer. Her original work Hide and Seek (2012) was presented at American College Dance Festival Association. In 2012 she was awarded a grant from the Ruth Mott Foundation-Share Art Flint to establish the Dance in Schools program which has introduced the art of dance as a means of physical expression and communication to hundreds of young people in Michigan.