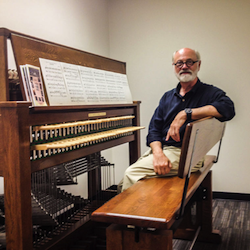 University Carillonneur
Applied Instructor, Carillon
Contact: 
dncurry@oakland.edu
bells@oakland.edu
(248) 508-7050
Links:
Carillon webpage
Facebook page
Elliott Tower Dedication
Dennis Curry
is the Oakland University Carillonneur and was honored to be consultant and dedicatory recitalist for the new Elliott Carillon Tower. Weekly recitals are given every Friday at noon; an International Carillon Summer Series features artists from around the world.
A professional carillonneur for over 25 years, Dennis is also Carillonneur and Associate Music Director at Kirk in the Hills, in Bloomfield Hills, Michigan. His carillon studies began with Dr. Frederick Marriott, and he advanced to Carillonneur member of the 
Guild of Carillonneurs in North America
 in 1989. Past President of the GCNA for 6 years, Dennis has also served on the Board of Directors and as juror on the Guild's Student Examination Committee. He is a member of the 
Executive Committee of the World Carillon Federation
, having served as Treasurer, Vice-President and Secretary.
In 2001, he hosted the 59th GCNA Congress at the Kirk, which honored the centennials of Percival Price and Frederick Marriott. He supervised the formation of the Marriott Memorial Library and the complete renovation of the Kirk carillon – the world's largest (77 bells). In 2011, he hosted the joint GCNA and WCF World Congress in Michigan, celebrating the 75th Anniversary of the GCNA – which was the largest gathering of carillonneurs in the 500 year history of the carillon instrument. And in 2014, he hosted the MidWest Regional Carillon Conference on the newest carillon in the world … at Oakland University.
A carillon recitalist in North America, Europe and Asia, Dennis has also performed in several prestigious international carillon festivals – Historic Bok Tower, Løgumkloster, Springfield, Centralia, Dijon and Perpignan. On the occasion of the 5th anniversary of the 9/11 terrorist attacks, he was honored to present a memorial recital at the National Carillon in Canberra. Dennis has played all 14 carillons in Michigan, and on many important instruments – ranging from 23 bells to 77 bells – including Hyechon College (Korea), Misono (Japan), YMCA (Jerusalem), Crystal Cathedral (Garden Grove), Princeton (NJ), Peace Tower (Ottawa), Oudekirk (Amsterdam), Bruges (Belgium), Vors Frelsers Kirke (Copenhagen), Old Bond Street (London), Riverside Church (Manhattan), Lyon Town Hall (France), St. Colman's Cathedral (Ireland), and Sts. Peter&Paul Cathedral (St. Petersburg, Russia).
His other musical endeavors have included Section Leader for the Detroit Symphony Chorale & Chorus, President of the Kenneth Jewell Chorale, and appearances as organist and vocalist at area churches and synagogues. His organ teachers were Clyde Holloway (Indiana) and Ray Ferguson (Wayne State). He is currently consulting on new and renovated carillon installations.
An advocate for promoting the carillon art and building community awareness, Dennis has premiered many commissioned carillon works, and established the Todd Fair Memorial Collection for scholarly research and student study at Oakland University.