Monday, May 13, 2019
OUWB graduates its fifth class of physicians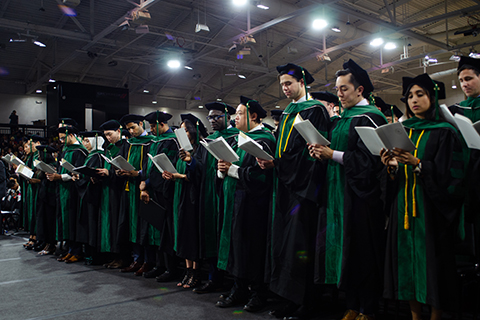 Class of 2019 recites their oath together during commencement.
OUWB graduated its fifth class of physicians on the campus of Oakland University surrounded by faculty mentors, family and friends who cheered, laughed and cried during the joyful commencement ceremony for the Class of 2019.

During her keynote address, Oakland University President Ora Hirsch Pescovitz, M.D., encouraged the future physicians to strive for a balance between personal and professional responsibilities.

"I want you to preserve the idealism and spirit of altruism that you had when you first came to OUWB," said Dr. Pescovitz. "It is possible to care for other people and care for oneself. In fact, in order to care for other people, you must take care of yourself."

The ceremony also included an address from student speaker Leif Helland, M.D., who reminded his classmates of what they have learned and of their numerous successes. He urged them to keep making a positive impact on others.

"(Remember) the thrill we felt as a class with a 100-percent pass rate on step one, of the many patients discharged and sent home healthy, and the miracles of life that we helped usher into the world," said Dr. Helland. "Class of 2019, the conclusion of this speech is actually our beginning. It is the start of the most exciting, longest lasting and highest impact part of our lives."

Stephan Sharf Interim Dean Duane Mezwa's remarks praised the Class of 2019 for writing an oath that recognized the value of inter-professionalism and began like no other OUWB class oath.

"The most profound point in the oath, is the very first word – We. No other class oath begins this way," said Dr. Mezwa. "You affirm the solidarity with your colleagues around these values. You affirm that our medical school is a community serving its community. You affirm that you are a physician who studied at OUWB."

Alumni speaker Aleah Thompson, M.D., OUWB Class of 2018, gave the new physicians a glimpse of residency life, as she spoke of her first year in family medicine at University of Michigan Hospitals in Ann Arbor. She concluded by welcoming the new graduates to the OUWB Alumni Association.

Soon, the new physicians will begin their residency programs in hospitals and medical facilities in metro Detroit and across the country, putting their unique OUWB training into practice.

For photos, visit OUWB's Commencement 2019 Facebook album.

Read residency match details here.