Tuesday, May 16, 2017
Commencement day: Celebrating success and looking toward a bright future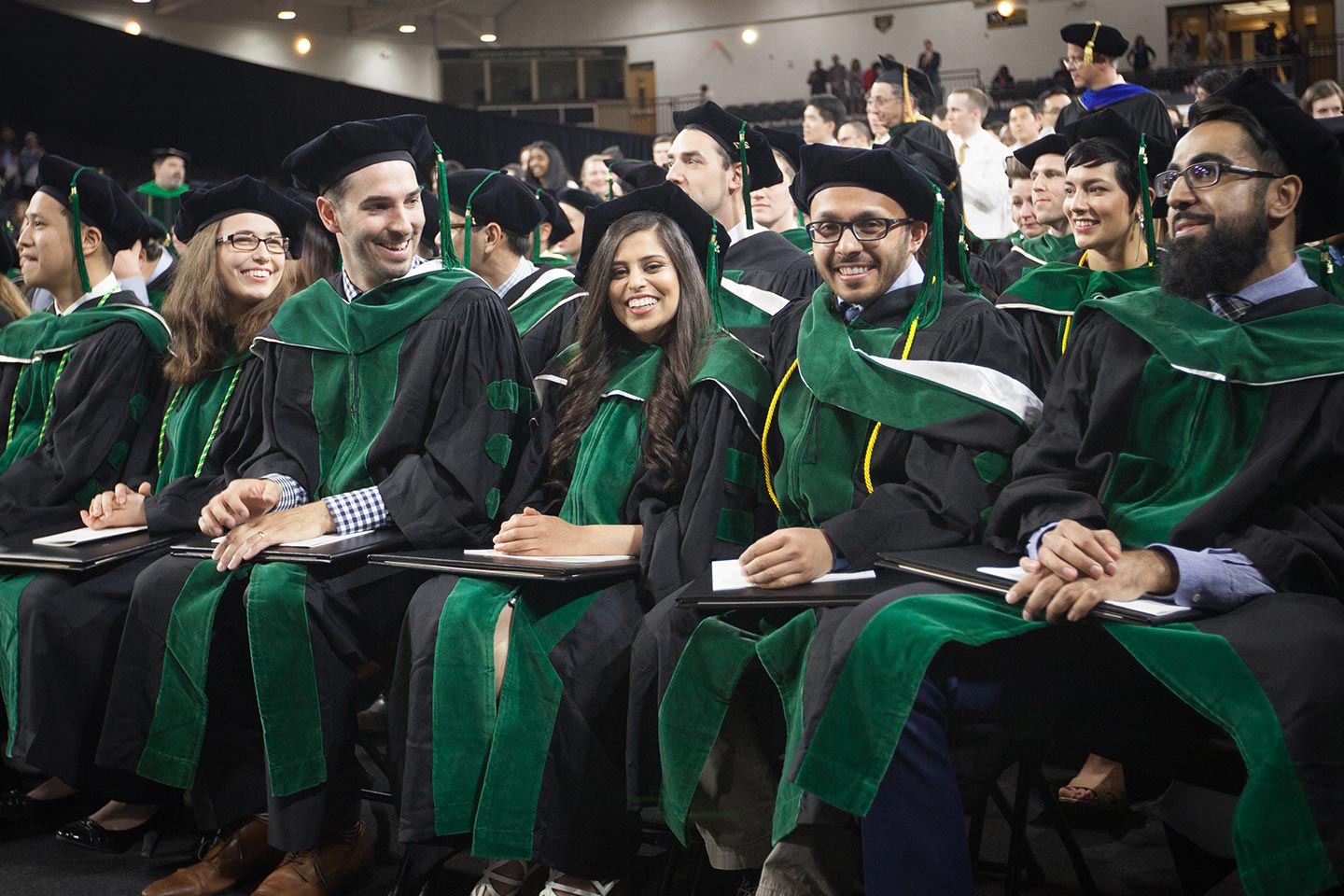 Before family, friends and current medical students, the Class of 2017 received their M.D. degrees during a commencement ceremony that included being hooded by their PRISM mentors, and in some cases their family members.

The keynote speaker, Timothy Erickson, M.D. from Brigham and Women's Hospital, Harvard Medical School and the Harvard Humanitarian Initiative delivered inspirational remarks that moved the entire audience to a standing ovation. He spoke to the class and delivered a call to action.

"I'm telling you to pick a battle. That simple statement has helped drive much of my career in being a global humanitarian health care provider. There are many battles in this world that need to be fought," he said. "Pick a big battle. It will define you. It will give you a cause. It will spark your passion. It will feed your soul. Pick a battle worthy of you, and one that is worth investing decades, such that when you look back, you will have no regrets."

The ceremony included an address from student speaker Tania Multani Kohal, M.D., who wove her mother's own medical school journey in India into a story to her classmates about being humble and thankful for the support from loved ones who helped them make it to graduation day.

"It is now more than ever, that we have to remind ourselves of the importance of people in our lives, of the importance of human interactions," said Dr. Kohal. "We are entering a field that interfaces with humanity in its most vulnerable state. That is an incredible privilege and responsibility that should humble us."

Dean Folberg emphasized the Class of 2017's aspirations to make a significant impact on their "community at home and in the world at large" and recited an adaptation of Israel Salanter's work, a 19th century teacher of ethics and character development.

"I wanted to change the world, but I couldn't. I tried to change my country, but again, I couldn't. I tried to change my town, my community, and again, I fell short. So I tried to change my family, and again, I did not meet with success," said Dean Folberg. "It was only then that I realized that the only person I could change was myself, but when I changed myself, I changed my family."

Dean Folberg then led the new physicians through the recitation of their oath and concluded the ceremony. The newest OUWB alumni were led out of the Oakland University O'rena by bagpipers who ensured they marched past the proud family and friends who gathered to witness this very important milestone in their lives.

For photos, visit OUWB's Commencement Facebook album.