Nelia Afonso, M.D.
Assistant Dean for Community Integration & Outreach
Professor in the Department of Foundational Medical Studies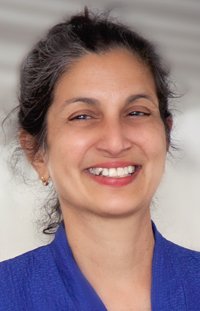 Dr. Afonso joined the Oakland University William Beaumont School of Medicine faculty in 2011 as Assistant Dean for Community Integration & Outreach and Professor of Biomedical Sciences. She is also Director of the Art and Practice of Medicine Course, a longitudinal course that introduces and develops students' history taking and physical diagnosis skills. The course also incorporates topics of professionalism, ethical practice, fundamentals of patient safety, inter-professional communication skills, patient privacy, and functioning in a team setting.

Dr. Afonso received her M.B.B.S. and M.D. degree from the University of Mumbai in India and received her M.R.C.P. degree from the Royal College of Physicians in the United Kingdom. Teaching both medical students and residents has always been a central part of her career as an academic physician. From 1992 to 2011, she was a member of the teaching faculty of the Department of Internal Medicine at Wayne State University School of Medicine. As the Director of the Physical Diagnosis Course at the Wayne State University School of Medicine, Dr. Afonso developed and implemented innovative medical education programs for medical students such as the use of standardized patients. She was instrumental in the introduction of several novel initiatives in the medical school curriculum including inter-professional education and the introduction of bedside ultrasound teaching into the physical diagnosis course. Her research projects focus on novel curriculum initiatives in medical education and women's health issues.
Contact Information:
Office: 428 O'Dowd Hall
Phone: 248-964-5198
Email: afonso@oakland.edu
Specialties:
Medical education, women's health
Education:
M.B.B.S., (M.D.), University of Mumbai, India
M.R.C.P., Royal College of Physicians, United Kingdom
Research Interests:
Medical education curriculum and women's health