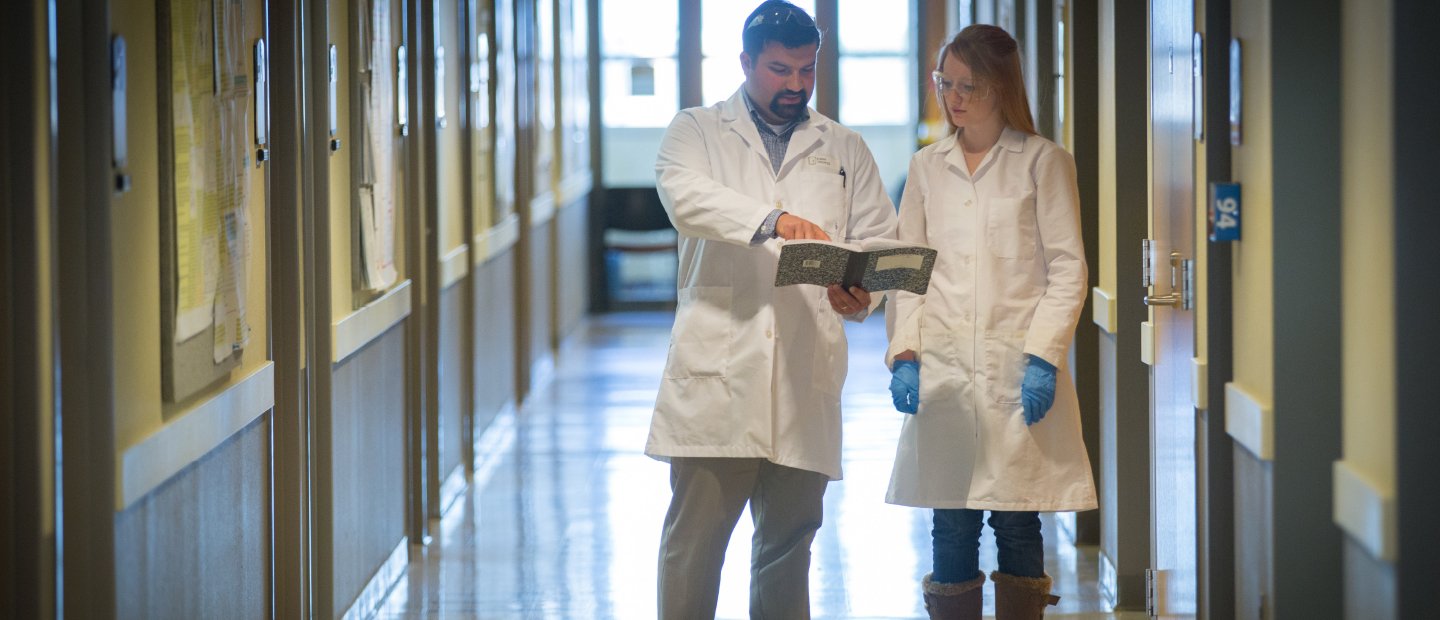 Planning a Program in chemistry
Curricula leading to a major in chemistry are quite structured, since knowledge is developed cumulatively in a four-year sequence. This leads to a fairly prescribed order of course presentation with a number of specific course requirements. Students interested in pursuing a program of study in chemistry should consult with a departmental adviser and file a program plan as early as possible in their college career.
Admission to major standing
To be eligible for a degree in chemistry, students should be admitted to major standing by the department at least three semesters before graduation. Students must consult with the chemistry department chief adviser and file an application for admission to major standing, which includes a curriculum plan, during the term in which they first take a 3000-4000 level chemistry course. This procedure is designed to ensure that an appropriate plan of studies is completed by graduation.
Applications for major standing in chemistry will be approved after completion of CHM 1440 and 1470, 1450 and 1480, 2200, 2340-2350, 2370, PHY 1510, and MTH 1554 with a grade point average of 2.0 or better.
Course work more than 10 years old is subject to re-evaluation by the department. An examination may be required to demonstrate proficiency in areas covered by such courses.
Advanced courses in chemistry
Students pursuing a major in Chemistry, B.S. program take eight credits of advanced courses in areas of interest. In addition to the courses listed in this catalog, the following advanced courses are open to qualified undergraduates:
CHM 5210 and 5900 (Advanced Analytical Chemistry and Topics in Analytical Chemistry)
CHM 5340 and 5901 (Advanced Organic Chemistry and Topics in Organic Chemistry)
CHM 5400 (Symmetry in Chemistry)
CHM 5420 (Topics in Physical Chemistry)
CHM 5530 and 5902 (Advanced Biochemistry and Topics in Biochemistry)
CHM 5630 and 5903 (Advanced Inorganic Chemistry and Topics in Inorganic Chemistry)
See the online Oakland University Graduate Course Listings for course descriptions.
Honors
Departmental honors may be awarded to graduating seniors in chemistry who have been recommended for honors by their research advisers and have completed all required science courses with high grades.
Academic Advisers
Undergraduate Programs
Jennifer Tillinger
B.A./B.S. Chemistry and Engineering Chemistry
244 Mathematics and Science Center
(248) 370-2883
jbulgare@oakland.edu
Colin Wu
Biochemistry
203 Mathematics and Science Center
(248) 370-2349
colinwu@oakland.edu
David Szlag
B.S. Environmental Science
207 Mathematics and Science Center
(248) 370-4064
szlag@oakland.edu
Jessica Koppen
STEP Program
 247 Mathematics and Science Center
(248) 370-2324
jvkoppen@oakland.edu
Graduate Programs
Ziming Yang
M.S. Chemistry
289 Mathematics and Science Center
(248)370-2339
zimingyang@oakland.edu
Xiangqun Zeng
Ph.D.
231 Mathematics and Science Center
(248) 370-2881
zeng@oakland.edu