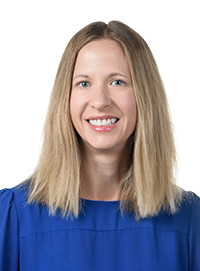 Associate Professor of Musicology
Contact:
payette@oakland.edu
(248) 370-3148

Jessica Payette is Associate Professor of Musicology at Oakland University in Rochester, Michigan. She received her M.A. and Ph.D. in musicology and humanities from Stanford University. She holds a Bachelor of Music degree (piano performance) and a Bachelor of Arts degree (art history) from the University of Minnesota where she was a Selmer Birkelo scholar. Professor Payette teaches segments of the undergraduate music history survey, a capstone course on music in twentieth-century Berlin, the introductory graduate research course, and graduate music history seminars.
Professor Payette's research addresses opera in Austria, fin-de-siècle Vienna and the emergence of Expressionistic music, and choreographic music. She has also written about the compositions of Eleanor Smith, the first director of the Hull-House Music School in Chicago. Her work in progress includes a book entitled Opera in Austria from Mahler to the Postwar Era and an edited collection examining the activities and cultural influence of women composers and musicians in Progressive Era Chicago. She is a member of the American Musicological Society, the Austrian Studies Association, the Dance Studies Association, and the Society for American Music.
Books
Choreographic Music: Writings in American Arts Periodicals, 1914–1993.
     Music Library Association Index and Bibliography Series
    (Middleton, WI: A-R Editions). (in press)       
Eleanor Smith's Hull House Songs: The Music of Protest and Hope in Jane Addams's Chicago
      (Leiden and Boston: Brill, 2019). Co-authored with Graham Cassano and Rima Lunin Schultz.
Journal Articles and Book Chapters
"Schoenberg vive." In Pierre Boulez Studies, eds. Edward Campbell and Peter O'Hagan  
      (Cambridge: Cambridge University Press, 2016): 56–89.
"Post-Wagnerian Klangempfindungen: The Premieres of Maeterlinck Operas in Vienna."  
      Nineteenth-Century Music Review 12, no. 2 (2015): 285–317.
"The Embodiment of Collective Memory in Neue Odyssee." In Classical Music in the German
      Democratic Republic: Production and Reception, eds. Kyle Frackman and Larson Powell
      (Rochester, NY: Camden House, 2015): 97–118.
"Dismembering 'Expectations': The Modernization of Monodrama in Fin-de-siècle Theatrical
      Arts." In Melodramatic Voices: Understanding Music Drama, ed. Sarah Hibberd (Surrey,
      UK: Ashgate, 2011): 137–157.
Reviews, Liner Notes, and Reference Articles
Review of Crosscurrents: American and European Music in Interaction, 1900–2000, eds. Felix
      Meyer, Carol J. Oja, Wolfgang Rather, Anne C. Shreffler. Journal of the Society for
      American Music 11, no. 2 (2017): 223–27.
Liner notes for Gradient. Jeffrey Heisler, saxophone, and I-Chen Yeh, piano. AMP 017, 2015, CD.
"From Angry Anthems to Tragic Teuroteu: Listening to the Recalibration of Selfhood in Songs
      of Korean Sexual Trauma Survivors." Review essay on Joshua D. Pilzer's Hearts of Pine.
      Women and Music 17 (2013): 81–91.
Review of Boulez, Music and Philosophy, by Edward Campbell. Notes: The Quarterly Journal of
      the Music Library Association 68, no. 2 (December 2011): 364–366.
Contributor to The Grove Dictionary of American Music, 2nd Ed.  (New York: Oxford University
      Press, 2013). New entries on "Baskerville, Priscilla;" "Shields, Alice;" "Smith, Irene Britton;"
      "Sonic Arts Union."