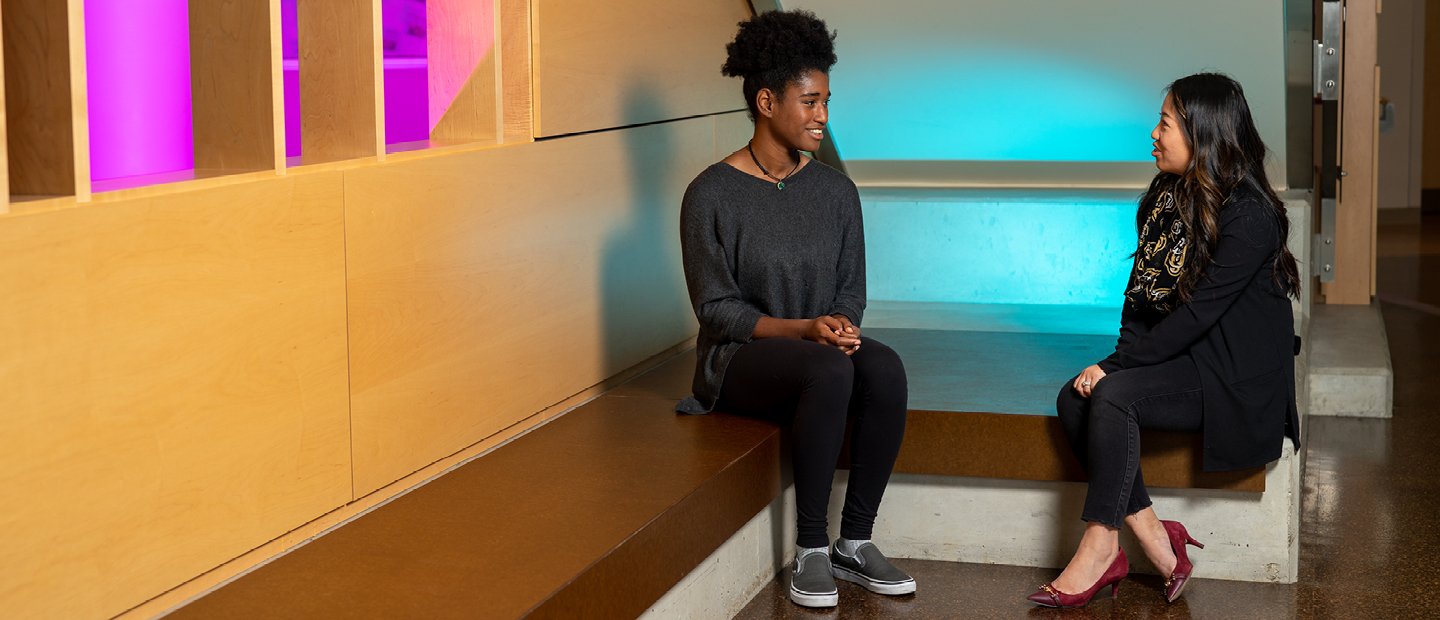 Psychology Student Success
Undergraduate Advising for The Department of Psychology is open to all majors, minors, or non-majors seeking information about becoming a major, courses within the major, and guidance regarding other questions about becoming involved and planning for the future as a major in psychology.
Blake Bonkowski found his path in psychology through volunteer work with Oakland University's Gender and Sexuality Center (GSC). By structuring his studies with his passion, he now specializes in helping transgender and nonbinary students on OU's campus. 
Personalized preparation
The Psychology Student Success Office helps set you on a path of experiential learning and connections that will help launch your career post-graduation. The team can guide curriculum choices for psychology majors and minors and highlight tailored resources such as, the Gender and Sexuality Center, Academic Success Center, Writing Center, Disability Support Services, departmental research and various student organizations. 
Prepare for an array of careers and graduate school with us, 
Psychologist 

Counselor 

Educator 

Market Researcher 

Human R

esource Manager

Career Consultant

And much more! 
We highly recommend that students meet with a psychology undergraduate faculty adviser at least once per year.
NOTE: You must have an active Oakland University email address to use the "Psychology Advising Calendar". If you do not have an active OU email address, please contact the Chief Academic Adviser, Dr. Malatesta, at malatest@oakland.edu or 248-370-2693 or the main office.
For shorter questions, please contact Psychology Undergraduate Advising: psyundergradadv@oakland.edu

Schedule an AppointmentUndergraduate Psychology CoursesProgram RequirementsGraduate School Degree Options
The Psychology Department made changes to its curriculum for the 2016/2017 Academic Year. Please use the following documents to help in scheduling classes starting Fall, 2017. The tables are organized by the psychology curriculum requirements presented in the student handbook for the year of enrollment.
Please be sure to use the appropriate forms based on the academic year that you enrolled. To request the forms listed below, email malatest@oakland.edu.
Enrolled 2011/2012 - 2015/2016 or transferred to OU in 2016/2017:
Course Number Conversion Table (2015/2016 & earlier, Fall 2016 transfer)
Psychology Department Advising Form (2015/2016 & earlier, Fall 2016 transfer)
Enrolled 2016/2017 to 2021/2022:
Course Number Conversion Table (Enrolled 2016/2017 or 2017/2018)
Psychology Department Advising Form (Enrolled 2016/2017)
Psychology Department Advising Form (2017/2018 and new transfer students, Fall 2017)
Psychology Department Advising Form (2018/2109)
Psychology Department Advising Form (2019/2020)
Psychology Department Advising Form (2020/2021 and 2021/2022)