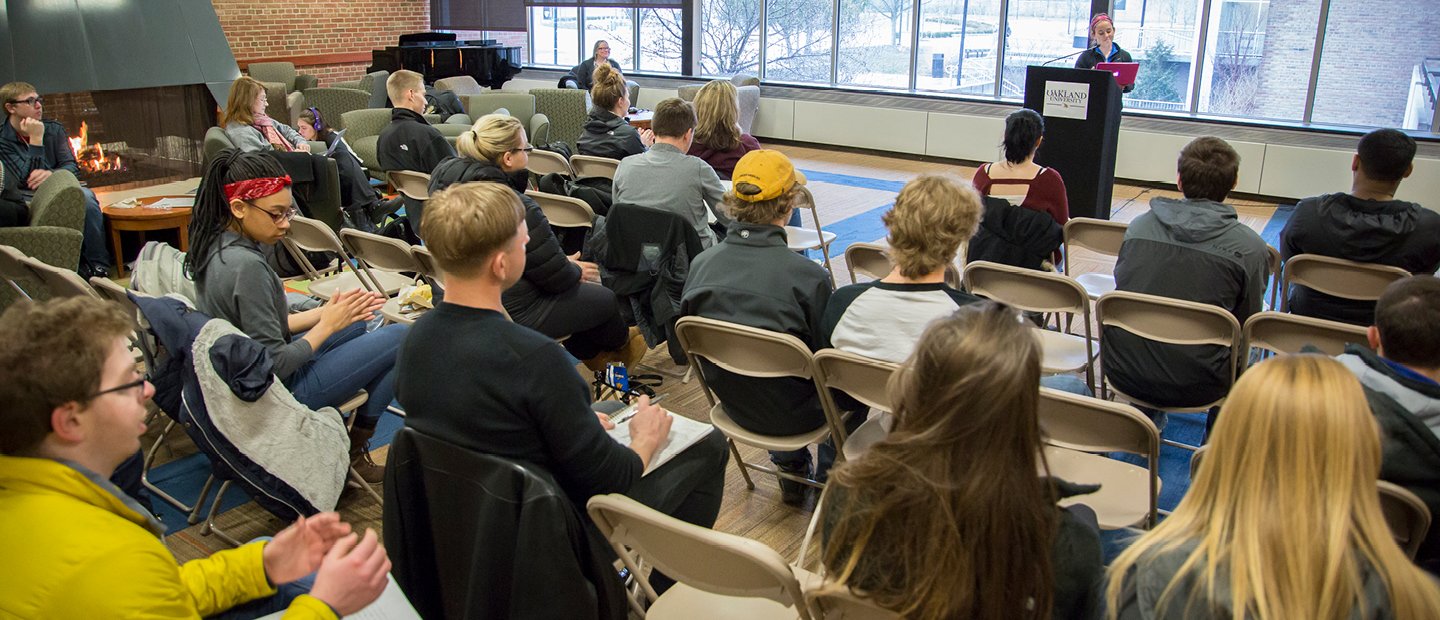 The Department of Writing and Rhetoric has been hosting semi-annual writing marathons for students, faculty, and friends since the fall of 2010. Held each year in early fall and late spring, writers across campus meet at a designated location in the Oakland Center (OC) to participate in the relaxed environment of the walk-write-share event.
Join us for the Fall 2022 Writing Marathon!
Date: Wednesday, September 14
Time: 5:30pm -8pm
Location: Gold Rooms B/C, Oakland Center
The Fall Writing Marathon is a great kick-off to the fall semester, and a creative way for students to get to know other students and the fabulous WRT faculty!
What to Expect
Although you have some autonomy over where you'll be walking and writing, writers interested in participating in the event should come prepared with the following:
paper
pencil/pen
laptop
other preferred writing method
comfortable shoes
clothing appropriate for the weather
At the start of the writing marathon, writers will meet in the designated space in the Oakland Center for pizza, introductions, and brief instructions. Participants will then break into small groups and set off to explore campus and write before eventually reconvening in the Oakland Center for a final sharing session.
Walk, Write, Share
Writing marathons are a repeating cycle of walking, writing, and sharing, and groups will begin by walking until they find a place to write. They'll then set a timer and just write. There are no limitations to how or what you're writing (although you should always be aware and respectful of your audience); consider poetry, stream-of-consciousness, journaling, fiction, or song-writing. You can start a new piece each time you stop and write, or you can continue where you left off, it's all up to the author! After each writing session, writers have the opportunity to share what they wrote. At the end of the writing marathon, groups return to the starting point in the Oakland Center for further optional sharing and prizes.
Benefits
Many instructors offer extra credit to students for attending the writing marathon, so check with your instructor if you plan on attending. Writing marathons are also a good way to meet with other writers, explore campus, write in a casual and fun environment, and interact with faculty (if you choose) outside of the classroom environment.
Contact Christina Hall at chall@oakland.edu with questions or for more information.