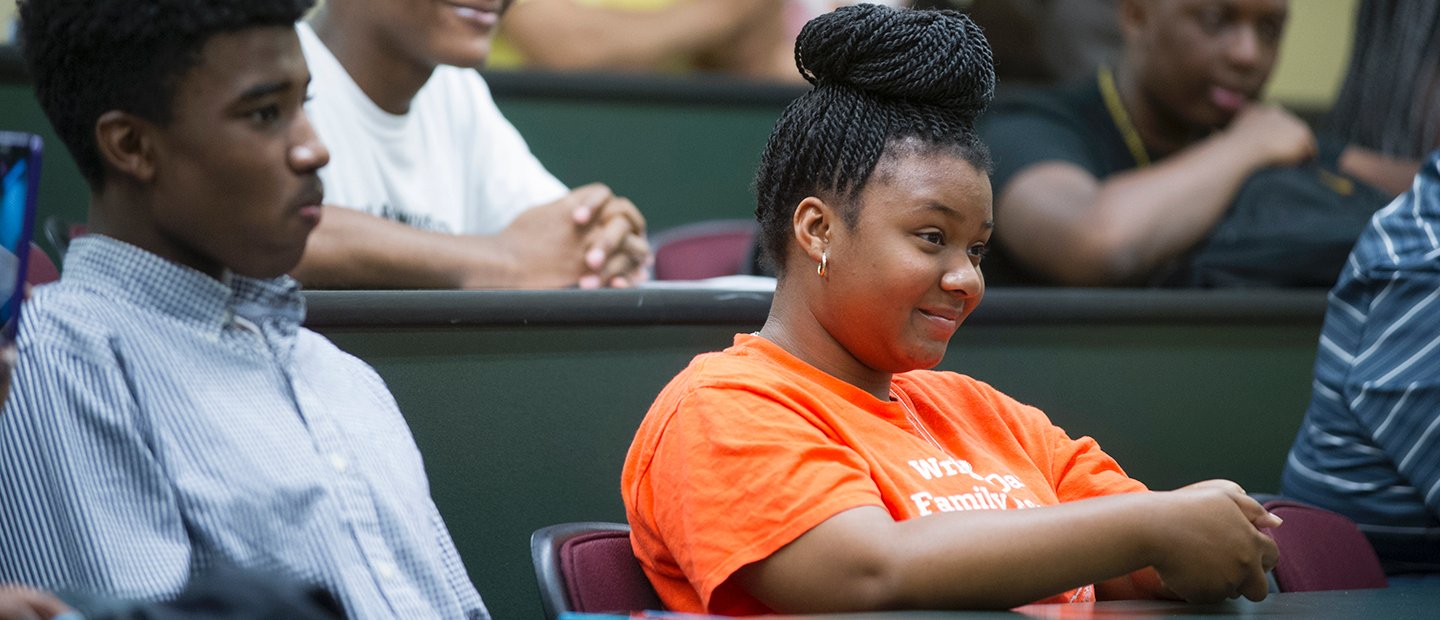 Project Upward Bound (PUB) works with schools to identify students as early as 8th grade who have demonstrated the potential to succeed at the college level. Usually regular attendance, acceptable behavior, motivation to achieve, and good grades are indicators of potential.  The minimum qualifying cumulative Grade Point Average is 2.50 on a regular curriculum track.
For students in grades 8-12 who meet the qualifying GPA, there are several ways to be eligible to apply for PUB membership:
Attend Pontiac High School or International Technology Academy, Pontiac Academy for Excellence High School, Oak Park Freshman Institute, or Oak Park High School
Live in Pontiac or Royal Oak Township regardless of the high school attended
Live with a parent who does not have a bachelor's degree
Live in a household that meets government low-income guidelines  (This is based on income after deductions - not gross income)
Be in a foster care situation
Be non-proficient in either math or ELA on the 8th grade state standardized test
Coordination of Services
PUB members may participate in other extra-curricular and college-readiness programs. PUB needs to be informed of other memberships so that compatible schedules can be negotiated and so that services are not being duplicated.
A student can be a member of only one Upward Bound program at a time. However, if a PUB Scholar moves to an area served by a different UB program, PUB can facilitate a transfer without the Scholar having to be requalified for service from that project.
When and How to Apply
Applications are accepted year-round from high school students. Eighth graders should apply in the second semester of their 8th grade year. If admitted, they would become active in September of their 9th grade year. Every new admit must participate in PUB during an academic year before being allowed to enroll in a Summer Academy.
PUB's Project Advisor (PA) is the point person for recruitment. The PA works through counselors at PHS, ITA, PAE, OPHS, and OPFI to recruit and provide PUB services in the school environments.  For students who do not attend one of these target schools, applications are available directly from the PUB office or online.
The application form has several parts. All parts must be submitted before the applicant can be considered for admission.
These are the ways to apply:
Come to a recruitment presentation or parent/teacher conference at a target school or community location
Ask your counselor for an application or to contact the PUB PA directly
Come to the PUB Office to pick up an application in person or call
Apply online by accessing the membership application using the button above
After the application is submitted with support documents, applicants who are eligible and their parents will be scheduled for an interview. Once the interview is complete, the entire application packet (including interview notes) will be evaluated and the parent(s) of the applicant will be notified of the outcome.
If all of your questions are not answered on this website, or you just want to speak with a live person, contact PUB's Project Advisor using the information provided on the menu bar to the left.