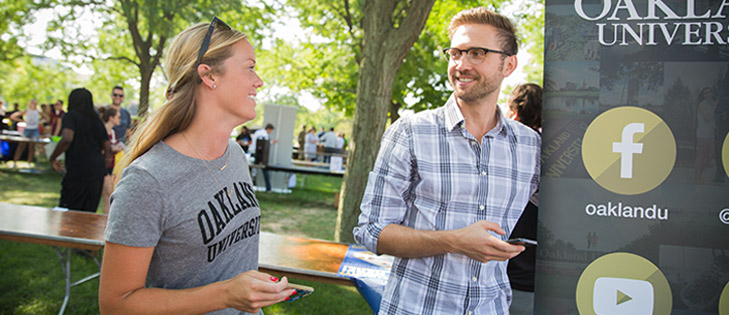 Oakland University's Social Media Team is housed within the University Communications and Marketing Department. The team manages Oakland University's main accounts (@oaklandu), maintains social media guidelines for OU-affiliated accounts, and provides social media consultation for the campus community. 

Contact one of the team members individually, or email social@oakland.edu. 
Professional Staff
Brian Bierley
Director of Media Relations
As Director of Media Relations, Brian lead Oakland University's interactions with TV, radio, print and web media members and oversee social media management. My role is to build upon, preserve and protect the reputation of the university. My team promotes the university's successes and manages its reputation in crisis situations.
Nykiera Thomas
Social Media Coordinator
Leads and maintains the strategic goals, direction and development of all university-wide social media initiatives. Leveraging social media to build a community of storytellers with students, faculty and staff. Collaborating with campus departments and organizations to build engagement and increase brand awareness.
Internship Opportunities
The University Communications and Marketing internship is selective and competitive.  Our interns have gone up in the Elliott Tower and other exclusive locations on campus, get behind-the-scenes access, participate in major branding initiatives, and much more. Interns get a well-rounded experience in marketing and communications, including social media. Some responsibilities include: 
Generating social media ideas that contribute to the University's strategic goals
Storyboard Snapchat stories and full-length video productions
Gather information, photos, videos as needed for campaigns and social posts
Collect and analyze results
All internship opportunities are posted on Handshake when available. Not seeing it listed but still want to get involved? Email a resume and cover letter to social@oakland.edu.