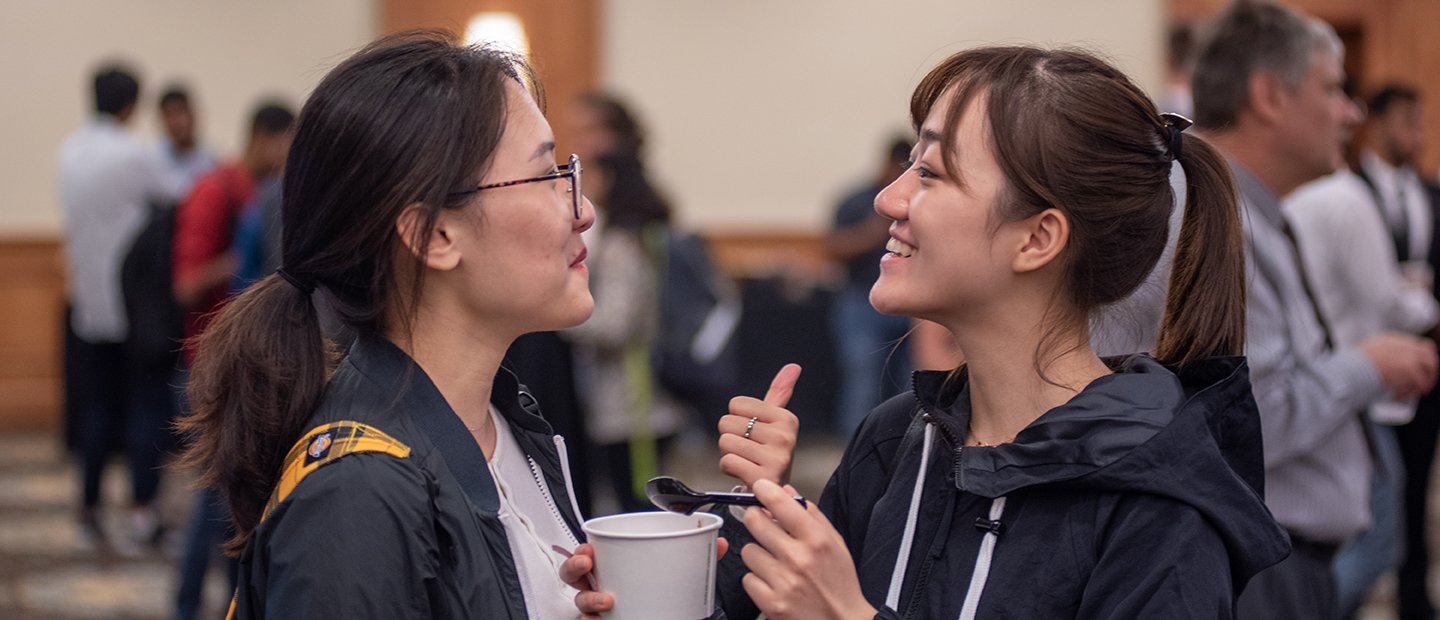 We extend a warm welcome to all new international students and hope that you find the community here rich with opportunities to achieve all of your goals. Watch Moumita Choudhury's journey as an international OU student.
After you have been admitted, the ISSO will be notified and will prepare your I-20 or DS-2019 so that you can apply for an F-1 or J-1 visa at a United States consulate.
Pre-Arrival
Students need to take several steps as they prepare to arrive on Oakland University's campus.
Review the Welcome Guide
The Welcome Guide helps you make arrangements for your first days at Oakland University. We encourage you to consult this document.
Activate your Oakland University Accounts
Visit oakland.edu/activate for instructions on activating your official Oakland email and MySAIL (student portal) accounts. You will need your Grizzly ID from your acceptance letter. Set up both accounts immediately and begin checking them regularly. The ISSO will begin communicating with you regularly.
Apply for a Visa
After you get your I-20 or DS-2019 from the ISSO, pay the SEVIS fee, go to the web site of the US embassy where you will apply for the F-1 visa (I-20) or a J-1 visa (DS-2019). Both are non-immigrant visas. You will need to complete the DS-160 form online and schedule an appointment with a United States embassy or consulate. During your appointment, you can expect to meet with a consular officer, in English, for a short time by yourself. In the visa appointment, you will need to explain your reason for attending school in the United States, how your field of study relates to your future professional career and any economic or social ties that you have towards your home country. Detailed information about visa appointments is included in the Welcome Guide.
Plan for Housing
Two types of housing are available for students: on-campus and off-campus. If you choose to live on-campus, resident halls and apartment complexes are available. University Housing can assist you in filling out the application and selecting the right housing type for you. International Village is open to any graduate student or any undergraduate who has earned at least 16 credits at the time that they submit their housing contract.
If you choose to live off-campus (in Rochester or the surrounding areas), take time to research available accommodations. Off-campus housing options include apartment complexes, duplexes, and houses. The ISSO has a list of available Housing Surrounding Oakland University; however, it is not exhaustive, and we do not endorse any of the options over the other. Students have found success by searching "Apartments Near Oakland University". International students can use the ISSO Facebook page or Slack page to connect with other students about housing.
Prepare for your Transfer
If you are enrolled at another institution in the United States or are currently working on OPT or OPT STEM, work with your current school to determine the best date to transfer your SEVIS record to Oakland. ISSO is not able to issue you a new I-20 or DS-2019 until your record is released in SEVIS by your current school. Be aware that as soon as your SEVIS release date has passed, you are no longer authorized to work any on or off-campus employment from your previous school and would need to reapply for work permission through Oakland University.
If you are transferring from another university in the United States, and leave the country, you should enter the United States on your new Oakland University I-20 or DS-2019. You do not need to apply for a new visa as long as your current visa is still valid. However, the SEVIS ID number on the visa must match the SEVIS ID number on your new I-20 or DS-2019. This is why it is important to transfer your I-20 to Oakland and enter the United States with a transfer-pending I-20.
Meet with your Academic Adviser and Register for Classes
New undergraduate first-year students can schedule an academic advising meeting by contacting the First Year Advising Center at fyac@oakland.edu. Descriptions for all Oakland University undergraduate courses, as well as all program requirements, general regulations, and university procedures, can be found in the Undergraduate Catalog. Undergraduate students can find their academic advisers on the OU website, or in MySAIL.
The Graduate School provides virtual and remote services for graduate students. Visit the Graduate School for information on services to support graduate students. Descriptions for all Oakland University graduate courses, as well as all program requirements, general regulations, and university procedures, can be found in the Graduate Catalog. Graduate students can also find the contact information for their academic adviser on their admission letter.
To register for classes, first review the registration instructions from the OU Registrar webpage, and then visit MySAIL to register.
Join Espace and Orientation Part One
After you have received your I-20 or DS-2019 from the ISSO, we will enroll you in our Espace classroom for Orientation Part One. This part of the orientation will be carried out virtually. You do not need to be present on campus for Part One but you will need to create your OU email account to access the orientation modules. You must complete this first and then sign up for Orientation Part Two. Ideally Part Two will be in-person but this is dependent on conditions related to COVID-19. If you have issues accessing Espace, please email isso@oakland.edu for assistance.
Arrival and Orientation
Admitted international students are required to arrive at Oakland University by their I-20 or DS-2019 start date.
Airport Arrival
Detroit Metro Airport (DTW) is a designated airport for international flights and is closest to campus. DTW is about 45 miles from Oakland University. Upon your arrival at the airport, ask about ground transportation at an information desk. You will be directed to a location where you can find a taxi. Taxi services, called Metro Cabs and Metro Cars, are available on location. Students have also found it helpful to use Uber and Lyft apps on their smartphones to arrange for transportation from the airport to their destinations. Ride-share apps allow you to attach a credit card to your account, so that you do not have to pay with cash, and drivers are available 24/7.
The estimated cost of a Metro Cab or Metro Car is $140 from DTW to the OU campus. The estimated cost of a basic Uber or Lyft from DTW to OU is around $50.
Alumni or current international students will often help with transportation from the airport – you can connect with others by posting on our Facebook page or Slack. We also work closely with a local non-profit organization, International Oasis, and you can request airport pickup on their website.
Please try not to arrive in the United States in the middle of the night when you will find most services closed. It will make your journey more difficult.
Orientation
At this point, you should have completed Orientation Part One through Espace. The second part of orientation is a group event with scheduled activities. Check your Oakland University email regularly for updates regarding this. 
Attendance is mandatory for all new, transferring, and change of status international students. Please be on time and be aware that we have a no guest policy.
Bring the following items to orientation:
Passport or a copy of a legal ID such as Valid Driver's License for personal verification

After you arrive in the United States, and before you come to orientation, be sure to fill out the mandatory Orientation Check In Form and to upload the following documents

Please attach a copy of your Visa page from your passport

If you have F-2 or J-2 dependents (spouse or children) who traveled with you into the United States, upload their I-20/DS-2019s and passports