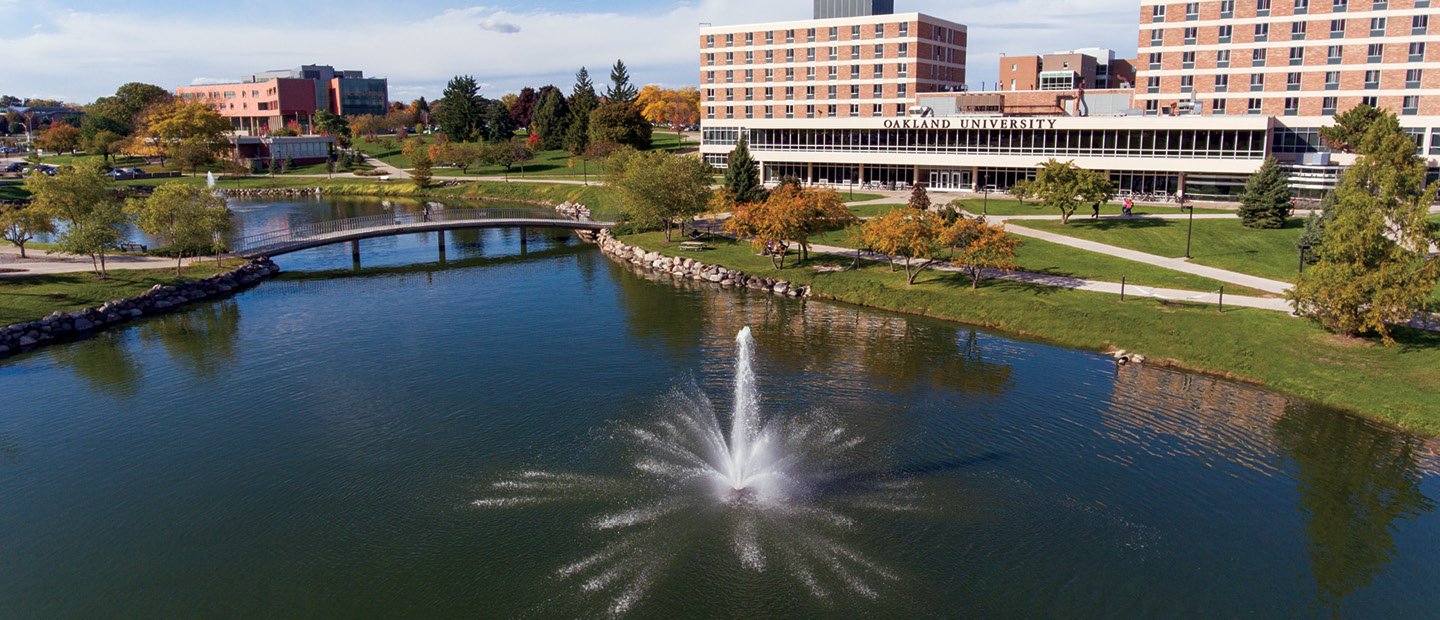 e-LIS offers software support, an online best practices course, instructional design help, online program development assistance and much more. We are your online learning experts! We also can help faculty and staff implement engaging online pedagogy using the professional media lab, the Lightboard, or our state of the art virtual reality lab.

e-LIS has the privilege of leading two committees composed of faculty, staff and students, the e-LIS Advisory Committee and the Online Programs Committee. These committees provide e-LIS with valuable input on new technologies, faculty needs, concerns, etc.
Sign up for our monthly newsletter for tech tips, important information and links to resources to support online learning at Oakland University. 
Mission and Values
Mission
The e-Learning and Instructional Support (e-LIS) department exists to expand learning opportunities beyond physical campus spaces in order to provide learners with high-quality, accessible, flexible, and active online learning experiences. We are dedicated to providing support and technology services to faculty, students, and staff that advance Oakland University's academic, research, engagement, and inclusion goals.
Core Values
Service - Providing timely and quality support services, empathizing with those we serve regardless of their experience or prior knowledge, and responding to their needs.
Inclusivity - Incorporating multiple voices and experiences by valuing identities, perspectives, and backgrounds. Leveraging technology to increase accessibility and remove barriers.
Creativity and Innovation - Creatively solving problems, adapting to changing circumstances, and incorporating new tools and strategies.
Collaboration and Partnerships - Working together, sharing our talents, pitching in, and partnering with campus stakeholders and community members.
Growth - Committing to ongoing professional and personal development, supported by designated resources and opportunities made available for all.
e-LIS Advisory Committee
The e-LIS Advisory Committee advises and supports the e-Learning and Instructional Support department on broad, institution-wide issues related to online learning including online programs, policy, technology, faculty development, academics, student enrollment, trends in online learning, finance, and strategic planning. Committee members also help distribute information back to academic units about topics of discussion.

View 2023-2024 meeting minutes
View 2022-2023 meeting minutes
View 2021-2022 meeting minutes

The committee is represented by students, as well as faculty from all of the schools and colleges in the university.
2023-2024 Members:
Shaun Moore - e-LIS - Chair

Dan Arnold - e-LIS

Chad Bousley - e-LIS

Nancy Demo - e-LIS

Kate Huttenlocher - e-LIS

Danielle Nicholson- e-LIS

Diane Underwood - e-LIS

Rachel Smydra - CAS - Language and Literature

Andrea Kozak - CAS - Humanities

Peter Shi - CAS - Math and Science

Angela Kaiser - CAS - Social Science

Nancy Bulgarelli - Kresge Library

Amanda Hess

- Kresge Library

Hanna Kalmanovich-Cohen - SBA

Qunfeng Liao - SBA

Thandi Sule - SEHS (Winter only)

Shannon Flumerfelt - SEHS (Fall only)

Dawn Woods - SEHS

Chris Kobus - SECS

Richard Olawoyin - SECS

Tara Diesbourg - SHS

Stephanie Mabry - SHS

Tanvirul Hye - OUWB

Noah Pollack - OUWB

Nicole Clark - SON

Peg Kennedy - SON

Nivedita Mukherji - Provost's Office

Christina Moore - CETL

Jason Jimenez - Student Congress

Daniela Meson - Student Congress
Online Programs Committee
The Online Programs Committee is composed of faculty and staff that run online programs in their schools or college. The committee discusses online program topics such as marketing, state authorization, stipends/incentives, instructional design services, and online program creation process. Committee members also help distribute information back to academic units about topics of discussion.

Members:
Shaun Moore - e-LIS (Chair)
Diane Underwood - e-LIS
Christine Abbott - SEHS
Catherine Bennett - SMTD
Kelly Berishaj - SON
Ambika Bhargava - SEHS
Jim Bilinski - CAS
Lori Boright - SHS
Doug Carr - CAS
Jennifer Cepnick - SON
Tanya Christ - SEHS
Lori Crose - PACE
Caress Dean - SHS
Shannon Flumerfelt - SEHS
Claudia Grobbel - SON
Darlene Groomes - SEHS
Darryl Hill - SHS
Sarah Jahimiak - BIS
Elizabeth Kattner - SMTD
Pamela Klena - SMTD
Carly Miller - SON
Nivedita Mukherji - Provost's Office
Kristen Munyan - SON
Vijit Pandey - SECS
Traci Parsons - SEHS
Donna Rich - SEHS
Julie Ricks-Doneen - SEHS
Edward Rohn - SHS
Erica Ruegg - SEHS
Rajeev Singhal - SBA
Bill Solomonson - SEHS
Vijayan Sugamaran - SBA
Thandi Sule - SEHS
Kristine Thompson - SHS
Janell Townsend - SBA
Paul Trumbull - SBA
Caryn Wells - SEHS
Judy Wilson - CAS/PACE
Lindsay Zeig - BIS