Wednesday, Aug 07, 2019
First-year OUWB students hit new on-campus ropes course during orientation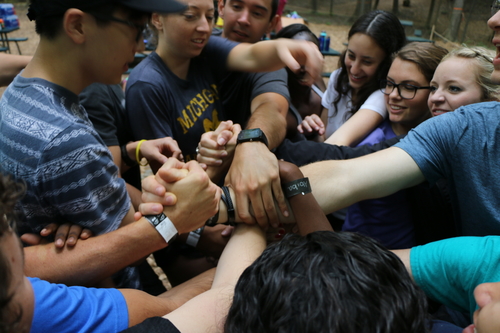 As part of their week-long orientation, the incoming medical students at OUWB spent a half-day at the on-campus TreeRunner Adventure Park. Part of the time included ground-level team-building exercises.
Associate Dean for Student Affairs Sandra LaBlance, Ph.D., didn't need to look far for the perfect team-building activity for first-year medical students at Oakland University William Beaumont School of Medicine — in fact, she didn't even need to look off campus.
Instead, LaBlance turned to TreeRunner Adventure Park at Oakland University.
As part of their week-long orientation, the incoming medical students at OUWB spent a half-day at the on-campus park that features more than 60 trails with zip lines and obstacles of varying levels of difficulty.
TreeRunner was perfect for the team-building, LaBlance said, because it put students in an environment where they could not only have fun, but work on cementing their respective bonds with each other.  
"Just the trust piece and getting to know each other — it changes the dynamic," LaBlance said. "They go from strangers to companions, essentially. They become a team." 
In previous years, the first-year students traveled by bus to the Radrick Challenge Program in Ann Arbor.
With the June opening of TreeRunner Adventure Park near the corner of Walton Boulevard and Adams Road, however, a trip to Ann Arbor was unnecessary.
Among other things, TreeRunner features a variety of color-coded aerial trails of differing in challenge levels from beginner through expert. Climbers choose their trail depending on their age and/or climbing experience.
The trails consist of platforms installed in the trees, which are connected by various configurations of cable, wood and rope to form crossings of different kinds, including the ever-popular zip lines.
For safety, climbers wear harnesses that are doubly secured to safety cables using the park's "always locked on" system of interlocking safety clips.
LaBlance said some people are more confident than others at the ropes course, and that plays into the process of becoming a team.
"They have to rely on each other, start trusting each other, and see each other as members of a team, rather than individuals," she said.
Team-building activities also took place on the ground level.
For example, a group of 10 had to figure out how to get all of their feet on a 2-foot-by-2-foot wooden platform. It didn't take long for the group to collectively figure it out.
Nick Mielke said he could almost immediately see the benefits of going to TreeRunner.
"I think it helps with learning to trust one another and with learning to work with one another as a team, which I think will help us be more confident in the classroom when working together," he said.
Mohamed Idris said he was nervous as he prepared to take on a ropes course for the first time in his life.
"I'm enjoying teaming up with my colleagues," he said, adding that he believes it helps with team-building "by collaboration, by helping others and each other."
Stephanie Mrowczynski said she enjoyed TreeRunner because it was her first time on a ropes course, and because she wanted to get to know her classmates.
"Talking and communication is huge out here, so that we can work together to make it across," she said. 
Han Ngo also said she felt the time at TreeRunner helped with team-building.
"We definitely have to talk to each other to get through this," she said.
Standing on one of the platforms waiting to climb a ladder to one of the tree platforms, Shivam Patel said he was "super excited" to be at TreeRunner, working with his new classmates.
"Even if we're just standing in line we're chatting, getting to know each other outside of the classroom," he said.
Patel said it represents the beginning of an exciting journey — one that he says started with the application process.
"By far, of all the medical schools, OUWB was the most welcoming and friendly," he said. "It was the one that faculty and students made me think that they really, really care. I'm super excited to be here after just two days."
For more information, contact Andrew Dietderich, marketing writer, Oakland University William Beaumont School of Medicine, at adietderich@oakland.edu.