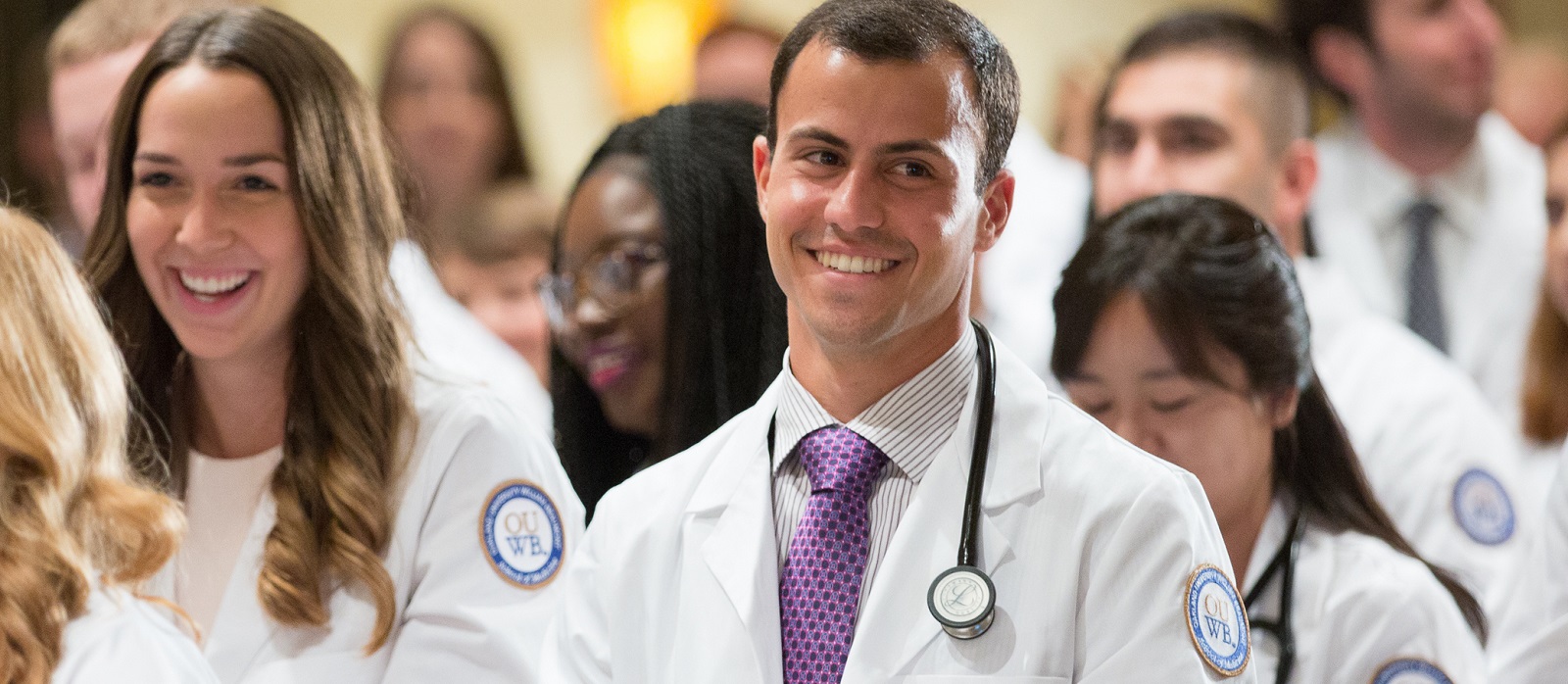 Giving


Launching a new medical school is a noble endeavor. It's also an expensive proposition — and a worthy investment for all who care about the future of health care. Oakland University William Beaumont School of Medicine, which graduated its charter class in May 2015, stands as a case in point. Guided by a vision to transform medical education and prepare a new kind of physician, OUWB has caught the attention of the nation's more established medical schools. These "legacy" institutions, some more than two centuries old, are watching with interest.
Here's why. At OUWB, we view the world a little differently. Our notion of the ideal student is distinctive. And the way we prepare the doctors of tomorrow stands apart. This is the luxury we have — and the mandate we embrace — as a new school, unencumbered by long-held traditions, plus driven by the changing landscape of medicine and patient care. Become part of this fantastic success story as OUWB embarks on its newest endeavor to grow the resources of this young medical school.
Giving Levels
YOUNG PHYSICIAN'S CLUB
$250–$999

Fostering a culture of philanthropy, the Young Physician's Club provides a way for recent graduates (classes prior to their 5th reunion) to support OUWB. Benefits include:
Recognition in our annual online donor honor roll
FOUNDING DEAN'S CLUB

The Dean's Club is a community of OUWB benefactors who support the dean's vision and goals through a generous annual donation. Benefits include:
Recognition on our annual online donor honor roll
Subscription to OUWB e-newsletter
Invitation to the annual white coat ceremony and OUWB commencement
EMBARK CLUB
$10,000–$24,999

Embark is an important component of the OUWB curriculum that encourages a passion for life-long learning and the development of skills in research design and implementation. Benefits are the same as the PRISM Club, plus:
An invitation to attend on-campus events
Private tour of the medical school campus or one of the Beaumont Hospital campuses
COMPASSION CLUB
$25,000–$99,999


Through the process of community engagement, COMPASS creates partnerships in service with established organizations and helps OUWB to navigate connections with local, regional, national and global communities. Benefits are the same as the Embark Club, plus:
Access to your choice of R&S Sharf or Katke-Cousin Golf Courses at Oakland University
LEADERSHIP CLUB

$100,000 or more


Honoring a distinguished group of leaders who support the educational advancement of the next generation of physicians. 
Giving Priorities
Student Success
Investments will create access to educational opportunities, enabling students from diverse backgrounds, with diverse needs and goals, to excel in the classroom and beyond. Scholarships and other support funds will improve our ability to recruit and retain high achieving scholars and ensure they have a successful journey at Oakland University. 
Teaching, Research and Discovery
This funding will enhance Oakland University's ability to recruit and retain top faculty with endowed professorships and chairs plus support the contributions these scholars make towards enriching the academic environment. Gifts in this area will also create institutes and centers of excellence that enable faculty and students to pursue specialized areas of study and research.
Innovative Programs
Enhancements to programming and curriculum enable Oakland University to build new and advanced degree programs and concentrations, expand University offerings, and provide engaged learning experiences designed to prepare today's students with the knowledge and skills needed to be successful leaders following graduation.
Featured Funds
Dr. Michele D. Raible Endowment - Dr. Michele Raible was dedicated to medical education and endeavored to have a positive and transforming impact on the lives of medical students. In her role as a founding associate dean of the Oakland University William Beaumont School of Medicine, Michele was deeply committed to educating and inspiring our future students. In keeping with Dr. Raible's wishes, her husband, Dr. William Miles, has established this fund in her honor.

The fund will enrich the medical school experience for students. Student programming, external speakers, special awards, participation in scientific meetings and work on meaningful projects are some of the anticipated initiatives eligible for funding from The Dr. Michele D. Raible Fund for Medical Students.

Global Health Scholarship Fund
- 
Global health experiences enhance awareness of international issues relevant to health, exposure to other cultures, languages and knowledge of other health care systems.  
OUWB is committed to providing students who wish to participate in a global experience with an educationally meaningful experience in a safe and structured environment.

Parent and Family Scholarship Fund - This fund was set up by the OUWB Parent/Family Program and supports scholarships for OUWB Students.  

Student Emergency Gift Fund - This fund is available to OUWB students who face emergency situations and need temporary assistance from OUWB.  

Excellence In Diversity and Inclusion Fund
- 
The Oakland University William Beaumont School of Medicine facilitates and promotes its diverse and inclusive medical learning community through pipeline programs, student support and interest groups, educational programs and community outreach events. 

Embark Scholarship Fund
- 
Embark is a required scholarly concentration program of the Oakland University William Beaumont School of Medicine (OUWB) that provides a mentored introduction to research and scholarship.  The four-year longitudinal curriculum consists of structured coursework in research design and implementation, compliance training, research communication, and scholarly presentation, with protected time to develop mentored projects in a wide-range of community and health-related settings.

OUWB Annual Fund - This fund supports the general fund of OUWB and can be used at the Dean's discretion or to support new ventures that are outside of our normal funding sources.  
Contact
For more information about Oakland University William Beaumont School of Medicine and giving opportunities, please contact Claus Weimann, director of Philanthropy, to discuss the many options available.
Claus Weimann
(248) 370-3647 (office)
(810) 931-7432 (cell)
cweimann@oakland.edu