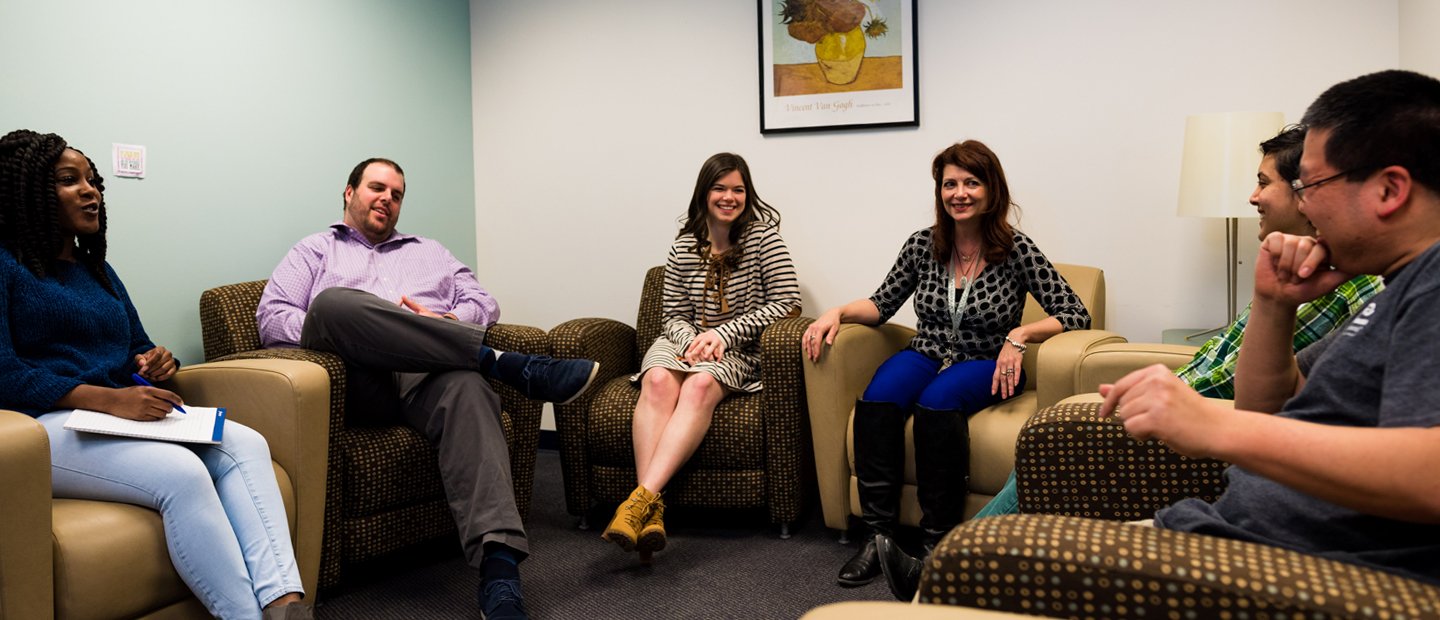 The SEHS Counseling Center is dedicated to keeping our students, staff and clients safe. We currently offer in person counseling, however ask that those coming to campus are vaccinated, do not show signs of illness, and have not knowingly been exposed to COVID 19 within the last 10 days. We will maintain virtual/telehealth sessions for anyone requesting them and/or who do not meet the safety guidelines.
If you are interested in participating in services, please complete the registration form.
The SEHS Counseling Center is a no-cost service offering personal and career counseling. It is a teaching and research facility for the counselor education program at Oakland University. The center enables graduate students to integrate and apply counseling theory with practice, as well as provide supervised professional counseling assistance to persons in need.
About the Center
The SEHS Counseling Center is a teaching facility for graduate students in the Counseling program. As such, we are required to provide close supervision of our counselors by fully licensed professional counselors. Consequently, all sessions will be audio and digitally recorded. These recordings are carefully secured and stored in our center. They are viewed by your counselor's supervisor (as needed) to provide feedback for your counselor. ALL RECORDINGS ARE COMPLETELY DESTROYED AT THE END OF EACH SEMESTER. Prior to your first appointment, you will be asked to sign a consent form, which will give your counselor permission for these recordings. Please discuss this with your counselor or the coordinator if you have further questions or concerns.


Services Offered
Are you looking for someone who will really listen to your concerns? Do you need help coping with daily living issues? The SEHS Counseling Center offers caring, confidential, counseling to help with:
Anxiety
Assertiveness training
Career counseling
Communication skills
Grief and loss
Life transitions
Relationship problems
Separation from loved ones
Situational depression
Stress management
Test anxiety
Time management
Many other issues
Specialty groups are also frequently available, which cover topics, such as career transitions, men in transition, women in transition, parenting, and study skills. Individual counseling for children, adolescents and adults, couples and family counseling is also available on a limited basis. Contact us to determine if we can offer appropriate services for your needs.
Is this a Crisis Center?
The SEHS Counseling Center is not a crisis center and is not for those who are court ordered into counseling, severely mentally ill, suicidal or dealing with substance abuse issues. Counselors normally do not work with people who are seeing other mental health care providers, except in the case of career exploration and other specific areas of treatment. A signed release form will be requested in these cases.
If you feel you are in crisis and need to talk to someone, please use the area appropriate number below as you deem necessary.
Macomb County: Macomb County Crisis Center

– (586) 307-9100
Oakland County: Common Ground

– (248) 456-0909 or 1 (800) 231-1127;

Oakland County Youth Mobile Crisis Unit

– (877) 800-1650
St. Clair County: Safe Horizons

– (810) 985-5538
Wayne County: Neighborhood Services Organization

– (313) 224-7000
A counselor will personally contact you to set up your first appointment. They may call from a non-university phone number and if they leave a message, they will only identify themselves as calling from Oakland University. Generally, you'll meet with your counselor for one or two (50 minute) counseling sessions per week for a period of 5–14 weeks. You should plan to come to your first session a bit early to fill out a few forms in order to obtain necessary information. Among these forms is a client consent form which allows sessions to be digitally recorded for the purpose of supervising your counselor. You can also register by calling us or stopping by the office.



You can talk to trusted friends, family members or others.
Share your feelings and thoughts with someone you feel you can trust, you are comfortable with and who cares for you.
Take a bath or shower.
Taking a relaxing bath or shower may calm you down.
Take a walk.
Go outside or somewhere inside to walk and release tension.
Write.
Take a few minutes every day to write about your thoughts and feelings. You may also decide to share these writings with your counselor.
Eat healthy.
It is important to take care of your body by eating healthy.
Practice meditation.
Go online or purchase a book to learn meditation.


Breathe deeply.
Go online or purchase a book to learn breathing exercises.


Get enough sleep.
Talk with your medical doctor about your sleep patterns if needed.


Attend to spiritual needs.
If you feel you have spiritual needs attend to them in a way that is right for you.


Set small goals.
Focusing on one thing at a time may keep you from feeling overwhelmed.


Taking Care of Your Mental Health During Times of Stress and Crisis:
Keep normal routines as much as possible.
Remember self-care: eat, hydrate, socialize (within appropriate limits), do something for yourself (have a cup of coffee, take a shower/bath, take a walk, play a game with a loved one, go for a bike ride, fly a kite, meditate, journal, listen to music, etc.).
Take part in hobbies or pleasurable activities as your circumstances allow.
Don't isolate from family and friends. Call important people in your life, or visit them via FaceTime or other virtual means.
Take a media break — only obtain updates on important facts once or twice a day.
Take time to be present: notice, really notice, things around you. Don't just look at a tree and say "tree" — notice the bark, roots, leaves/buds, branches, twigs, etc.
Take sensory breaks: use your five senses. What do you see, feel, hear, smell and taste?
Practice mindfulness and relaxation. There are multitudes of apps and websites that can help with this.
Get back to basics — assure you are meeting your nutritional needs and staying hydrated.
Reach out for help if you are feeling overwhelmed.

Common Ground:

1 (800) 231-1127
National Suicide Prevention Hotline:

988

Text "CONNECT" to 741741.
Always remember to consult with your medical doctor concerning your health before engaging in any health tips. In case of a health or psychiatric emergency proceed to the nearest emergency room as you deem necessary.
Location
The SEHS Counseling Center is located in 250 Pawley Hall on the campus of Oakland University (see map). If you need directions, call (248) 370-2633. When you schedule your first appointment with a counselor, you will be given more detailed instructions on where and when to meet.
The SEHS Counseling Center is open year round and is always pleased to accept referrals.
Hours
The SEHS CC is closed Sundays and during regular university breaks and closings. The center opens on the first full day of classes and closes on the last day of classes each semester.
Monday–Thursday: 9 a.m. – 9 p.m.
Friday and Saturday: 9 a.m. – 3 p.m.
Department of Counseling
Pawley Hall, Room 450J
456 Pioneer Dr.
456 Pioneer Dr., MI 48309-4482
(location map)
(248) 370-2018