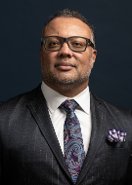 Joe Jones is the founder of the Hekima Group, a value-added consultancy located in Grand Rapids whose primary mission is to provide sound wisdom + strategy to a myriad of industries. They offer expertise in areas such as Diversity, Equity + Inclusion (DEI) and Strategic + Multicultural Communications. Jones is a seasoned executive who is passionate, strategic-minded and a servant leader with over two decades of experience leading teams and managing diverse organizations and individuals while using an equity lens in the public and private sector. He is proficient in both financial and operations management. He is skilled at cultivating and enriching relationships. Jones has a proven track record of leading, advising, walking alongside, communicating, and collaborating across ethnic/geographic boundaries, and with corporate executives, philanthropy executives, opinion leaders, elected officials, non-profit leaders, education leaders, grassroots community leaders, residents, and media.
Jones also serves as a Grand Rapids City Commissioner representing the Second Ward. He was first appointed in February 2016 and later elected in August 2017. Jones was recently appointed as Pastor-Elect at Brown Hutcherson Ministries in Grand Rapids. Prior to his role at the Hekima Group, Jones successfully led the Urban League of West Michigan, a historic civil rights organization, for nearly 10 years in their efforts to develop and implement an agenda that promoted economic empowerment as a means of elevating the standard of living in the underserved urban communities of Grand Rapids and West Michigan. Prior to the Urban League, Joe served as President/CEO of E.E. Milestone + Associates, Inc., a purpose-driven consultancy whose mission was to add value and wisdom to organizations in the areas of strategic communications and cultural competence. Previous to Milestone, Jones was the Managing Partner of Strategic Communications Group, LLC, a consulting firm providing communication strategies and services to a myriad of industries.
Jones currently serves on a number of corporate and civic boards including Mercantile Bank of Michigan, Axios Incorporated, Spectrum Health's Grand Rapids Community Board, Economic Club of Grand Rapids, and Experience Grand Rapids. Jones holds a Bachelor's Degree in Communication Arts from Oakland University and was conferred the degree of Master's in Ministry Leadership at Grand Rapids Theological Seminary. He also completed executive leadership programs at Tuck School of Business at Dartmouth, Stanford University Graduate School of Business and NYU Stern School of Business.
Terms
Date of Appointment: September 8, 2020
Date of Term Expiration: August 11, 2028