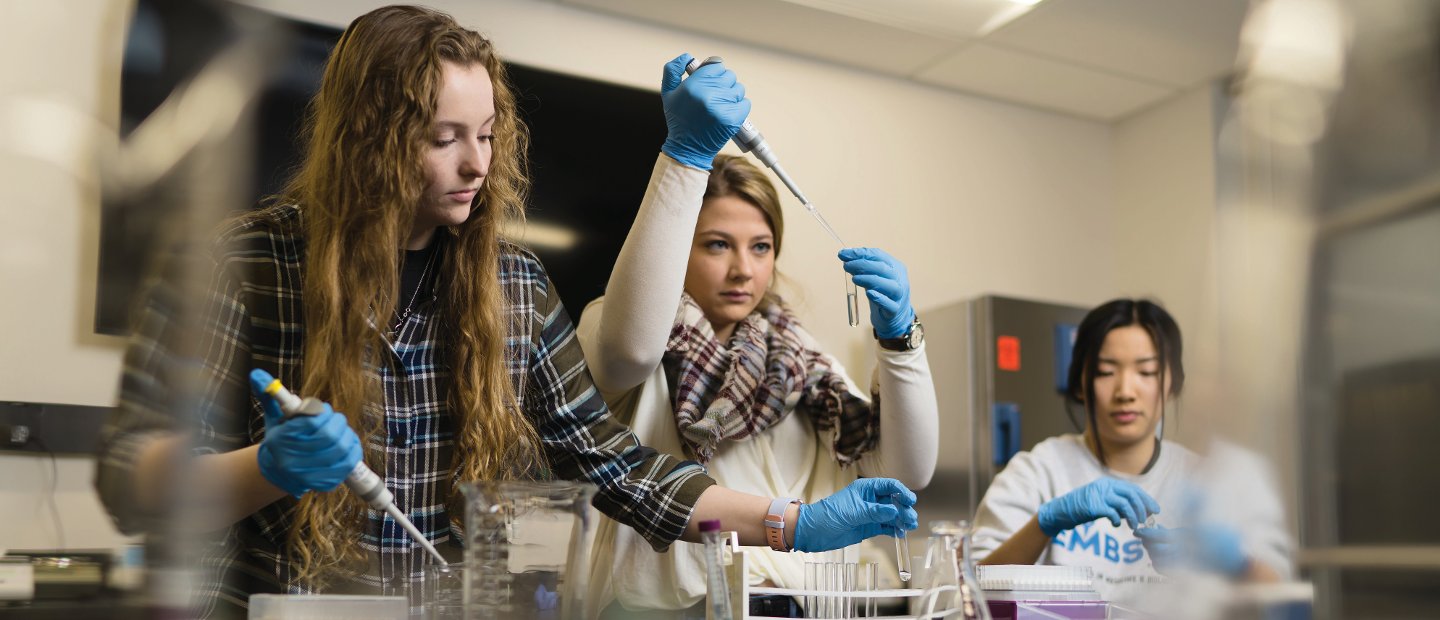 Bioengineering is an emerging interdisciplinary field that is based on the increasing symbiosis between the biological sciences and engineering disciplines. Evolution in engineering technology and scientific knowledge resulted in new specializations in the workforce, including bioinformatics, computational biology, biomedical imaging, bio-instrument and sensor technology, tissue engineering, bionics, genetic engineering, and MEMS-based diagnosis and drug delivery. Training in Bioengineering provides the necessary foundations in the life sciences and in engineering, along with more focused training in one of five areas of specialty.

The B.S. in Bioengineering program is accredited by the Engineering Accreditation Commission of ABET,  https://www.abet.org.

Program OverviewCourse RequirementsDirectoryResearchApply Now

Contact
Shailesh Lal, Ph.D.
Professor and Chair
Dodge Hall, Room 346
(248)370-2875
lal@oakland.edu
About
The interdisciplinary program in Bioengineering, offered jointly by the School of Engineering and Computer Science and the College of Arts and Sciences, leads to the Bachelor of Science degree. It combines training in biology with depth in either computation or engineering. Students should be capable of handling calculus-level math and physics, comprehensive chemistry and advanced-level biological sciences. Students can enroll into the program at any phase of their college experience. In particular, the program is designed so that the undecided engineering or sciences student can start by taking the core classes before committing to Bioengineering.

To earn the degree of Bachelor of Science with a major in Bioengineering, students must complete 129 credit hours; 32 of these credits must be at 3000-level or above.  The first two years of the program mainly include foundations in the sciences and engineering, while the specialized courses are offered in the third and fourth years.

Career paths include:
Cellular, Genetic and Tissue Engineering
Clinical, Rehabilitation and Orthopedic Engineering
Bioinformatics and Computational Biology
Bioprocess Design and Drug Manufacturing
Biomedical Imaging
Bioinstrumentation and Biosensors
Biomaterials and Biomechanics
Environmental Engineering
For more information, contact Academic Advising.
Advisory Board
The Bioengineering External Advisory Board assists the department in enhancing its programs and ensuring their relevance to current and emerging technological needs. 
Industry Partners
Yansong Chen, Ph.D., Vice President, Organizational Transformation, Ricardo, Inc. 
David Gallagher, Biometrics Research & Development, Lear, Inc.
Natalie Jameson-Kiesling, Ph.D., Associate Director of Research, Progenity, Inc.
Jack L. Jensen, Vice President, Humanetics Innovative Solutions, Inc.
Avinash Konkani, Ph.D., Biomedical/Clinical Engineer, Human Factor and Systems Engineer, HTM:  Food and Drug Administration
Francesco Migneco, MD, R&D and Product Development Manager, Lear, Inc.
Mida Pezeshkian, Ph.D., Chief Executive Officer, Theoria Medical
Stephen Rapundalo, Ph.D., President  & CEO, Michigan Biosciences Industry Association 
Ex-Officio Members
Louay Chamra, Ph.D., Dean, School of Engineering & Computer Science
Amy Banes-Berceli, Ph.D., Associate Dean, College of Arts & Sciences
Shailesh Lal, Ph.D., Chair, Bioengineering Department, School of Engineering & Computer Science
Gerard Madlambayan, Ph.D., Associate Professor, Bioengineering, School of Engineering & Computer Science
Jia Li, Ph.D., Professor, Bioengineering, School of Engineering & Computer Science
Dayna Neef, MPA, Corporate & Foundation Relations Officer, School of Engineering & Computer Science