Friday, Feb 10, 2023
New leadership at OUWB Clinical Skills Training & Simulation Center looks ahead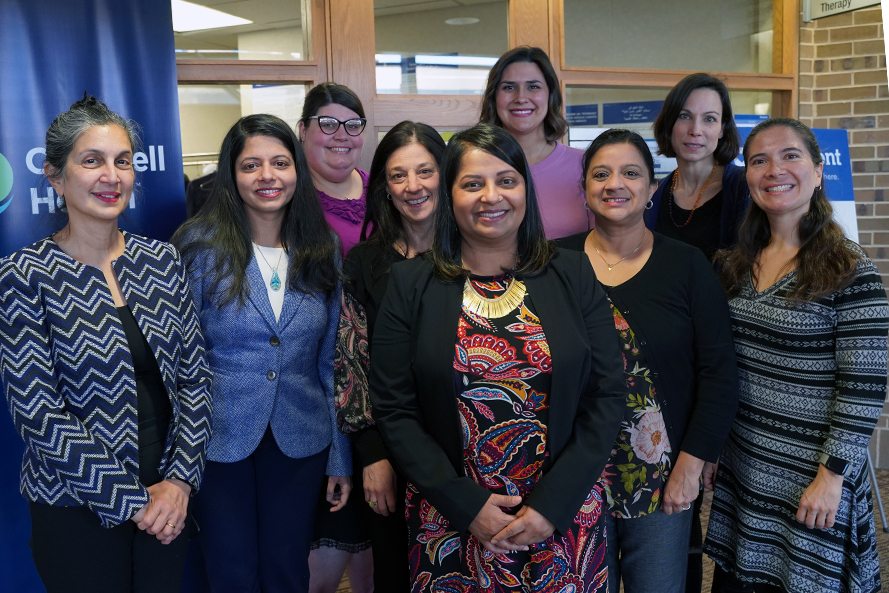 The team behind OUWB's Clinical Skills Training and Simulation Center (CSC). From left, Nelia Afonso, M.D., course director, Art & Practice of Medicine (APM) 2; Arati Kelekar, M.D., course director, APM 4-5, Gateway; Tracie Leitner, course coordinator, APM; Ida Rubino, M.D., course director, APM 1; Sonal Patel, director, CSC; Stephanie Marcincavage, assistant director, CSC; Sunitha Santhakumar, M.D., APM faculty; Sara Felarca, trainer, standardized patient education; Andrea Hernandez-Troya, M.D., course director, APM 3.
Practicing patient care is critical for medical students, and at OUWB, it begins at the school's Clinical Skills Training & Simulation Center — where a new leadership team has big plans.
That's according to director, Sonal Patel, and Stephanie Marcincavage, assistant director.
Together, the duo shares a vision to build on the center's impressive history whereby it has served as a training ground for hundreds of practicing physicians/OUWB alumni.
It's a vision that includes the use of new technologies, breathing new life into the crucial standardized patient program, and more — all while continuing to keep current medical students on track.
It's a vision to take OUWB's Clinical Skills Training & Simulation Center to the next level.
"It's exciting," says Patel. "There are opportunities to be in the national spotlight for certain things, including clinical skills and standardized patient education. I like the possibility of what this environment offers."
Clinical faculty like Ida Rubino, M.D., assistant professor, Department of Family Medicine and Community Health, say they are equally excited about the future of the center.
"(Patel and Marcicavage) have brought a lot of new ideas, but I think the biggest thing they've brought is structure and leadership," says Rubino. "They are in sync and lead well together."
What is the CSC?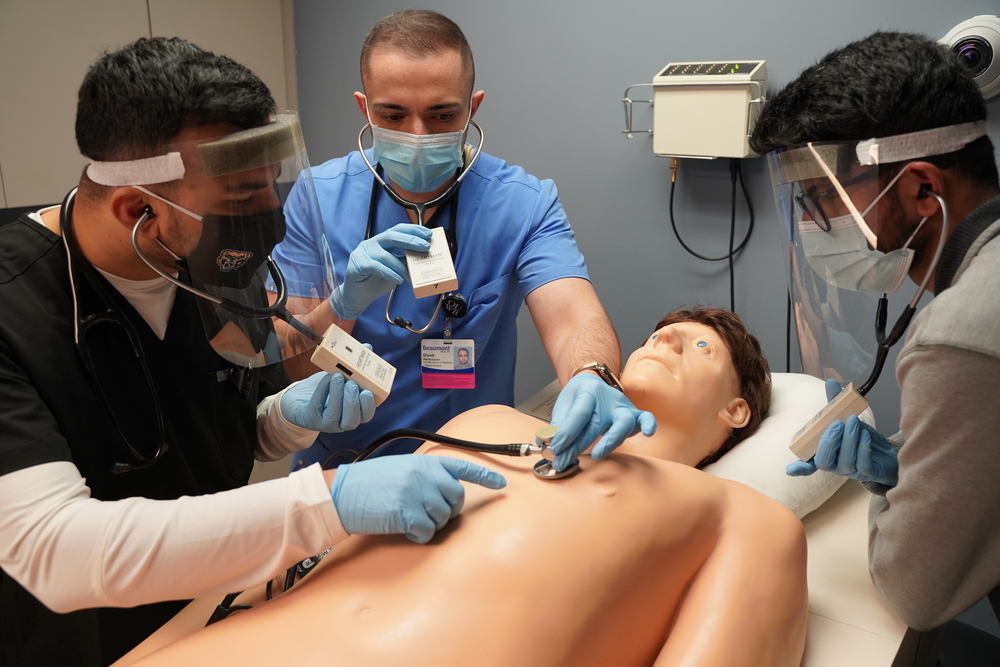 Students in the CSC practice bedside manner with a "Harvey Heart Sounds" cardiovascular training mannequin.
The OUWB Clinical Skills Training & Simulation Center (CSC) is located at Corewell Health Beaumont Troy Hospital. It's housed in an area that previously was a clinic, but is now solely used for education.
By definition, the CSC is the primary site for OUWB learners to practice and perfect their patient skills in a realistic, state-of-the-art facility.
Home to 16 simulated patient rooms, the CSC also has separate student and patient assembly areas, classrooms, along with video control and observation suites.
Clinical faculty teaching students at the CSC come from diverse specialties — there's a hospitalist, pediatrician, neurologist, and an internist who does outpatient medicine, just to name a few.
Those faculty, along with CSC leadership, work toward one overarching goal: to provide as realistic a clinical experience as possible in a welcoming environment.
It's an integral part of the education at OUWB, according to Rubino.
"To be at the bedside and able to communicate with a patient, obtain a comprehensive history, and correlate that with appropriate physical exam skills…I tell students all the time you can make your diagnosis with those two components," says Rubino.
However, the CSC went through what Rubino calls a "crisis mode" in 2022 when the entire leadership team left, due to retirement and other factors.
Patel and Marcincavage both started on the same day in September.
'A new environment'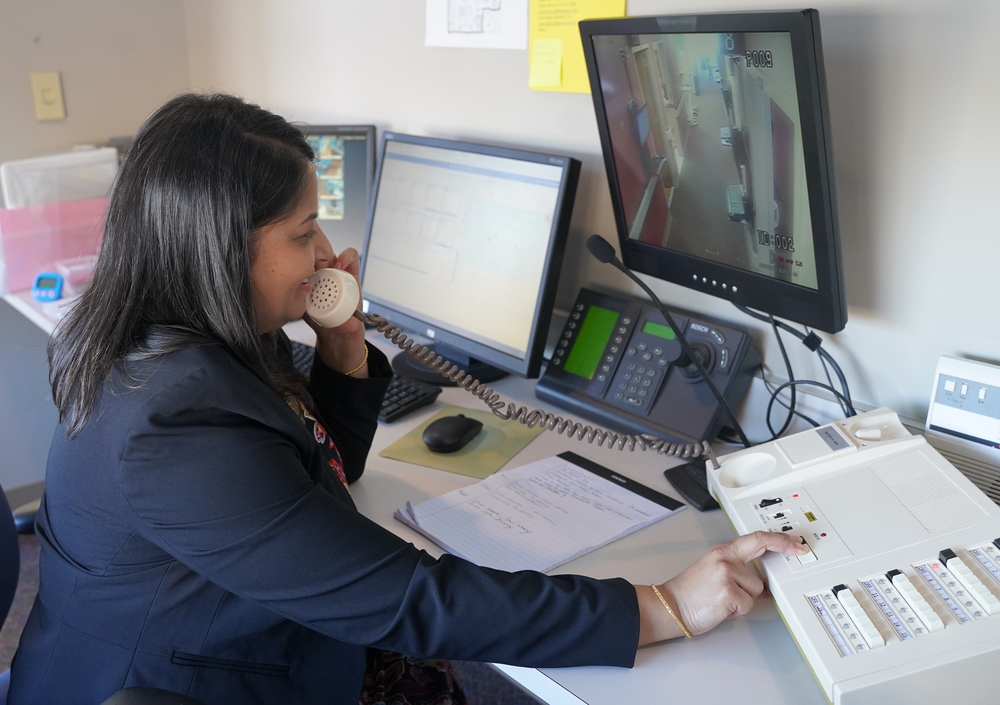 Patel tests the PA system that is connected to the rooms within the CSC.
Patel earned a master's degree in teaching, and a bachelor's degree in biology, both from Wayne State University.
She taught middle school for 15 years. While working as a teacher, she says, a strong interest in science and medicine pushed her toward Wayne State University School of Medicine, where she worked part-time as a standardized patient and note reviewer.
In 2016, Patel left her job as a middle school teacher to work at Wayne State full-time as assistant director of Clinical Evaluation in the Simulation Center. She drew on her previous experience as an educator.
"The behaviors are different, but the process of learning isn't," says Patel. "What I found exciting when I transitioned to medical education is that I could do all of the things I did as a middle school teacher, just in a new environment with different content and students who are older."
In 2019, Patel became a curriculum specialist in the school's Office of Learning and Teaching. She held the position until September 2022, when she left to join OUWB.
"I met people who work at OUWB while I was working at Wayne and they told me about the school's culture and I thought it was attractive," she says.
Patel also says she was ready for a leadership position, and also like the smaller class sizes of OUWB — something she says allows for more creativity.
Her first day at OUWB was Sept. 26 — the same day Marcincavage started.
Like Patel, Marcincavage brought a wealth of knowledge to OUWB.
For more than a decade before joining the school, she worked as the coordinator and lab manager for the Human Patient Simulator at Macomb Community College.
In that role, she oversaw renovation and building of simulation centers — including her most recent project, an immersive interaction room where all four walls are interactive. For students training to be paramedics, the simulation provides real-life experiences that they might encounter on emergency runs, right down to smells.
Concurrently, Marcincavage has worked as a respiratory therapist for Corewell Health since 2007.
Both roles allow for her to pursue her passions.
"My biggest passion after taking care of patients in the hospital setting is being able to teach students how to care for them, and how we can use technology (in that care)," she says.
Marcincavage earned a bachelor's degree in health services from Oakland University, and currently is working toward a master's of health professions education degree.
"Being an OU grad, I was excited about this opportunity," she says. "And I like the idea of working for the medical school to help med students get a better understanding of what they can do."
'Do the right thing'
Patel says the first task of the CSC's new leadership team was "stabilizing after all the change that has happened" — from establishing a shared calendar for the CSC to learning how to best use SimCapture (a simulation management system installed in 2022).
The team also set out to closely examine roles and responsibilities, and as Patel puts it, "redefine our purpose." There are plans to reestablish the center's mission, vision, and values. It's all being done as a team, too, says Patel.
Further, there are plans to beef-up the standardized patient program, including opening the door to hiring more than once a year. Already, the center is on-boarding more than a dozen new standardized patients.
Longer term, the team is keenly aware of the need to keep up with national trends in health care so that they can be sure the center stays in alignment. Patel says that means making sure the right technology is in place, everything from desktop whiteboards to more robust methods of measuring student knowledge.
"Coming in brand new, we have the opportunity to ask, 'How can this center be what we want it to be?" says Marcincavage. "Thankfully, everybody at OUWB has been really supportive of our vision."
Perhaps the biggest goal, says Patel, is to create an environment that allows everyone involved to thrive.
"I want people to learn and I like watching people learn, because I like learning myself," she says. "I have no desire to micromanage or boss people around…I want to create an environment that makes people want to do the right thing."
For more information, contact Andrew Dietderich, marketing writer, OUWB, at adietderich@oakland.edu.
This work is licensed under a Creative Commons Attribution-NonCommercial 4.0 International License.