Oakland University William Beaumont School of Medicine O'Dowd Hall Renovation & Addition
In 2021, Oakland University retained the Fishbeck+SLAM team for the primary goal of performing a study of Oakland University William Beaumont School of Medicine's use of space in O'Dowd Hall, and to make recommendations to provide more problem-based and independent study space to maintain compliance with its Liaison Committee on Medical Education (LCME) accreditation.
A significant secondary goal for this proposed project is an enhanced entrance space, referred to as a "gateway" that will improve visible access to OUWB at O'Dowd Hall and is more functional for all visitors and occupants. 
The Oakland University Board of Trustees approved the $9.7 million project on June 13, 2022.
Construction is expected to begin in early 2023.
O'Dowd Hall: Past, Present, and Future - A Timeline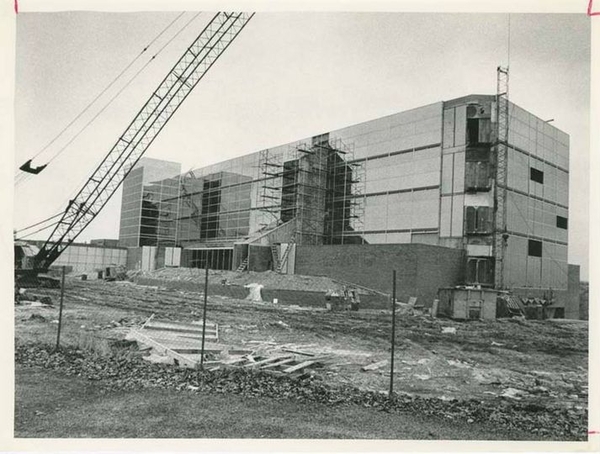 O'Dowd Hall under construction in 1981. Photo courtesy Oakland University Alumni Association.
O'Dowd Hall is named for Donald O'Dowd and his wife Jan O'Dowd. Donald O'Dowd joined OU in 1960 as a founding faculty member of the university's psychology department. He was appointed as dean of the university in 1961 and served as OU's president from 1970 to 1979. Jan O'Dowd was heavily involved in OU, too, assisting in recruiting faculty and fostering a community including faculty and their families, staff and students.
The 105,000-square-foot building is located in the center of Oakland University's campus and consists of five floors. OUWB currently occupies parts of the first, third, and fifth floors, and all of the second and fourth floors. Other spaces in the building are used by the following departments: English; Graduate Program Leadership; Global Management; Modern Languages & Literature; Genetics; and Archeology.
More on the building's past, present, and future:
Nov. 2, 1978 - Groundbreaking ceremony held for O'Dowd Hall.
July 17, 1981 - Building dedication ceremony held. 
2003 - A large 440-seat classroom is converted into three smaller classrooms, each equipped with the latest in AV instructional technology. The classrooms are now lecture halls 202, 203, and 204.
2012 - O'Dowd Hall undergoes a $5.3 million renovation project that includes upgrading the exterior, creation of new breakout rooms, construction of a new student lounge, and room 110 -- a large flexible classroom that can be partitioned into smaller learning spaces. 
Early 2020 - Liaison Committee on Medical Education grants reaccreditation to OUWB. As part of the process, LCME issues OUWB a citation for not having enough space for mid-sized classrooms. A citation does not mean that a medical school is at risk of losing accreditation. Rather, it is an issue that a school is made aware of so it has an opportunity to take corrective actions.
2020-21 - OUWB officials work with architectural firm Fishbeck (one of OU's approved architectural vendors) to perform an abbreviated building infrastructure evaluation and code assessment to identify systems that will require upgrades to support a proposed renovation. An enhanced entrance referred to as a "gateway" to improve visible access to the school also is developed. 
June 13, 2022 - Oakland University Board of Trustees approves the $9.7 million renovation project.
July 6, 2022 - OUWB issues request for proposals (RFP) on renovation project.
July 20, 2022 - RFP period closes.
March 2023 - Construction start expected.
Current Status of Renovation Project
(Oct. 14, 2022)
Design is underway. Many other activities are in process, including soil boring, approval of construction staging area, and material reviews.
Design is expect to be completed by March 2023.
Construction is expected to begin in June 2023.
Occupancy expected prior to 2024-25 academic year.
(September, 2022)
Focus groups were held with students, faculty, and OUWB executive leadership.
(Sept. 1, 2022)
Project kick-off meeting held.
(August 10, 2022)
Bids awarded to Fishbeck (design) and AUCH (construction management).
(July 29, 2022)
The request for proposals period for construction drawings and construction management ended July 20. 
(June 13, 2022)
Project approved by Oakland University Board of Trustees 
Proposed New Entrance
The secondary goal of this study was to develop a concept that will provide visible access to and improve functionality of the entrance to OUWB at O'Dowd Hall. The current entrance and interior entry space are not welcoming and do not support the operational goals for OUWB to be a safe, secure, 24-hour program. Upon entering the building, access to the main elevators and stairwells is not visible. The vestibule is very small and opens into a corridor that contains mechanical and utility rooms. A connection between the OUWB program space on the first and second floors does not exist except through an enclosed stair tower. Wayfinding to the dean's suite and access to coordinators is not clear.
Proposed Plans for the New Entrance
The decision-makers discussed OUWB's vision and priorities for the gateway:
Vision: Create a gateway entry experience for O'Dowd Hall and provide a sense of identity for OUWB. Provide study and social space to encourage informal interactions and collaboration. These interactions are important in developing strong relationships, generating new ideas, and fostering a sense of community. These spaces can also often be considered as amenities which aid in student and faculty recruitment.
Priorities:
Improve the entry experience/identity/exterior and interior wayfinding.
Create a welcoming reception area and more open space at the entry.
Improve connections between first and second floors.
Provide 24-hour/7-day secure access.
Provide study and social space for students to encourage informal interactions and collaboration.
Provide storage space for room 110A, 110B, and 110C.
Leverage space becoming available in O'Dowd Hall on Level 1 and minimize impact to other programs. This gateway building improvement would be shared by others accessing program space in O'Dowd Hall.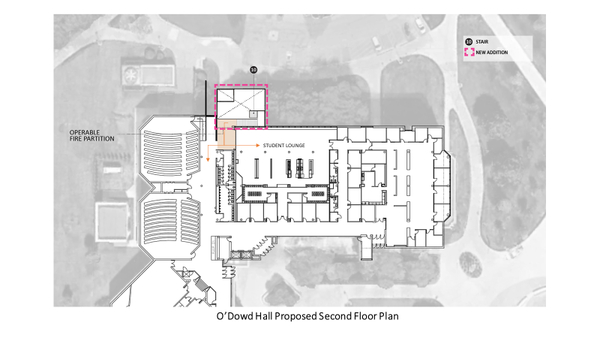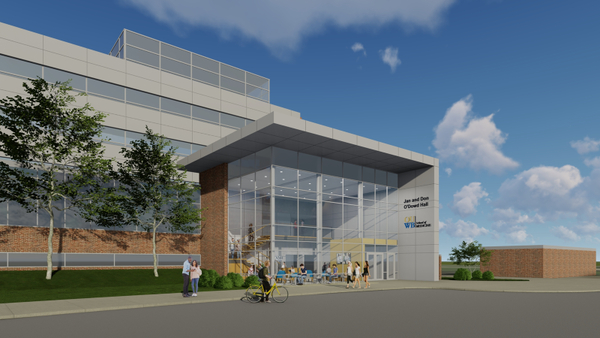 The rendering above is subject to change, but provides a look at the kind of change currently being planned.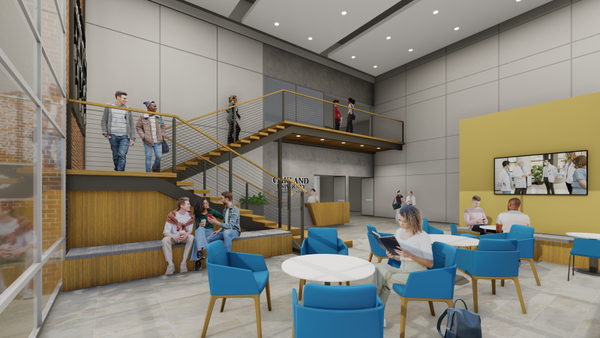 The rendering above demonstrates the intent of the new entrance - to be spacious, warm, and welcoming.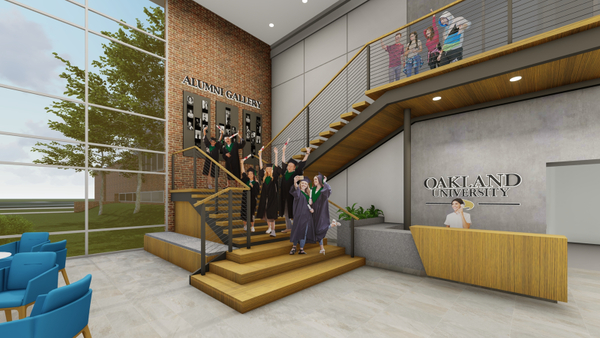 The new entrance also will be great for photo opportunities.
Proposed First Floor Renovations
To create stronger alignment between curriculum and educational space, OUWB has endeavored to create a collection of mid-size learning environments to supplement the large classrooms and small group rooms that are already provided at O'Dowd Hall. The following priorities were identified to improve instructional space and meet accreditation requirements:
Increase mid-size active learning instructional space offerings for OUWB to align with curricular goals and accreditation requirements.
Leverage space becoming available in O'Dowd Hall on the first floor to provide multiple 14-seat classrooms that could be expanded to 28 seats with operable partitions.
Consider how the classroom renovations combine to create a gateway entry experience at O'Dowd Hall and provide a sense of identity to OUWB.
 The following practical drivers were identified:
Maximize value with limited budget.
Address deferred maintenance as it relates to areas of the building identified for renovation.
Confirm required code and life safety features to be incorporated, including egress requirements, and plumbing fixture counts, that support the renovation.
Proposed Plans for the First Floor
About 5,000 square feet of the first floor is proposed to be renovated for new classrooms; 4,500 square feet is proposed to be renovated for informal instructional space and corridor upgrades; and about 1,000 square feet is proposed to be renovated for a pre-function area outside of room 110; two new unisex toilet rooms; and the option to renovate the existing public restrooms. The success of this approach includes:
Accommodations for the entire cohort plus facilitators across ten 14-seat seminar rooms. Operable partitions allow each pair of seminar rooms to expand to create five 28-seat classrooms.
Addresses existing columns by locating them at the perimeter of learning environments, maximizing usable floor area within the classrooms.
Provides 45 study/social seats in corridors as informal instructional space.
Pre-Function Area – A location to layout food or materials for large gatherings and events to support the classrooms was identified as a need. The pre-function space will address this by providing counter space, cabinets, and a sink.
SLAM and Fishbeck identified a target number of formal learning seats and informal learning seats to be included in the first-floor renovation project. Room 110 currently accommodates an entire cohort of 125 students and is used regularly for varying learning modalities including required testing, active learning, and events. The target capacity of new classroom seats on the first floor was an additional 125-135, to accommodate an entire additional cohort plus facilitators across mid-size learning environments.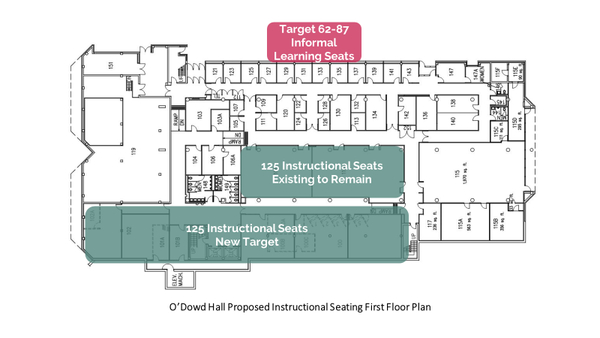 When looking at other medical schools, SLAM identified a 3:1 target ratio of instructional to informal learning seats. This means for every 100 instructional seats, about 33 informal social/study seats should be provided. This ratio provides adequate touchdown and collaborative breakout seats for students to work in groups between classes, charge their devices, have a snack, or study. With the proposed additional 140 instructional seats on the first floor of O'Dowd Hall, the study aimed to provide about 45-46 additional informal learning seats across the proposed renovation.
Following multiple variations studying classroom layouts, the plan below was identified as preferred: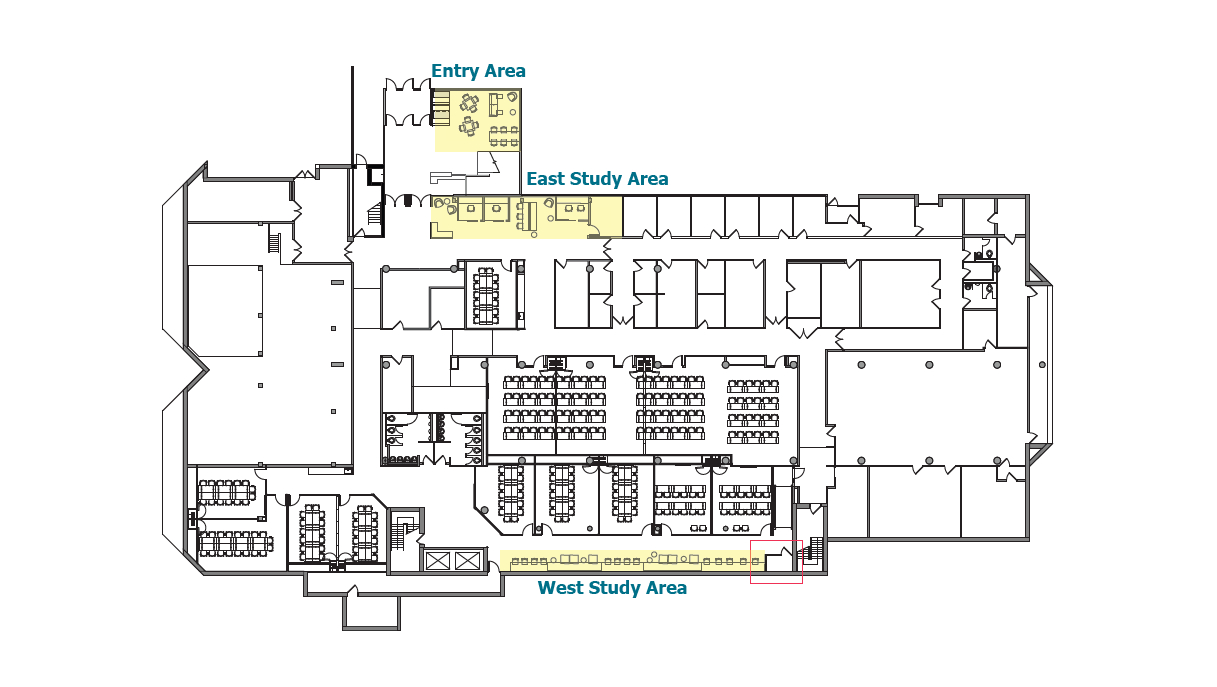 (Image updated 10/14/22)