Friday, Dec 16, 2022
A passion for helping: Allushuski joins OUWB as Director of Academic Success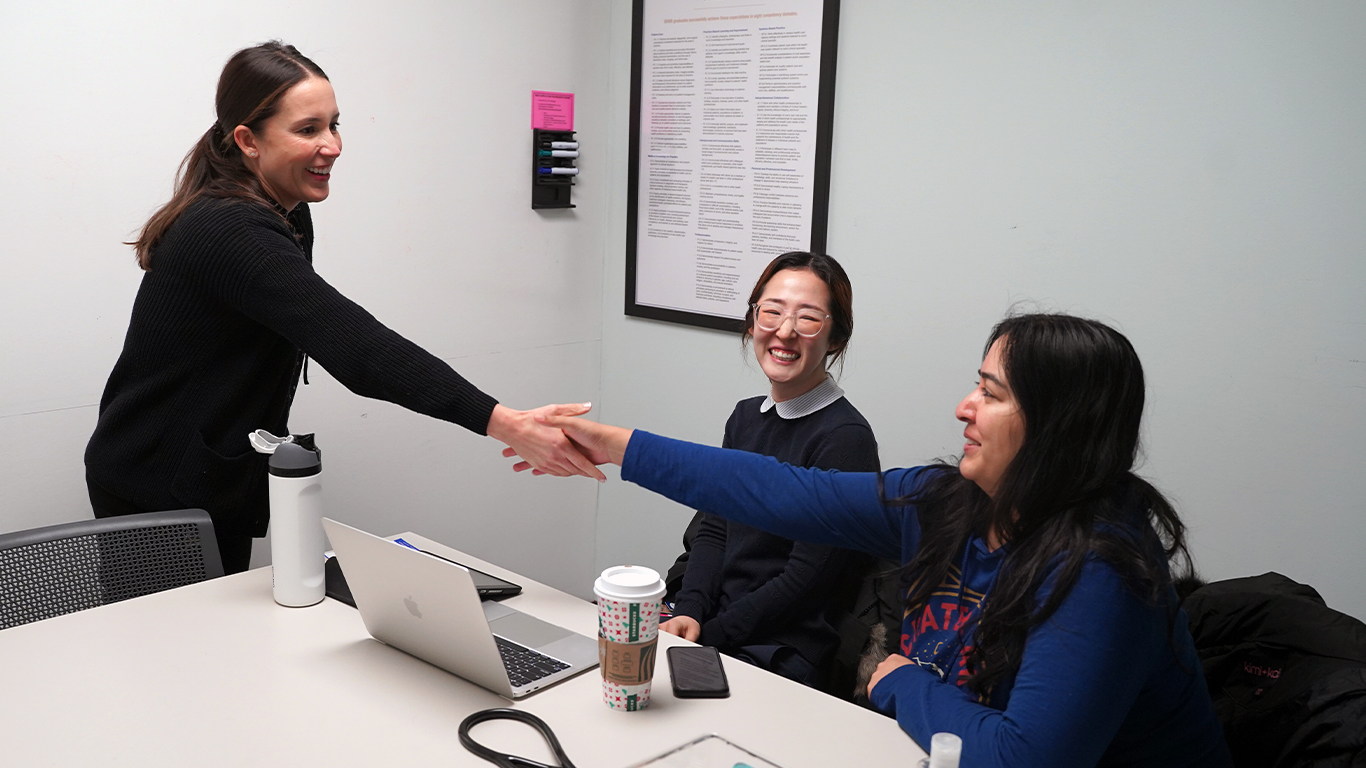 Mariana Allushuski greets OUWB M1s Diana Lee (center) and Revati Rashingkar.
For Mariana Allushuski, Ph.D., helping medical students succeed academically typically isn't about completely changing what they do — it's helping them identify and improve small things that make a big difference.
Making sure students have everything they need to make such adjustments is exactly what she plans to deliver as Oakland University William Beaumont School of Medicine's new director of Academic Success.
Allushuski began in her new role on Oct. 24, having worked for the previous 10 years in positions related to academic success at Oakland University and University of Mississippi.
The common thread throughout her career, she says, has been the rewarding feeling that comes with helping students, especially those who might be feeling discouraged or doubting their abilities.
"Being able to tell them that it isn't about what they can or cannot do, or even about the amount of effort they are putting in," she says.
"It's about implementing strategies that are backed by science as having great returns."
"It's so rewarding when students come back and tell me they've been able to implement the change and their grades have improved, and their stress has been reduced," she adds. "Anytime I can help someone change a habit and in turn better their confidence is really exciting to me."
Allushuski fills the position previously held by Jennifer Root, Ed.D., who now serves as assistant dean for Student Affairs.
'Really passionate about helping'
Allushuski was born and raised in Brazil. She came to the U.S. when she was 17, after her father was transferred because of work.
She says "my thing has always been language."
"I loved Portuguese, I loved writing, and I loved learning English," she says.
A love of language and learning helped pave the way for her success in post-secondary educational pursuits.
However, it wasn't always easy.
"Because my family is from Brazil, we had no idea how to navigate the U.S. college system," she says. "Everything was so different and I often felt lost and unsure about my options."
But she worked through it and would go on to earn a bachelor's degree in Psychology from Lipscomb University, a master's in Counseling Education, and a doctorate of Philosophy in Higher Education from the University of Mississippi.
Her experiences also would shape her professionally.
"I felt a lot of things first-generation students feel," she says. "It always has been a driver for me throughout my career to be a reliable source of information and support for students, because that was something I struggled to find."
Allushuski says she is "very passionate about helping students, especially as they navigate challenging transitions, because I have been through many myself."
'Always worked with students'
Allushuski's first role in helping students was as an academic adviser and first-year instructor at the University of Mississippi. She held the role for six years before relocating to Michigan.
For the last four years, Allushuski has been a member of the Oakland University community, serving as assistant director of the Academic Success Center. She provided academic coaching, support to the undergraduate tutor program, and facilitated learning strategy workshops.
"My career has been centered around helping students be academically successful," she says. "I truly enjoy it."
The primary reason she was interested in the position at OUWB is relatively simple, she says.
"It combines everything I've done throughout my career, such as tutoring, academic coaching, learning strategies, and advising, but with the challenge of a very different student population…it seemed like a perfect match," she says.
In her role with OUWB, her responsibilities include leading the tutoring program, supporting students with accommodations and helping students navigate their courses. This can include adjusting to medical school courses, preparing for board exams and learning the best ways to retain large volumes of information.
"I have learned in my short time working with medical students that they are constantly encountering new challenges, and having to adjust to new ways of studying and managing their many responsibilities," she says. "There isn't much time to get comfortable."
And though it's just been a couple of months since she started at OUWB, Allushuski says she's off to a great start.
"Even before I started, I got so many messages from people at OUWB welcoming me and that just made me feel so welcome," she says. "One of the things I've loved so far is the collaboration between areas. There is constant communication and everyone has the same goal — helping our students become great physicians."
"I've really appreciated this because one person or department alone cannot be responsible for student success," adds Allushuski. "It's a team effort, and I see that at OUWB."
For more information, contact Andrew Dietderich, marketing writer, OUWB, at adietderich@oakland.edu.
To request an interview, visit the OUWB Communications & Marketing webpage.
NOTICE: Except where otherwise noted, all articles are published under a Creative Commons Attribution 3.0 license. You are free to copy, distribute, adapt, transmit, or make commercial use of this work as long as you attribute Oakland University William Beaumont School of Medicine as the original creator and include a link to this article.